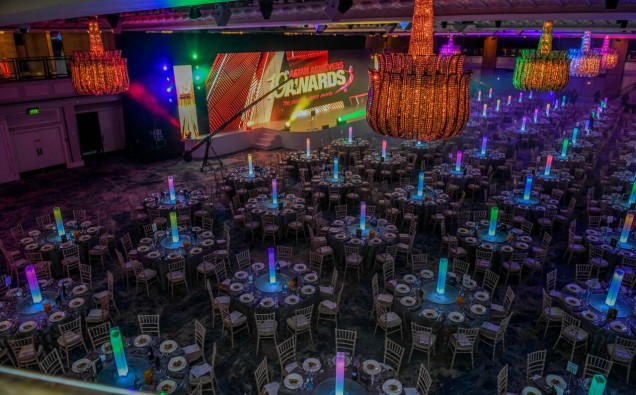 | | |
| --- | --- |
| Winner | Category |
| | |
| Onkardeep Singh | Achievement in Community Services |
| Faisal Islam | Achievement in Media, Arts & Culture |
| Vipul Vadera | Businessperson of the Year |
| Kush Kanodia | Entrepreneur of the Year |
| Krishna Omkar | Professional of the Year |
| Harjit Singh Bhania | Sports Personality of the Year |
| Hafsa Qureshi | Uniformed, Civil and Public Services |
| Neeta Patel | Women of the Year |
| Anil Agarwal | Lifetime Achievement Award |
| Rajesh Agrawal, London Deputy Mayor | Editors Award for Public Services |
| Dr. Nilesh U Patel MD | Editors Award for Contribution to Thoracic Surgery |
ACHIEVEMENT IN COMMUNITY SERVICE
Onkardeep Bhatia
At the age of 14, in 2001, Onkardeep Bhatia was the co-founder of the Derby Sikh Youth Association. The organisation's aim was to help empower those under 25 and encourage them to have a stronger local voice. He soon went on to become the founding member and director of the City Sikhs Network, UK's largest network of Sikh professionals. His passion for building a stronger Britain through grassroots community cohesion led to the organisation in 2010.
Onkardeep's ground-breaking interfaith work has been purely voluntary and he has resourcefully used his skills as a design and technology professional to benefit a variety of communities and voluntary organisations by developing websites and branding for them.
He is also part of the consultative committee for leading interfaith charity Three Faiths Forum; Director of Equal International, a charity improving pre-school education in India; and a supporter of HWPL, an international world peace charity. With over 7000 members from all communities, City Sikhs is a progressive Sikh charity that strives to build a cohesive and inclusive society in which individuality is respected and diversity is celebrated. They provide a space for people to connect, learn, contribute and share and help them develop their professional careers through networking and mentoring. When not active in charity work, Onkardeep has his own design and technology company and provides design services for a variety of clients.
Involved in voluntary work for over 15 years, he has done varied work but all with a similar them; creating a society that works better together. Bhatia has put much of his effort in the past few years in working with other faiths to co-create events and also to share viewpoints on a variety of topics. He has also been actively involved with supporting world peace initiatives and believes a lot of work is still needed in the area especially with so much division and conflict.
In 2018, Onkardeep was awarded an MBE (Most Excellent Order of the British Empire) for ground-breaking interfaith work.
ACHIEVEMENT IN MEDIA, ART & CULTURE
Faisal Islam 
British political and economics journalist Faisal Islam was educated at Manchester Grammar School, a boys' independent school in Manchester, followed by Trinity College at the University of Cambridge. In 2000, he gained a post-graduate Diploma in Newspaper Journalism from City University in London. Formerly an economics correspondent for The Observer, he became business correspondent for Channel 4 News in 2004.
He later became its Economics Editor until 2014, when he was replaced by Paul Manson. Islam rose to fame with his reports on the ups and downs of the corporate world from government-subsidised arms dealers and failing PFI contracts to how bankers are trading weather.
Now one of the most recognised figures in British news, even he has suffered through the humiliation of being racially profiled. By 2016, the 38-year-old was singled out on four occasions by police operating random searches under anti-terrorism legislation. He is confronted by racism on a daily basis. With over 300,000 followers on Twitter, the reporter has been shocked several times by the nasty messages he receives on a daily basis; especially when he joined Sky. Islam however, is very mature about it and knows how to deal with the regular inflow of infectious hatred and anger.
A proud Mancunian, Islam identifies social class as a challenge for broadcasters, much like diversity. He is also an open advocate for diversity in media, and believes that people from a variety of backgrounds makes for a richer, national conversation. Belonging to a father who was an immigrant, Islam uses his position to relay what's going on in the British Muslim community.
He has also accumulated a lot of awards and honours over the years. In 2000, Islam was awarded the Wincott Award for Young Financial Journalist of the Year, and shortlisted for Young Journalist of the Year at the British Press Awards for 2001. In 2006, he was named Young Journalist of the Year at the Royal Society of Television awards. The next year, Islam was winner of the year's Broadcast News Journalism Award at the Workworld Media Awards. In 2009, Islam received the Wincott Foundation's award for Best Television Coverage of a Topical Issue, won particularly for his work on the growing financial problems of the Icelandic Banks. The same year, he was awarded the Business Journalist of the Year, as well BJOYA award for 'Best Broadcast Story'. In 2010, he was named 'Broadcast News Reporter of the Year' by the WorkWorld Foundation for 2009.
He won the Royal Television Society award in 2017, for the Interview of the Year for his interview with Prime Minister David Cameron.
BUSINESSPERSON OF THE YEAR
Sanjay Vadera and Vipul Vadera
Successful they certainly are, but the Vaderas have been in the scent business for a long time, with Sanjay having established their ongoing wholesale perfume operation Per-Scent with a £20,000 loan (his father put up the family home as collateral) back in 1990. Today, Sanjay and and his brother Vipul run The Fragrance Shop.
For Sanjay, the entrepreneurial fire was stoked by traumatic early memories of being ejected from his Ugandan homeland in the early 1970s, when he was just a child. His childhood happiness ended when he and his family had to escape the regime of dictator Idi Amin from Uganda. Sanjay came to England with nothing in hand when he was 5 years old. He went to Manchester Polytechnic where he studied computer science and physics. While working part-time at a menswear shop, a fragrance wholesaler offered him a job of sales representative. He took it up and in 1990, he decided to set up his own business in Manchester and named it Per-Scent.
Vipul, who was born in 1972, did not share Sanjay's Ugandan experiences, but has proved no less fixed on success himself. He joined Per-Scent as managing director in 1998 and was soon leading its impressive revenue growth.
Today Vipul is CEO and Sanjay is chairman of the wholesale and retail group, which distributes skin care products, cosmetics and per- fumes to more than 5,000 retailers including Asda, Superdrug and even fragrance rival, the Perfume Shop, owned by Sir Li Ka-Shing's ASW Group. The brothers are also expert in-store merchandisers and now almost perfumiers in their own right.
The Vaderas made a strategic decision in 2005 to sell 65 per cent of Per-Scent to Icelan- dic businessman Karl Wernersson, the owner of the Lyf og Heilsa (Meds and Health) chain of pharmacies. The sale brought a £42 million payday for the brothers; meanwhile their retail ambitions were whetted. Per-Scent already had its own small retail chain called Perfume Point which sold fragrances online and through eight UK McArthur Glen outlet villages.
But the family had bigger ambitions and in 2007, made a successful £20m offer to the Pea- cock Group for its 92-store The Fragrance Shop chain, after which Perfume Point was folded into the brothers' overall business.
A decade on, annual turnover is north of £120m. They have got 223 locations but closing down the concessions in House of Fraser where we have 22 left, so just over 200 locations by the end of February.
The Fragrance Shop was founded in 1995 with a single store in Liverpool by Sanjay Vadera and Vipul Vadera.
Even as a university student studying computer science in 1990, the irrepressible Vadera, 41, had a keen eye for a business opportunity. After spotting vacant space at the front of the menswear shop where he was working part-time, he talked his boss into allowing him to set up a concession selling perfume. Vadera created Manchester-based Per-Scent, supplying fragrances to small retailers before winning the custom of Asda, Superdrug, Tesco and The Perfume Shop. In 2005, he sold 65% to an Icelandic investor, netting £42m. Per-Scent saw its profits fall from £4.3m to £2.8m on sales of £52.4m in 2007-08 and is worth £25m. With salaries (£6.5m in the past three years) and sale proceeds, Vadera is worth £48m.
At 43, Vadera initially became a supplier of wholesale fragrances to small retailers before winning contracts with mass-market firms. He sold 65% of his stake to an outside investor in 2005, earning about £42m. In 2006, he bought the Fragrance Shop, with outlets across the UK, for £20m. Turnover at the Vaderas' two main companies, Cartoon Holdings and Fragrance Acquisitions, rose to £204m for 2018.
Vipul Vadera, Sanjay's brother, is the CEO of The Fragrance shop. Sanjay is chairman of the wholesale and retail group, which distributes skin care products, cosmetics and perfumes to more than 5,000 retailers including Asda, Superdrug and even fragrance rival, the Perfume Shop, owned by Sir Li Ka-Shing's ASW Group.
The Fragrance Shop is an authorised distributor of some of the world's most desirable and globally recognised perfumes. Highly aspirational and luxury fragrance accessible to all is made at the Fragrance shop. With 222 successful stores across the UK, they have a strong online presence at www.thefragranceshop.co.uk. Since 2012, they have been in partnership with Rays of Sunshine, donating 5p from every transaction to the charity that grants magical wishes to terminally ill children every day. To date, they have raised over £1,000,000.
Turnover at the Vaderas' two main companies, Cartoon Holdings and Fragrance Acquisi- tions, rose to £204m for 2018 with a joint Ebitda of £21.9m, down somewhat from last year. We value the brothers at £300m.