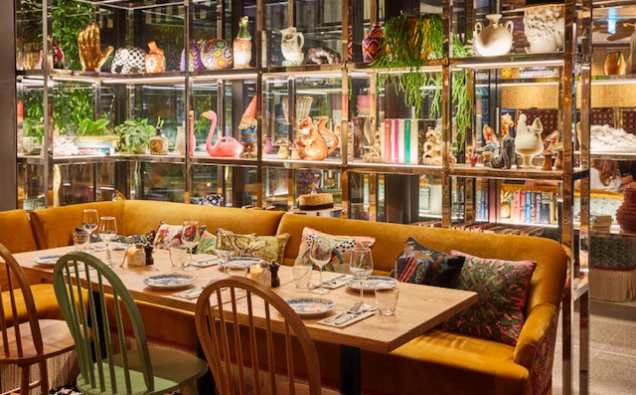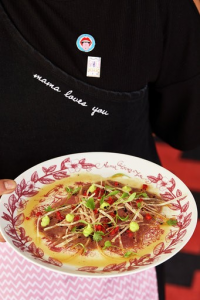 Set in the heart of the East End, the restaurant at Mama London provides a home away from home for drinkers and diners with generous family style sharing dishes and MAMA's globally renowned witty and welcoming style. Celebrating the treasures of East London, the menu also showcases stalwart dishes influenced by the area, alongside MAMA's winning classics. 
This September, Mama Shelter opened doors to their new hotel and restaurant, Mama London, bringing their unique brand of generous and affordable hospitality to the capital for the first time. Set in the heart of the East End, the restaurant at Mama London is a confluence for visitors and locals alike.
The 100 cover restaurant at the heart of Mama London is a neighbourhood spot for sharing MAMA's classics and new dishes, influenced by East London, with friends around their signature communal dining tables. The restaurant features an island bar and an outdoor courtyard with a retractable glass roof – the perfect setting for a cocktail al fresco. The tongue-in-cheek design features vintage lamps and a twist on the English lace doily, paired with dark wooden interiors, pops of coloured macramé and Liberty prints. The chalkboard ceilings are adorned with graffiti by graphic designer and artist Beniloys, while table football and a giant in-built Twister board provide further entertainment.
The menu centres on generous family style sharing dishes, made with love, using an amalgamation of ingredients, inspirations and flavours. The informal menu encourages guests to try a host of dishes from Snacks & Starters of pak choi and hajikami ginger and Buratta with Isle of Wight tomatoes to Plant Based Sharers of Cumin roasted cauliflower and Raw Asian rice paper wraps.
MAMA's Classics, much loved recipes which come up trumps in all of MAMA's restaurants are reminiscent of home cooked French staples and feature the likes of Croque Monsieur and Coquillettes with Mostellos jambon and soft boiled Burford brown egg. Other mains include Whole grilled seabass, Hake ceviche, 35 day Hereford ribeye and Aubergine Parmigiana.
Made just for Mama London and created to honour the food traditions of the East End are MAMA's Local Classics. MAMA's interpretation of these stalwart dishes will celebrate the treasures of East London, with a classic Pie, mash & liquor and an East London Iced Platter with produce from the Essex coast, including Mersea oysters, crayfish, Jellied eels, pickled cocktails and Bloody Mary Mayo.
At weekends, MAMA's signature 'Sunday Spread' brunch will provide a self-serve feast alongside live music sets – a favourite across all Mama Shelter properties. Downstairs, Japanese-style karaoke rooms are decked out with pinball machines, retro video games, and classic 50s-style microphones and are available to hire for groups. Guests can also create personal souvenirs of their Mama Shelter experience with the photo and video booths, via the brand's social platforms.
Restaurant Reviewer and Food Columnist Riccha Grrover in an exclusive interview with Ian Daw-the executive chef of Mama Shelter. An exclusive for Asian World News.
Ian Daw started his career and training at Gravetye Manor: the first Country House Hotel in England, 1 Michelin star. He then moved to The Bingham hotel as Sous Chef, achieving 1 Michelin, 3 rosettes and 7/10 Good Food Guide in 18 months. 
Moving to London, Ian became Head Chef of the bespoke events company Rhubarb and then Executive Chef of Rocket; running events and galas, with high-profile events for the Queen, Kate Moss and Elton John. He was then approached by the prestigious hotel and members' club, The Ned in London, and landed a role helping to open the hotel and events floor. Soon after, Ian was promoted to Executive Chef with a large input into The Ned's food outlets. Now, in 2019, Ian is heading up the team at Mama Shelter's newest global venture – Mama London. Ian is adding his culinary twists and adaptability to East London with a menu combining generous family style sharing dishes with Mama Shelter's signature style.
RG- what does the restaurant brand Mama shelter stand for in London? How is it unique and different from other branches across the globe and how is it similar to other branches? What does the name Mama shelter signify?
ID-Before opening I visited Paris Mama on numerous occasions to see and understand their food concept. I believe I've introduced that into Mama London with the emphasis on catering to a London audience. Mama Shelter London is a place to experience the East End with a classic Mama edge. Our menu heroes dishes and produce from the area that have been elevated, for example our 'Pie Mash and Liquor' sharer dish which takes an old East London staple and reinvents it into a rich braised lamb pie served with a lamb sauce flavoured with a distillation of smoked eel and fresh parsley.  Mama Shelter to me is a place where everyone is welcome and should feel at home, the white flag hanging outside signifies our openness and diversity, our clientele and staff are, just like London is, a melting pot of cultures and nationalities.
RG- Is your menu a fixed one or do you have seasonal dishes and specials too? Do you cater for varying dietary requirements? Where does the menu take its inspiration from?
ID-We are definitely influenced by what is seasonal and the menu will be changing to reflect the changing produce and London weather! The menu features a lot of plant-based food, as well as gluten free and I will always take any dietary requirements seriously and do my best to accommodate. My menu is influenced by London food trends, what I love to eat and the desire to offer a fun and varied menu to cater to all tastes – Mama is all about simple food done well and with generosity and I want this to reflect in my dishes.
RG- What are the top 3 dishes you recommend a first time diner? What kind of a dining experience can a first time guest expect?
ID-If you've never been to a Mama Shelter before I think the first thing you're struck by is the bold interiors, the quirky decor and the outgoing staff. The roof is covered in graffiti and often you'll find a live dj on the decks… Food-wise, with such a varied menu it really depends what mood you're in. We have lots of small plates, sharers and Mama Classics but fundamentally it's a menu to meander through and share. Some of the favourites include pork belly baos, vegan black bean burger with banana ketchup, the lamb kebab, Thai-scented whole seabass and choc chip cookie ice cream sandwich.
RG- Tell us more about your drinks offering and dessert menu?
ID-Our bar manager is exceptionally creative and has curated a menu of East-London inspired cocktails and interesting riffs on the classics. The wine list is unique and affordable focussing on lesser-known varietals and unfiltered wines. Desserts are a nod to our French roots with British classics such as the sharer Jam Roly Poly with custard. Our vegan and gluten free Brownie with Raspberry Sorbet and Peanut Butter caramel is a decadent dessert, while the roast pineapple with coconut sorbet and lime gel has notes of chilli and star anise and gives a refreshing end to the meal.
RG-How would you describe the restaurant cuisine in five adjectives?
ID-classics reinvented
bold
generous
eye-catching
Indulgent
RG- How is mama shelters French-inspired cuisine offering different from other restaurants serving same genre of food in London- What makes it stand out? 
ID-It's not your classical French cuisine, it's comforting food that Mama would make at home…
RG- Did you always want to be a chef – Tell us about your career decision making days? What keeps you inspired as a chef? What words of advice would you give aspiring chefs?
ID-I decided at the age of 12 while spending holidays baking with my grandmother that I wanted to be a chef. I've worked in different kitchen environments from Michelin star to bespoke events and back to hotels. What's brought me to Mama is the opportunity to be part of an expanding hotel family that takes hospitality seriously but looks at the lighter side of life and allows for creativity and self-expression. I'm inspired by the dynamic London food scene, my own ever-changing food obsessions and travelling. I'm lucky to have chefs in my brigade from all over the world and we can all learn from each other. To aspiring chefs I'd say, don't believe everything you see on TV. Cheffing is about commitment, long hours, learning, sticking a job out for a decent amount of time and soaking up all you can from the senior chefs before moving on. Recently an apprentice chef I was mentoring won Young Apprentice of the Year at Nestle Toque D'Or. Find mentors you trust, listen to what they have to say and keep practicing. 
A place to socialise, celebrate, eat, drink and be merry, Mama London provides a new dining space for guests from near and far, welcoming them with open arms and embracing them in true Mama Shelter fashion. Highly Recommended!