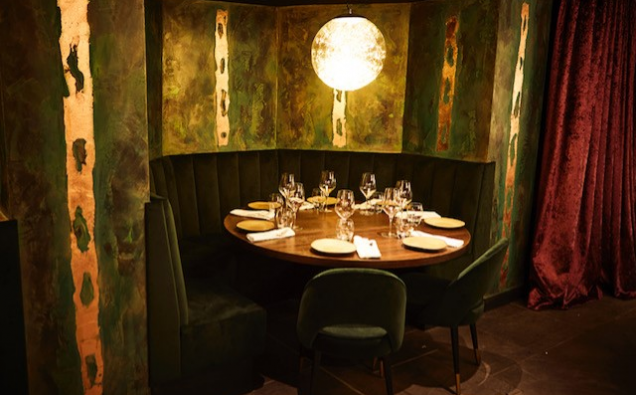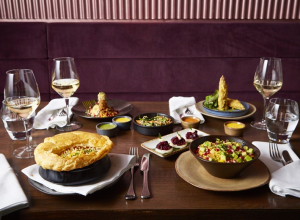 Restaurant Reviewer and Food Columnist Riccha Grrover in an exclusive interview with Chef Krishna Negi on the new 1947 London on foodie offerings from the new jaunt in town to the discerning London diners with seasoned and evolved palates! An exclusive for Asian World News.
Chef Krishnapal Negi, protege of Michelin-starred Vineet Bhatia, has created a competitively-priced Modern Indian menu which nods to recipes that evolved out of the movement of peoples and cultures during the 1947 Partition. 
Short and easy to navigate, the menu adds dishes from a Tandoor oven and Robata grill for theatrical cooking in view of diners. 
Negi first made his name when he launched Tangawizi in Richmond Upon Thames in 2004. Recognised at the time as ground-breaking for its innovative menus it became a regular haunt for Brad Pitt and Angelina Jolie, and it was from here that George Clooney was famously turned away for lack of an available table. From Tangawizi, Negi went on to work under Michelin-starred Vineet Bhatia to perfect his skills and give harness to a raw talent on his way to becoming the accomplished chef he is today.
RG- What does the brand 1947 london stand for ? How is it unique and different from other Indian restaurants in town and how did its idea come about? Tell our readers about its journey thus far? 
KN-It is modern indian cuisine but one that references the recipes and dishes that emerged out of the movement of people during the partition on 1947
RG- Is your menu a set one or do you have ala carte too. Also is it a fixed menu or do you have seasonal specials and varieties too? Do you cater for varying dietary requirements? Where does the menu take its inspiration from?
KN-We have a la carte, the menu is continuously evolving things come and go on the menu to keep it interesting…we have just added a sea bass fillet in lightly spiced coconut broth and can't recommend it enough! The menu is inspired by the season, the times of partition, sometimes chefs' own preferences and also customer recommendations at times. 
RG- What kind of a dining experience can a first time guest expect when planning a meal at 1947 london?
KN- A unique dinding expereince awaits – the venue is really sumnptuous in design, low-lighting creates an initmate atmosphere and one that makes guests want to linger. Kicking off in the cocktail bar is a great way to explore some of London's most innovative cocktails and then moving to the restauarnt continues the journey around the partition era subcontinent, for a taste of classic with modern interpretations.
RG- Tell us about your decor, music and creatives of the restaurant – where does the ambience take its inspiration from and what kind of vibe does it signify? 
KN-We have artisan designer Tammara Mattingly and paper artist Karen Navalta who together designed the sparkly green and gold interiors and the paper flower-wall, a sustainable alternative to other flower walls. The vibe is affordable glamour from the interiros through cocktails and food
RG-Tell us more about your drinks offerings in the menu? 
KN-We have a completely unique cocktail list Hello Lassi, No pineapple pina colada and the house signature cocktail Chai Martini are all firm favourites
RG-How would you describe the meal experience in five adjectives? 
KN-Exciting, expertly-cooked, flawless, consistent, affordable
RG-what are the top five must-try dishes you would recommend a first time diner? 
KN-Wild tikki mushroom masala, sea bass in gently spiced coconut broth, butter chicken served in a cup, maharaja prawns served flaming at the table, breads from the tandoor and rose and pistachio kulfi…
RG-Any words of inspiration to those wanting to venture into Food biz? 
KN-As long as you love what you do and have the courage to be creative, a bright future awaits!
On my visit, we enjoyed trying out the recommended dishes curated by the chef and savoured the delectable cuisine which can only get a 10/10 for flavour of the dishes across the menu, good portion size, promptness and attentiveness of service, cozy decor and attention to detail, music and ambience were just a few winners amongst many others!
Consciously designed for the times we live in, Artisan interior designer, Tammara Mattingly along with paper artist, Karen Navalta's have created an interior that shimmers and sparkles in a refuge from London's grey streets.Co-founders, Ajay Acharya, Sukhraj Mudhar and Sunil Saggar have a combined 75 years experience in the restaurant business. 
Guests will enter the venue through a street-level doorway adorned with giant-sized hand-crafted roses. Paper artist, Karen Navalta, in a first for London restaurant design, stencilled and crafted cardboard into 1000s of petals, stems and buds spraying them in rose-gold, copper and frosted plum to create a striking wall feature.
The shimmering rose-clad doorway beckons Londoners to slip away from the grey streets down a glinting copper-toned staircase into the cavernous dining-room. 
Guests can sink into plush curved booths finished in rich emerald velour overhung with globes containing micro L.E.D.  lights for soft, ambient lighting. Along the walls, banquettes swathed in soft damson fabric are scattered with crushed velvet cushions setting off a high fluted wall finished in two-tone metallic gold and aubergine. 
Circular dining tables in dark wood are set with linen napkins, elegant stemware and comfy 'Yves' chairs in forest green. Mattingly's bespoke polished plaster walls in coppers, golds and greens infuse the room with a subtle glow. Here and there, velvet drapes in crushed purple hark back to the days of those discreet curtained entrances in old-fashioned picture houses. The effect is opulence and glamour but of the affordable kind.
About the founders
Ajay Acharais the co-owner and operator of 1947 London and the Chai Thali group. Born and bred in London he chalks up 25 years in the industry in which he excels at bringing to life his theatrical concepts.
Sukhraj Mudharis co-owner and finance director of 1947 London and the Chai Thali Group. He oversees restaurants and nightclubs in both Mumbai and London including five franchised restaurants.
Sunil Sagaaris co-owner of 1947 London and the Chai Thali group. He owns and operates various restaurant brands including The Vietnamese Kitchen, Guidos Kitchen and Made in Chelsea. He produces successful turnkey solutions for aspiring hospitality industry entrepreneurs.
So for this modern Indian food fix steeped in culinary tradition from times of partition, head right over there! Highly Recommended!