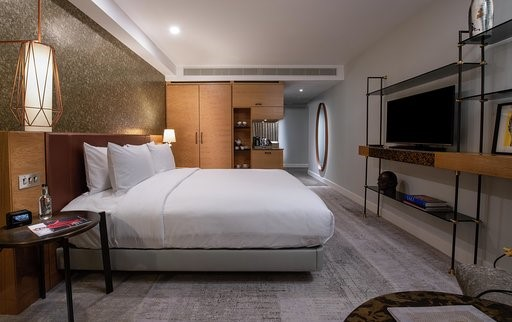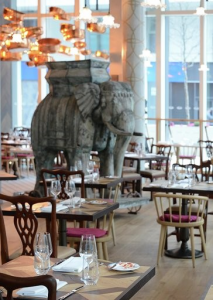 The latest addition to the Curio Collection by Hilton hotels portfolio, Lincoln Plaza London is more than just a place to stay. A complete lifestyle experience it combines accessible luxury with a unique feel-good factor, its all about INNOVATION, QUALITY AND AUTHENTICITY… reports hotel-review columnist Riccha Grrover. An exclusive for Asian World News. 
This Canary Wharf situated hotel's ultra-modern exterior is inspired by the sleek architectural lines of the city's financial and commercial hub. Lincoln Plaza London's focus on luxurious lifestyle facilities includes a range of innovative food & drink outlets designed by the multi award-winning Design LSM (Demoiselle by Galvin, Fancy Crab).
These are spearheaded by signature Pan-Indian restaurant Mr Todiwala's Kitchen, the much-anticipated new opening by acclaimed chef Cyrus Todiwala OBE, whose approach to sustainable food production, use of local ingredients and environmental best practice fits perfectly with the hotel's own stance on nature and the environment.
The hotel's Food Store concept meanwhile comprises three vibrant offerings: Restaurant, a social space for casual all-day dining under the auspices of Senior Head Chef Rumel Pinnock; a Lobby Bar where visitors can choose from a dedicated Negroni menu, or a local brew from nearby Kernel or London Fields Brewery, and Grocery, in which guests and locals alike can enjoy the ultimate take-home experience in the form of locally sourced, organic and artisanal products complemented by selections from a curated wine shop. 
Finally, Jack Speak Bar and Terrace, with its exclusive cocktail collection, premium spirits and small producer wines, offers a playful, contemporary twist on the 19th Century British Navy Officers' Wardroom.
In conversation with the general manager of the hotel…
RG-How would you describe the hotel in 5 adjectives?! What kind of a vibe does the hotel have and what kind of travellers would most enjoy a stay in a property like Lincoln plaza in your view?
Genuine
Distinctive
Innovative
Epicurean
Responsible
We will appeal to travellers who enjoy a premium experience and the confidence that both service and facilities offered will be second to none. Lincoln Plaza London also reflects and champions the local community.
RG- Tell us about the various facilities and amenities that the guests can enjoy on a business or leisure trip? Is the hotel pet-friendly?
We have a wealth of facilities at the hotel and have a little something for everyone. Form 2 restaurants, 2 bars and a grocer to meeting facilities and a health club. Our health club features a large well equipped gym, studio classes, swimming pool, sauna and steam room. Our 7 meeting rooms provide a hub for large events and smaller meetings in our dedicated boardrooms. At the moment, we don't accept pets but service animals are of course very welcome.
RG- What are the dining options at the hotel that guests can avail both who are residents and those who may visit for a social meal or work meeting ? Do the restaurants cater for varying dietary requirements as well?
For the curious diner, one can embark on a gastronomic adventure of flavour by trying dishes from our signature Pan-Indian restaurant, Mr. Todiwala's Kitchen by Cyrus Todiwala, OBE, D.L to Food Store Restaurant that pays homage to the food warehouse that once stood on the site of the hotel featuring dishes with the best local and European ingredients. Our innovative cocktail bar, Jack Speak, serves an inventive cocktail list that focuses on Navy strength rums and gins. We also have a Grocer which features ingredients from our menu along with a host of thoughtful gifts. With such a variety of dining options, the hotel is perfect for everything from after work drinks, lazy Sunday brunches to healthy freshly made smoothies.
RG-Tell us about the bar options at the hotel and some signature drinks offerings in various bar spaces across the hotel?
Food Store Bar offers a laid back, drinking experience, featuring aperitivos, seasonal gin and tonics, craft  beer with an easy going wine list and a lighter bite to eat. Jack Speak cocktail bar is an elegant, upscale cocktail and wine bar referencing the Royal Navy Officers Mess and offering British navy rum and gin cocktails, and small producer wines.
RG- What are the various amenities near the hotel in terms of shopping, art, culture trips if guests are staying at the hotel? Can the concierge at the hotel help with reservations for theatre, flights, local London day trips when guests are staying at the hotel say from abroad?
Canary wharf offers an incredible upscale shopping experience with over 120 stores featuring everything from small boutiques to designer labels spanning beauty, fashion, fitness, homeware and more.
Canary Wharf is also home to one of largest public art displays and has a regular programme of cultural events and attractions.The hotel is very close to some of London's key attractions such as the O2 entertainment venue, the Queen Elizabeth Olympic Park and the ExCeL exhibition centre. Of course, Buckingham Palace, the Houses of Parliament and Trafalgar Square are only a short tube ride away.Our Guest Experience Managers are on hand to arrange dinner bookings, theatre tickets, flight tickets and insider tips for some of the best restaurants and bars in London.
RG- What are the various types of rooms that are available to guests to choose from and tell us a bit how these are differently equipped and aimed at what sort of traveller? Do you have accessible rooms as well?
We have four room types at the hotel, all of which are available as accessible rooms. Our rooms were named after the various jobs on the barges that once worked the docks near the hotel. The Tillerman Room features a 46 inch HD television, rainfall shower, coffee maker and a raft of premium amenities. We are particularly proud of our toiletries, Stone Street Soaphouse, which were developed exclusively for us.
One can upgrade to a Ligterman room which offer a superior location and include complimentary refreshments from the well-stocked minibar
The Keeler room offers that little extra comfort and convenience and also offers complimentary drinks and snacks in more spacious surroundings and enjoys an evening turn down service.
As the name suggests, the Bargemaster is the largest of all our rooms and has fantastic high ceilings and is a stunning place for a couple to unwind.
RG- Does the hotel have event focussed venues inside it and what would be the capacity in terms of numbers various meeting rooms can host? What facilities can be made for those seeking to book the hotel as a venue for an event both work and social?
We have 7 meeting rooms with our largest room, The Clipper, able to accommodate up to 150 guests for dinner. We also have 4 dedicated boardrooms accommodating up to 12 guests each. All of our meeting rooms feature fully integrated audio visual services. Perfect for everything from social events to product launches and conferences.
RG- What are the best compliments the hotel has received from guests and on what aspects of their visit?
One our best compliments was a recent TripAdvisor review titled Perfect Boutique Hotel in the Heart of Canary Wharf. The reviewer commented that the hotel was beautiful, full of colour and very quirky, with warm welcoming staff. I think this sums us up very well.
RG- Tell us more about the curio collection and what makes it more unique amongst the overall Hilton brand? Does the hotel also have apartment facilities for longer term visitors/guests adjoining this property? Is the hotel close to community resources like medical facilities, taxis, public transport, cinema, shopping arcades, other restaurants nearby?
Curio Collection by Hilton aims to deliver the most unique and memorable guest experiences through an edited selection of distinct hotels. No one Curio is like another. They are all hotels with a special character that you can't replicate.
We don't have any long stay apartments however a Bargemaster would certainly suit a guest wanting to stay for an extended period. Canary Wharf is not only the financial hub of London but also offers best in class entertainment, shopping medical facilities and much more.
RG- Lincoln Plaza promotes sustainability. Suppliers include various ethically-conscious brands, tell us more about this and the ethos behind this?
Through partnering with local businesses, the environmental impact of our supply chain is minimised whilst simultaneously offering our guests an authentic, one-of-a-kind experience rooted in our location. Where local options aren't available, our partners are all carefully chosen, have an inspiring story and are equally committed to our ideals. Our conscience goes further than caring for the environment and our immediate local community. Through our partnership with the Shiva Foundation, we are committed to ending modern slavery in our industry.
The fairly-new Lincoln Plaza London hotel is definitely worth writing home about!
Like its siblings, Lincoln Plaza London embodies the spirit of its home while drawing inspiration from the area's industrial heritage are interiors that imaginatively blend contemporary and classical materials, from polished concrete floors, steel feature walls and Crittall-style windows through to clever use of railway sleepers and other reclaimed materials.The design cues of these areas transition seamlessly to the bedrooms, creating a luxurious residential feel.
Created by RPW Design, a world leader in hospitality interiors (RAF Club London, The Fairmont St Andrews and the Mandarin Oriental Hyde Park), Lincoln Plaza London's 129 guest rooms are the very pinnacle of comfort and style. From the bespoke shelving units made of blackened steel and antique brass though to the marble rainfall showers, all elements work together to create a feeling of relaxed, accessible richness. It is also the little extras that will make Lincoln Plaza London stand out from the crowd, whether that be hairdryers with three-metre cables, complimentary water, premium bedding from Kings of Cotton or bespoke artwork.
Guests can also luxuriate in the hotel's state-of-the-art, 24-hour fitness centre, complete with 18-metre pool, sauna and steam room, whilst with over 465 square metres of event space across seven meeting rooms, Lincoln Plaza London is perfect for all manner of business or social gatherings.
Lincoln Plaza London also places great emphasis on CSR, whether it's a campaign to end modern slavery in the hospitality industry or banning plastic in its coffee cups, take away packaging and straws. The hotel has also partnered with Stone Street Soaphouse in Kent to create a bathroom range made from locally sourced natural ingredients; Mozzo, which not only produces sensational coffee but is committed to helping the people of the Democratic Republic of the Congo, and profit for purpose toilet paper company, Who Gives a Crap.
Whether visiting for business or leisure, Lincoln Plaza London is well connected by the Jubilee Line on the London Underground and the Docklands Light Railway network. Within easy reach via the DLR from South Quay Station is the O2 Arena, ExCel Exhibition Centre, Westfield Shopping Centre and London City Airport, while central London is just 15 minutes away on the Jubilee Line.
Curio: A Collection by Hilton
Hilton's latest brand is a carefully selected, global collection of distinctive four- and five-star hotels that offer travellers local discovery and authentic experiences in key markets. Just as the word "curio" can refer to something of interest, unique or even rare, each Curio hotel is different from the next, with individuality being a common thread, along with the quiet reassurance of the Hilton name behind every location.