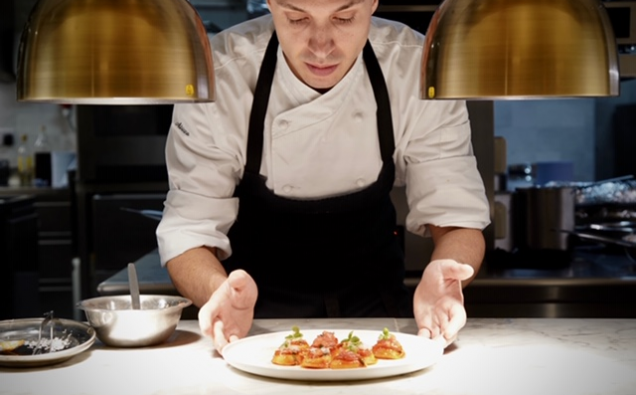 Columnist and Restaurant Reviewer Riccha Grrover in an exclusive interview with Adriano Rausa head chef at IT on his traditional, unpretentious style of cooking that stays true to his Italian roots in the heart of London Mayfair. A feature for Asian World News.
In 2013 Adriano Rausa left his home city of Rome to join the team at Gennaro Esposito's two Michelin starred Torre
Del Saracino restaurant in Vico Equense. Working under Gennaro, Adriano was able to hone his culinary skill and develop his style in line with Gennaro's food philosophy which prizes simple, fresh flavour of top quality, seasonal ingredients
Shortly after moving to Milan for the first time, Adriano joined Gennaro to help open the second IT restaurant in Milan. He then took up the position of Head Chef at IT in
London, bringing with him a traditional, unpretentious style of cooking that stays true to his Italian roots. 
In conversation with the chef… 
RG- How would you describe IT in 5 words that sets it apart from other
Italian restaurants
Authentic, cheerful, iconic, trendy
RG-What are the top 5 dishes across the menu you recommend a first time diner at IT should try ?
AR- Scabbardfish 80's style, Nocellara olive soup with fennel purée and almond is a particular favourite, because of the special balance of the salty olives and the sweetness of the tomatoes and tomato juice in the soup. Other favourites include: the Ravioli capresi, Lamb rack, our signature pizza and for desserts, the Neapolitan babà.
RG- What's the most popular dish at IT and when you decided to put that on your menu did you envisage it will become a culinary hit? What's your own favourites from the menu ?
AR-Courgette Tartare is the most popular, but my favourite has to be the Pumpkin Tortelli with, provolone and cavolo nero.
RG- Do you have a seasonal menu too or is it always a fixed ala carte menu? Where does your menu take its inspiration from?
AR-Our a la carte menu will change at the start of next year with the new season. I'm really looking forward to Britain's seasonal ingredients coming through in the spring, such as asparagus and peas – even though they'll be coming through a little later than I'm used to in Italy! Our current a la carte is just the start, I'm looking forward to experimenting with the menu going forward in the new year.  We're expecting to add more scallops and octopus to the menu in January.
The menu inspiration comes from the Italian culinary tradition, so we feature lots of classic dishes such as carbonara and tortellini. We hand make much of our pasta at IT.
RG- Tell us about the interiors and music and how they compliment the meal experience at IT? And what can guests expect from the whole experience when booking a table at the sought after Mayfair IT?
AR- We want a dining experience at IT to be sophisticated but relaxed; somewhere people can have fun but also enjoy seriously good food. This is reflected in the design which has all been done by an Italian design team, who understood that dining should be about pleasure and fun.
RG- What words of advice would you like to give budding chefs who dream of working with big names and brands like yourself and IT kitchen?
AR- To stay firm with their own ideas and beliefs, but to also be flexible and adapt to the restaurant and chef's particular requirements. What I learned from Gennaro Esposito, that I always pass on to my team, is to have the utmost respect for the raw ingredient. The produce can be as fresh as you like but if you don't look after it, store it properly and at the right temperature, the ingredient will loose its flavour.
RG- What is it that keeps you motivated in the kitchen and what have been the greatest challenges?
AR- The love for all the products I use, and the satisfaction of knowing when a guest enjoys the final dish. It's been a big change coming to a new city with new dining habits. And then there's getting to know the suppliers and a whole new team without my usual brigade. But I've really enjoyed the challenge and this opportunity to grow – you learn something new every single day.
RG- What sort of energy do you look to create in the kitchen?
AR- I like a quiet kitchen so that the team can hear each other, communicate and concentrate. We aim to maintain this focus right until the final dish leaves the pass.
Already a legendary name on the Ibiza scene, hugely successful fine dining and
socialising concept, IT, is now set to conquer London. Launched in the heart of Mayfair on 14th November 2019 , this vibrant and contemporary new venue will, in the words of IT founder Alessio Matrone, "give the city a totally different experience where fine Mediterranean cuisine meets the Balearic beat of
Ibiza." London follows hot on the heels of IT's launch in Milan earlier this year, which saw Alessio partner with friend and entrepreneur Ferruccio De Lorenzo, with whom he shares a passion for fine food and music. Less than seven months after opening, IT in Milan secured its first Michelin star this November. This accolade speaks to the success of IT's unique concept, where the Mediterranean spirit, music and late nights in good company are as much a part of the experience as the exquisite food.
IT's London restaurant, located in a former Dover Street art gallery is a restaurant where London's discerning  diners can enjoy a mix of gourmet Mediterranean dishes showcasing the authentic
flavours of Esposito's southern Italy. This restaurant is sure to become a firm favourite, offering an unforgettable taste of Italy's in Mayfair. 
In addition to a bar and restaurant accommodating over 100 seated guests, there is an elegant semi-private dining room, featuring a dramatic skylight – the perfect venue for private events.
The upper level's separate space offers all the exclusivity of a members' club without the need for membership. Entrance is by invitation only and a ban on photography  ensures guests' absolute privacy.
Similarly to IT's sister restaurants, music is at the core of the London experience. The venue offers a carefully curated soundtrack which brings the energy of Ibiza to Mayfair with smooth daytime beats and hypnotic evening grooves. In addition to daily DJ sets, IT will host regular events with music from world-class DJs.
Fine cuisine, great vibe, fab music, impeccable service… IT London, Highly Recommended!