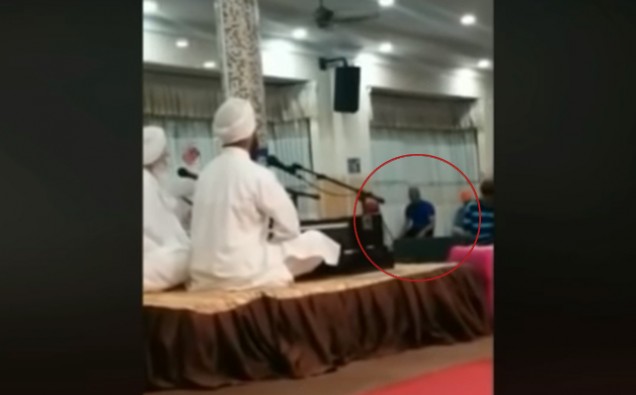 A Sikh temple has been praised for opening their doors to let a Muslim man pray when he allegedly couldn't find a mosque. The man was spotted praying in the Gurdwara Sahib Bercham Ipoh in Malaysia while Sikh Hymns were being sung on the microphone. The video was taken to show the front of the Sikh temple hall and the Muslim man who was wearing a blue t-shirt praying towards Mecca during the Hymns.
Despite a history of animosity between the two religions, no one appears to interrupt him as he carries out his Namaz (prayers) near the Guru Granth Sahib (Sikh Holy Scripture). The heartwarming video was made public after a group called Sikh inside shared it.
They wrote: 'A Muslim brother spotted doing Namaz [prayer] in Gurdwara Sahib Bercham Ipoh. Probably he couldn't find a mosque and drop by Gurdwara to complete his Namaz. 'Powerful, God is One.'
The inspiring video has already been viewed more than 45,000 times on Twitter and Facebook. Thousands of people have praised the video, proving that love always prevails.