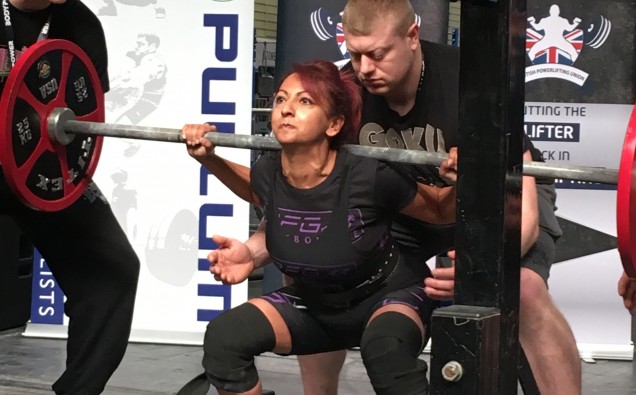 Sussex based Aneela Rose represented Team GB in the AWPC World Powerlifting Championships 2018 and won first place in her class to become a 2018 World Powerlifting Champion! Aneela is the first British Asian female to win this title with the AWPC (Amateur World Powerlifting Congress) in her category and is an accolade achieved through sheer determination and hard work to come out on top.
Aneela matched the current AWPC British squat record of 87.5kg in the Master's category and scored her highest to date with an overall total of 242.5kg (38.1 stones!) across squat, bench press and deadlift.
Powerlifting is the ultimate strength sport, often confused with weightlifting and bodybuilding. Olympic weightlifting uses snatch and clean & jerk whereas powerlifting does not involve any vertical movements directly overhead. And, powerlifters are not bodybuilders, although Aneela strives for a six-pack one day!
Aneela's sporting journey began after the London 2012 Olympics when she was inspired to start throwing the javelin again after a 25-year break, but after repeated shoulder injuries, she was advised to take up strength training to help her shoulder. Her coach quickly realised that she was 'freakishly strong' and encouraged her to enter a powerlifting competition. She switched from spear throwing to lifting heavy weights, and the rest is now history!
"I get incredibly nervous when competing, and I've had to find a way to control my emotions and nerves while remaining completely focused on what I need to do to make a successful lift," Aneela says.
"I've been learning about 'mental combat' and unlocking the full power of body and brain. Using specific tactics has helped me to drive out the negative thoughts and self-doubt that builds up in the run-up to competitions. I'm in awe of myself in managing to overcome a number of challenges and to do so well at a world-class level.
I've been overwhelmed by the support and such wonderful complements; if I've managed to motivate and inspire others, then it makes all the hard work worthwhile. I'm happy to share my journey and performance insight to anyone who is interested as it's directly linked to my confidence and success."