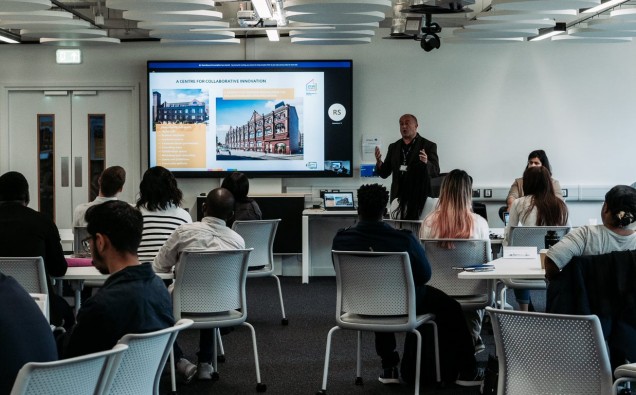 Birmingham City University has launched STEAM Hatchery, an intensive training programme, to give 60 participants the opportunity to turn their business dream into a reality with the help of expert mentorship and part of a £10,000 prize fund.
The new ten-week programme, based at the University's new £70m STEAMhouse innovation centre, will offer third year, Master's and PhD students as well as recent graduates the chance to develop and establish their own company by offering key support, facilities and resources.
The Hatchery will see participants develop their business plan with expert input, and be in with the chance of earning a place in STEAMhouse's Business Incubator, a hub that provides support and facilities to fledgling startups and entrepreneurs.
Entrants will need to submit a business plan and present their idea to a panel of judges, made up of local business representatives.
At the launch event, 60 participants had the opportunity to network and begin cultivating their ideas and learn from STEAM Hatchery mentors – a group of experts from marketing, finance, intellectual property and other key business areas.
The launch took place at the University's new STEAMhouse building, a state-of-the-art five-storey innovation centre which will also house the Hatchery participants during the course of their programme.
Participants were given an insightful introduction into generating new and innovative business ideas, having a long-term plan, how to be adaptive to changing markets and the importance of working together.
It also gave the 60 participants – emerging business professionals from the world of jewellery, fashion, interior design, logistics and technology – the chance to come together to hear from experts, learn about key aspects of businesses and harbour new collaborations.
Sanelisiwe Mafa, a recent Birmingham City University Master's graduate and owner of her own interior design agency, said: "We've just set up our business and could use some expert knowledge, but we lack the funds to pay for those services, so getting them as part of this programme will be incredibly helpful.
"When you finish university, sometimes you wonder where you go from there. This programme gives you extra guidance, the kind you don't get when you're studying a specific subject, as well as the skills and confidence to navigate all the different things in setting up a business. It's also a great chance to collaborate with new people from different areas to enhance our business."
The launch culminated in a talk from Tracy Westall, a non-executive member of the Department for Transport Board and a business mentor for a range of organisations.
Richard Scutt, Head of Growth and Incubation at STEAMhouse, said: "We have, potentially, 60 businesses sitting right here that could all contribute to the economic and cultural growth of Birmingham, which feels truly fantastic.
"The Hatchery opportunity is massive. It's very rare that a programme offers prize funding, let alone the additional support of mentoring and excellent facilities, as well as the ability to talk to a solicitor, an accountant and a bank about important business decisions."
The STEAM Hatchery also ensures BCU's students and recent graduates are equipped with the attributes needed to be successful in their business endeavours, as well as significantly boosting their employability prospects. Over 10 weeks, they will learn skills in sustainable business models, creating an efficient sales strategy, perfecting business pitches, financial planning and prototyping.
The Hatchery and its support solidifies BCU's position as one of the region's most entrepreneurial universities, with the University currently ranked in the top 20 nationally for skills, enterprise and entrepreneurship in the Knowledge Exchange Framework.