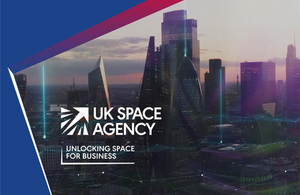 Global satellite services currently support activity that contributes £370 billion to the UK economy, which is around 17.7% of our GDP. As the cost of accessing space continues to fall and the pace of innovation increases, a greater number of businesses now have the opportunity to harness the advantages offered by satellites through enhanced imagery, connectivity and navigation capabilities.
Unlocking Space for Business is an 18-month programme designed to bring these untapped benefits to hundreds of new organisations across the UK, focused on the leading transport and logistics and financial services sectors.
Opportunity areas can include using satellite imagery to improve the measurement of climate variables and verification of customer insurance claims after extreme weather events, satellite position and navigation to support location tracking and enabling the movement of people and satellite connectivity to help crew and passengers keep in touch with operators and families on shore.
Unlocking Space for Business will provide workshops, networking events, learning and development sessions, and online resources to support companies in their understanding of what satellite data and services can mean for them as well as offering the opportunity to bid for a share of up to £6 million UK Space Agency funding later this year to help launch innovative pilot projects, data procurement or partnerships.
Dr Paul Bate, Chief Executive of the UK Space Agency, said:
Unlocking Space for Business will champion the use of space and help tackle barriers facing organisations that have not traditionally used satellite data or services. This will help catalyse further investment into our growing space sector and deliver greater benefits for businesses, people, and the environment.

This is just one of the ways we're working to deliver the goal set out in the National Space Strategy to build one of the most innovative and attractive space economies in the world, developing new skills and creating jobs.
Satellite data and services have the ability to unlock and deliver new revenue growth opportunities, operational efficiencies, improved customer experiences and ESG benefits for organisations.
Unlocking Space for Business will connect leading data suppliers, technology integrators, insight providers and end-users to encourage the development and adoption of innovative solutions using satellite data and services.
Delivery of the project is being supported by PwC, a leader in human-led, tech powered business transformation, and the Satellite Applications Catapult, a leader in bringing space-based services to market.
Faye Melly, Delivery Partner at PwC, said:
Businesses today face significant challenges which demand innovative solutions. The to-do list can range from driving operational efficiencies and strengthening customer experience, through to taking action to drive towards Net Zero. In all of these areas space can play a pivotal role.

Unlocking Space for Business gives UK firms the opportunity to realise the benefits of satellite data and services, and we're proud and excited to be supporting the delivery of this programme for the UK Space Agency, in partnership with the Satellite Applications Catapult.
Organisations can register their interest to get involved with the project and keep up to date with planned activities including Insight and Networking Events, Exploration Workshops and learning and development sessions ahead of the funding call opening later in the year.
Lucy Edge, Chief Operating Officer and Acting CEO at the Satellite Applications Catapult, said:
We're excited to launch Unlocking Space for Business today. By bringing together key players in the satellite industry, integrators and end users, we'll make it easier for businesses to access the business-critical data they did not even know was available to them. We'll also connect companies with government funding sources to test out pilot projects using satellite tech.

Satellite services drive innovation in all businesses and will boost the bottom line. By building up these partnerships and support systems, we aim to accelerate the adoption of satellite solutions across the private sector.
Unlocking Space for Business is part of the UK Space Agency's Inspiration Programme, directly delivering the National Space Strategy (NSS) goal to use space to deliver for UK citizens and the world by increasing public awareness of the critical role space-based assets play in our daily lives, emphasising how they can be leveraged to enable business benefits such as improving public services and combating challenges such as the climate emergency.
Geraint Evans, Chief Executive of the UK Major Ports Group (UKMPG), said:
Major ports and the wider maritime sector are at the forefront of the technological revolution and satellite services has the potential to play a key role in driving even greater efficiencies, safety and the growth of international trade through our British ports.

We will continue to work closely with the UK Space Agency to ensure that our major ports, which collectively handle 75% of the UK's port volumes, can continue to lead as a sector in utilising innovative solutions using satellite technology."
Shevaun Haviland, Director General of the British Chamber of Commerce, said:
The contribution of the space technology sector to the UK economy cannot be underestimated, both in terms of revenue generated and the nurturing of innovative, high-tech skills and talent.

It's great to see this new initiative looking to spread the benefits of satellite services much more widely across the economy. The British Chamber of Commerce's Digital Revolution challenge is also focussed on improving business productivity through better awareness and take up of new technologies.

With greener industries set to be a key sector going forward, the potential to unlock further growth through this initiative, by reducing costs and increasing access to new, relevant data is immense