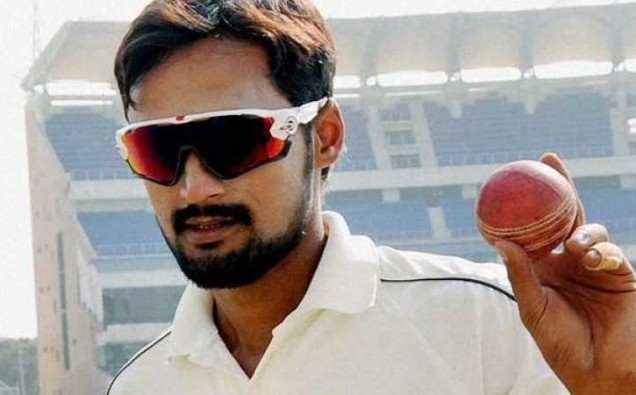 The emerging Jharkhand spinner Shahbaz Nadeem broke a twenty years old world record for best bowling figures with an incredible haul of 8/10 against Rajasthan in the Vijay Hazare Trophy.
Left-arm Nadeem ran through the Rajasthan batting to end a sensational spell. Rajasthan were all out for 73 runs in 28.3 over's with Nadeem's final figures 8/10. Jharkhand eventually won the game by seven wickets.
The previous best bowling record was also in the name of an Indian in Delhi left-arm spinner Rahul Sanghvi, who took wickets 8/15 against Himachal Pradesh in 1997-98. Sanghvi played just one Test for India in 2001 against Australia.
He told PTI reacting to his feat that he didn't know till some people told him that he had broken the world record. It felt really good to play for the state (team).
Nadeem also made a hat-trick in the match, dismissing M K Lomror, C D Bist in the 20th over and T N Dhillon off the first ball of the 22nd over.
He told that he was happy with his performance and the hat-trick made it more special.
Nadeem told that he was overjoyed with the way he was bowling and felt that the spell as a net bowler to the Indian batsmen at the ongoing Asia Cup in Dubai was helpful.
Nadeem added that bowling to the batsmen in the national team helped a lot. He was able to work on his bowling. You could know where you stood when you bowled to top-quality batsmen. He was happy he got the opportunity.
He joined the Jharkhand team. Talking about the pitch, Nadeem told that it aided the spin bowlers, but one had to stick to the basics.
He told that his idea was to bowl on the stumps and keep a good length. He knew if he bowled in the right areas, there would be purchase from the wicket. He did that and got the results. The Rajasthan team got off to a good start and was 30 for no loss in the 8th over. When he came on to bowl, and in the second or third delivery he felt there was something in the wicket.