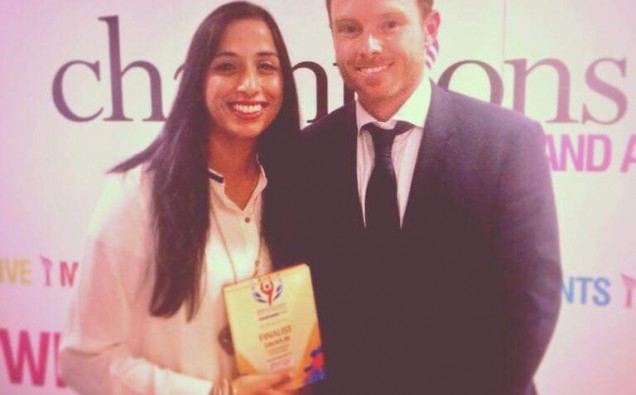 The Year 2012 brought me great success as I became the first ever winner of the Sports category at the Asian Women of Achievement Awards in London.
The glittering ceremony took place on May 16 at the plush Hilton Hotel in Park Lane and featured a star-studded guest list which included awards patron Cherie Blair QC, EastEnders actress Preeya Kalidas, newsreader Mary Nightingale and rising star, pop singer Avina Shah.
The 13th AWA awards included a Sport section for the very first time and I was named the inaugural winner ahead of former British No1 tennis player Anne Keothavong, England hockey talent Ashpal Kaur Bhogai, Urvasi Naidoo, CEO of the International Federation of Netball Associations, and amateur boxer and coach Saira Tabasum.
This year I launched my own coaching organisation Believe in MAD – Make A Difference which aims to raise the profile of girls/women's and disability sports.
In the previous month I staged a T10 World Cricket Cup event at Birmingham International Futsal Arena which involved 32 women representing four different Test playing nations and raised over £1,000 for the charity Mencap.
Just six weeks earlier I was also the inspiration behind a 10-hour non-stop futsal marathon held at the same venue. Twenty four women took part and more than £1,000 was raised for the National Autistic Society.
In my celebration speech at the Hilton, I spoke about these events and thanked the small but dedicated team of supporters which helped make it all possible.
I also talked of the hurdles I've had to overcome to make my mark as a cricketer and highlighted my future ambitions.
"I do nothing for personal glory – my aim is to promote the sport I love and help others,"  "If I receive awards or recognition along the way it is a bonus.
"The success of my events has inspired me further. We didn't change, we just made a difference."
As my PR Quotes- Salma's infectious and engaging personality, her eloquence and humour, ensured she received rapturous applause as she left the stage. As she departed into the night, the praise was ringing in her ears from all quarters.
Just after receiving this award I was also Shortlisted for other awards as mentioned below
Accompanied by my sister & my good friends the Panesar Sisters
At Lords, I stood proudly amongst international cricket stars as I received one of the greatest accolades of my career. Winner at the first ever ASIAN CRICKET AWARDS, held at Lord's on October 7th.
I landed the WOMAN IN CRICKET award during a glittering ceremony at the home of cricket staged to celebrate the tremendous contribution to the sport by British Asians.
From international stars to the vibrant amateur game, up-and-coming youngsters, coaches, media, behind-the-scenes staff and unsung heroes were honoured at the Talk Home Mobile sponsored event.
I was privileged to be chosen ahead of promising young county cricketers Sidra Khan and Bhumika Doshi to win my category.
"I have won many awards in the past, but to be recognised alongside so many great names from the world of cricket made this one of the most special nights of my sporting career."
I picked up Outstanding Achievement at the British-Asian Sports Awards in 2009 and was the first winner of the Sport category at the Asian Women of Achievement awards in 2012.
Salma has also been shortlisted for numerous other regional and national awards.
This night was a dream come true for me as I gained international recognition by receiving the first ever WOMAN IN CRICKET accolade at the inaugural ASIAN CRICKET AWARDS.
Who would have thought all those years ago that a young girl with big aspirations would make her passion a reality?
On stage I recalled my time playing at HQ alongside England great Claire Taylor for MCC v Japan.
The room was filled with many familiar faces and many who once discouraged me to continue as they said it takes a match-winner to strive so high.
I told the audience: "I sometimes attended training sessions without telling my family. I lost social contact with friends through my commitment to my sport.
"Making a balance of playing and working as a haemodialysis nurse has sometimes been difficult, but if you believe in something that strongly you should never give in as all is possible."
"When I was on stage, this was not just a moment I will relive for a lifetime, but a moment I realised I've become a pioneer icon, a voice for the women/girls in cricket.
"I didn't just represent myself, I was proud to be honoured on behalf of my parents, my family, my husband, my unborn children but most importantly I was inspiring the next generation to come through and leave a legacy behind."
My sponsors Deal Direct and Sporting Equals were very close supporters for Me on the night.
A big thank you to Asian Cricket Awards co-founder Baljit Rihal, Jas Jassal, Isa Guha, Club Cricket Conference and Baroness Sayeeda Warsi, who have encouraged me so much.
"I was most thrilled to see her my student and club player Simran Panesar bring her very first award home as Amateur Player of the Year."
This for me was a truly deserved & latest major award after 12 years in the cricket world – knowing I have made history again!
Winner of the #InspirationalAward2015 at the 2nd Annual Event of #AsianCricketAwards at Lords CC To Win Two Awards in both Annual Events is unthinkable, but I was told I deserved this. I was also told, I was more relaxed this year & it showed because my Rock, My Husband was by My Side
In the Year 2013 – Me & My Husband Head Teacher & Club Cricketer Muhammad SOHAIL made a pledge to work a Build A School Project for orphaned children in Pakistan. We was fortunate to raise over £10,000 & are still in process of collecting donations.
This idea came about after going through a tragic time, something I never could imagine but yes whilst starting a new family I had a molar pregnancy. I was disheartened, unable to let it sink in & advised by my Gynaecologist to take at least 6 months rest post operation. It was a very difficult time for me as I took a break from sports, it was like I didn't want to face my friends/family so when I did get back to playing cricket I avoided my club team, made debut for Northants County & played at Lords for club cricket conference whilst still recovering.
Winning the Inspirational Award brought tears to my eyes on the night, For any woman to go through such trauma understands how valuable her little family is. I was touched & continued to have the belief in the Almighty as always to guide me in the right direction.
Another award I was honoured to bring home was for WCOP-Youngest Speaker at the Womens World Conference of Pakistanis. I enjoyed every moment on sharing my Struggles & Achievements on the Panel among other inspiring role models to over 600 People. Awarded a Shield of Gratitude by Khalid Mahmood for my Services which reminds me of why I should continue what once was just a dream. Special Thank You to all the Team at TV Apex & Arif Malik for giving us this platform.
BELOW ARE ALL MY SPORTING ACHIEVEMENTS (and still counting)
COACHING THE NEXT GENERATION – Warwickshire Level 1 Umpire
Warwickshire Level 2+Club Coach
S&S Indoor Cricket Centre Coach
FIRST EVER MUSLIM/ASIAN SENIOR PLAYER – Worcestershire County Cricket Club Senior Women's Squad Player – First Asian Woman to represent the County.
Northamptonshire Womens County Team 2015 onwards.
PLAYED AT LORD' S VERSUS JAPAN AND HONG KONG – Marylebone Cricket Club Representative Player played alongside Former England Legend Enid Bakewell.
LEADING SPIN WICKET TAKER IN ALL TEAMS – Five Ways Old Edwardians Cricket Club Women's League and T20 side and Men's thirds senior player.
FIRST FEMALE PLAYER ALONGSIDE SISTER ANISHA BI – Wall Cricket Club Men's squad player.
T20 PLAYER – Tamworth Ladies
LED TO PROMOTION WITH PB 71 RUNS AS OPENING BATSMAN ALONGSIDE SISTER AISHA BI – Hawarden Park CC player and selected for Cheshire CC and Womens Midlands Team. Coached Indoor U22 Player Sammi Short.
FUTSAL: FIRST ASIAN TEAM IN BIRMINGHAM LEAGUE – Great White Sharks Team Captain and Goal-keeper.
CRICKET: FIRST ALL ASIAN WOMENS TEAM UK
CBBL Ambassador & Captain
CRICKET: INDOOR CHAMPIONS – Fiveways Zombies Captain.
OUTDOOR FOOTBALL: Birch Coppice FC player and Football Futures Goalkeeper.
MAJOR AWARDS.
FIRST NATIONAL AWARD PRESENTED BY DENISE LEWIS AND AMIR KHAN:
0.    British-Asian Sports Awards 2009 Outstanding Achievement Award winner
BACK IN THE LIMELIGHT NATIONAL AWARD.
0.    Asian Women of Achievement – Inaugural First Ever Sports Award Winner 2012. The 13th AWA Awards included a sports section for the very first time & Salma was named the Inaugural Winner.
PRESENTED BY CLAIRE TAYLOR & CHARLOTTE EDWARDS:
0.    OSCA's (Outstanding Services to Cricket Awards) Nat West Volunteer of the Year Award 2012 Building Partnerships. Bill Jones Memorial Volunteer of the Year Award 2012.
Asian Cricket Awards
0.    Asian Cricket Awards 2014 – Winner Women in Cricket Award. Presented by Baroness Sayeeda Warsi, Isa Guha and Nihal.
0.    Asian Cricket Awards 2015-Winner of the Inspirational Award. Awarded during a difficult time undergoing an operation after being told she was having a molor pregnancy.
Birmingham Sports Awards Finalist 2013-
Presented by Ian Bell.
Birmingham Sports Awards Finalist 2014 – presented by Hannah England.
British-Asian Sports Award 2010 Coach of the Year runner-up.
Muslim Women's Sport Foundation Ambassador Awards – runner-up 2012.
Bradford Inspirational Women's Awards 2013 – runner-up.
British Muslim Awards 2014
Runner-Up
West Midlands Awards 2015-
Runner-Up
SPECIALIST FULL TIME CAREER: Haemodialysis Renal Adult Nursing.
COMPANY DIRECTOR: Believe In MAD |Making A Difference| Founder 2012
PARTNERSHIP: Sporting Pathways Co-Founder (Community Interest Company).
CHARITY – PROLIFIC FUND-RAISER:
EVENT 1: Hosted First Ever Women's Futsal Marathon 10-Hour Non-stop Record 2012
EVENT 2: Hosted Women's Indoor T10 Cricket World Cup 2012.
EVENT 3: Hosted Women's Futsal Marathon 20-Hour Record 2012
EVENT 4: Hosted World Dodge Ball 2013.
EVENT 5: Hosted Women's Indoor T10 Cricket World Cup 2013.
EVENT 6: Hosted World Dodge Ball 2014
EVENT 7: Hosted Women's Indoor T10 Cricket World Cup 2014
EVENT 8: Hosted Mens Indoor T10 Cricket World Cup 2014
Finally after almost 2 weeks of sharing my story it comes to a close, I'm signing out from The journey of struggles, experiences & success. By doing all this it hasn't made me more special to anyone else who might be working hard at what they want in life, There might be others out there who don't feel they can share their story but might in fact be more inspiring then me.
Now a Proud mother of two Aliza & Abira I can't wait to show them how powerful it is to be a influential woman. My Elder Daughter Aliza became a proud Ambassador for MiniMuslim Playground at the age of only 7 Months.
A Toys Company which sells Muslim oriented Toys, Clothes & books. The best I can do for my children is to guide them, to leave a legacy behind.
After being crowned for my work, I feel my life is now worth telling, something nobody can take away from me. I promise to give my children the best start to life, if they desire to dream big I will be right behind them.
My attitude of not giving up has brought me success in ways even I didn't imagine. I'm ever so grateful for the opportunities that finally did come my way, my perseverance has paid off. Sports has paid off by witnessing girls/women participating because I have made it possible for them for the opportunities I provided through my selfless work.
Thank You to my coaches, team colleagues, Admin staff, Event Partners, Event Participants, Media, Selectors, Students, Judges, Nursing Colleagues, My Family & Husband Muhammad Sohail.
Thank You to my Sisters for letting me drill sports into them.
Aisha- I remember her Celebrating my first 50th like it was her 50th she prayed for every run that I made that game as we became Cup Winners.
Anisha-Once whilst taking a catch Collided with another player ended up on a stretcher but amazingly still held on to the ball because she knew it was a wicket for me.
The highlight of my life isn't just sports but it's who you choose to settle with, if they see your dreams as their own then you definitely have got yourself a keeper! My husband plays some club cricket & it's a joy to coach him & hear all about his performances per game.
After hosting 8 Back to Back Events all in the space of 3 Years, I decided to set up a small project called 'Get Her In the Game' I researched to find that by the age of 14, girls are dropping out of sports at twice the rate of boys. Something was to be done, from participating in sports all my life & having that drive I wanted to see what was lacking that clearly kept girls behind in sports. The idea of the project was to find approx 100 girls & coach them to find the love for the sport again but also to showcase an Ambassador Programme.
As much as I continued to inspire everyone around me, as a crucial hard working woman in the society today has earned me a lot of respect from the people around me. I have never been afraid to try something new, my mindset has always been about getting others involved. Reaching great heights myself I have found it more satisfying creating pathways for others who continue to make a Difference.
I am honoured to be an Ambassador for various sporting organisations such as The Asian Cricket Awards as a Judge, Muslim Sports Council and Deal Direct. Change4Life, Eiman, Opening Boundaries and Muslim Womens Network Ambassador & Spokesperson. I'm ever so great to these organisations for considering me as an Ambassador a face a role model to promote their Business.
I have so far used a Social media platform's to tell my story, used my blogs to visualise my work but it is the Media that gives us the platform. They share our story in a different light, they create the face for us to reach out to communities across the globe. Below are some of the campaigns I have had the pleasure to be involved in-Badman's Britain Comedy Sketch, BBC Asian Network, Cricket Pundit-Live Radio Commentator, Sky Sports, Oxford and Cambridge University, All-Out Magazine – National publication half-page feature, columnist for The Asian Today and Youngest Speaker at the Womens World Conference of Pakistanis. Bbc Midlands today, Desiblitz & The Guardian Newspaper. Islam Channel. West Midlands Police, Campaigns & Numerous Charities. Sporting Equals, Sporting Opinion, Coaching Edge, Birmingham Mail Newspapers. Fifteen21 Magazine, Noor TV, Unity FM and Bbc Expert Women. 5LiveRadio & BBC WM.
As the Birmingham Mail quotes 'Salma is no stranger to the prize podium having won the British Asian Sports Awards Outstanding Achievement Accolade in 2009 for her services to cricket, Now is a Renown 5 Time Multi National Award Winner for her contributions. Breaking stereotypes is what Salma has been known to do'
Up against two male sports personalities I did not once think I stood any chance in making it on the shortlist let alone as a Winner. At Grosevnor Park Hilton London I was honoured to rub shoulders with some amazing people. Escorted by my Brother & uncle who both play club level cricket I went in the mindset just to be inspired by sports personalities just like myself.
My first national award alongside the likes of Amir Khan, Raj Hundal & Ambreen Sadiq.
I recall Denise Lewis congratulating me & saying how she fought for during the judges selection process.
During this time I only just started playing cricket but wanted to give up not knowing I've made history which has finally brought something good out of my struggles! If you want something you've never had, then you've got to something you've never done! #Legacy #TheUntoldStory #Believe #Awards #Sports #Hilton #DeniseLewis #AmirKhan #London #Inspirational #Struggles #Perseverance #WrongUn
In 2012 I was invited to the Bill Jones Memorial Volunteer of the Year Awards at New Road, Worcestershire, for the NatWest OSCA presentations and received the Building Partnerships accolade for my work in promoting the game.
The tribute to Me stated: "Salma has been pro-active in getting women and girls into playing cricket.
"In particular, she has worked very hard with the Asian Community. She has arranged coaching sessions, tournaments etc for women and girls and encouraged them to be involved.
"In doing this, she has been working hard and successfully to persuade local press, radio and TV to report on the girls' cricketing activities."
This was a special moment for me as I was representing Worcestershire County Cricket, Just selected for MCC, Coaching & Umpiring. It was nice to be acknowledged by the county cricket board.
Other Sports awards that I was shortlisted for during this time included the BASA Coach of the Year in 2010 at the Marriott Hotel London and this year was shortlisted for the Outstanding Contribution prize at the Muslim Women's Sports Foundation awards at Wembley Stadium. Birmingham Sports Awards twice as a Finalist in the Women In Sports Category presented by Ian Bell & Hannah England at Edgbaston County Cricket Ground.
I guess bowling off spin with a leg spinners action paid off to stand out & make a difference. My school of thought has always been to encourage diversity to push hidden talents in others as everyone is unique in their own ways
The story continues #TheUntoldStory #WrongUn #Legacy #Believe #Sports #Cricket #County #WomenInSports