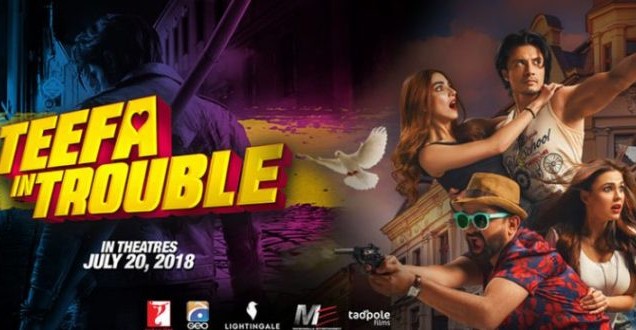 We joined Ali Zafar on his promotional tour of his first ever Pakistani film, Teefa in Trouble, here in Birmingham. The multi-talented entertainer stars alongside the famed Pakistani drama actress, Maya Ali. Directed by Ahsan Rahim, Teefa in Trouble follows the mishaps of Teefa, who is hired by Butt Sahab (Mehmood Aslam) to kidnap his friend Bonzo's (Javed Sheikh) daughter Anya (Maya Ali) so that she can be married off to his son. The convoluted kidnapping plot takes Teefa to Poland where Anya lives and so begins Teefa's adventure, and troubles. Teefa in Trouble is said to be the most expensive Pakistani film to date, costing nearly 2.3 billion Pakistani rupees.
How did the film idea of Teefa In Trouble come about?
We were having a very spicy dinner in Lahore and whilst there this idea came and from there and it kept developing and the rest is all history. The director, Ahsan Rahim, and I go a long way back. He's like a fan, a mentor and we share a very close relationship. We've done music videos together like Channo, Rangeen and many others. I thought whenever I make my first Pakistani film it would have to be him because he's absolutely amazing.
You have co-written the film, produced it, acted in it, and composed the music. How did you deal with the pressure of multiple roles?
I've learnt to do that, I multi task a lot of the time. I think that if you're very focused, if you're intention is right, then you can sort of thrive to achieve all of these things and manage to be successful. Lets see how it goes on 20th July.
The film takes your character, Teefa, from Lahore to Poland, how does his character differ?
When he goes to Poland he wears different clothes and tries to look more Western. In Lahore he's badmaash, a rock star type character. In Poland when he's sent there for work he tries to fit in.
How do you see the trajectory for Pakistani films at home and internationally?
I think the revivial of the industry has started. We are very rapidly churning out films of good content, which very soon are going to start making big splashes internationally. With that narrative, when we made Teefa in Trouble, my intention and the entire team's intention was that we make a film out of Pakistan which sets a new benchmark for Pakistani cinema internationally and takes the siren on another level. And also to give Pakistan a film that it remembers for a very long time!
Do you wish to see newer filmmaking talent take stage under your production house, Lightingale Productions?
Yes I do, we are always looking for talent. There is so much talent in Pakistan and all they need is patronisation of the film industry, opportunities and mentoring. It's a time taking process but we all have to work together and support each other to achieve that. I'm always there for anybody even if it's a newcomer to help them out.
The songs differ in genre quite a bit, how did you decide the music for Teefa In Trouble?
With every song I had a different thought process and when you're composing and writing for film, it actually depends on the situation. Teefa goes through different sets of emotions in the film, sometimes he is comic, sometimes he's very serious, sometimes he means business. All of those emotions are represented through the songs. He does a song about Billu Butt, because it's a comedy film also. I feel that the different styles of music meet the different requirements of the scene and the situation.
Finally, what can viewers expect to find on 20th July when Teefa in Trouble is released in cinemas?
Just a lot of fun, come to be blown away and to be entertained. The jokes and scenes, actions and landscapes are different from other films. Experience something which you've never experienced before.