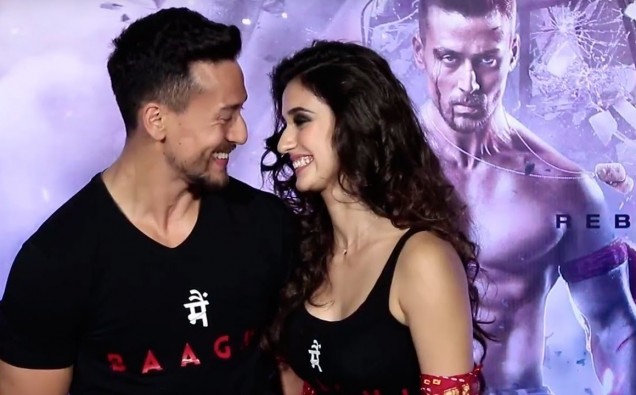 Q1. Sajid Nadiadwala is known for giving the best launches – Tiger Shroff and Kriti Sanon. How does it feel to be a leading heroine of his banner?
I feel very fortunate. I know he really takes care of his artists and treats you like a family. When I met him I felt so protected as he takes up all the responsibilities and makes sure you are on the right path. So, I feel very fortunate and lucky that I have Sajid sir, the same mentor, as Tiger has. I have always wanted to work with Sir especially the way he moulded his career in Heropanti and Baaghi. Sir has a knack for getting right with
everything and is extremely encouraging. He takes charge of everything and encourages you to do the good work
Q2. He is also known to give his heroines a huge marketing platform and present them in a very special way. What do you have to say about it?
Yes of course! I remember Priyanka Chopra as she did a film with Sajid sir called Mujhse
Shaadi Karogi and how famous she became after that film. I love Priyanka Chopra, that's why I am talking about her. For sure, he takes charge of everything and wants everything to be perfect which includes everything. He is a businessman. He wants you to come out as a star as well as an actor. He does not concentrate or focus on one thing; he wants you to be a package. This is a special trait of him and I am lucky to be with him because now I don't need to stress about anything. I just need to work, give my 100 percent as things are taken care of.
Q3. Baaghi was a huge success and loved by the audience. How does it feel to be a part of the sequel?
I loved the film and its action. I have watched it so many times especially the climax and the fight sequences. Now in the sequel, I can't reveal much, but it's a completely different setup and the story. And it's a very special story. When I heard the script I was thrilled! My character is something that I would love to do. I think Baaghi was kind of a revolution in terms of action, like nobody has made an action film like that. We have had many action films, but Baaghi was very different in terms of physical action and not using body double or even a harness.
Q4. What would you like to say about Tiger Shroff?
He is a perfectionist. He is a focused man and is someone who inspires me. Whatever he does, could be dance or action, he gives his 1,000 percent. I have worked with him on an album and it was so hard for me to even stand next to him when he is dancing. He goes into a different zone and is very passionate. We are very good friends as well. So I think for us it will be easier to work together as we used to dance together. So there is certain kind of understanding that we have. I know for a fact that I have to really work hard
to be able to match up to him or to be able to just stand next to him.
Q1. How do you feel when you see the audience's excitement for the trailer for your new film Baaghi 2?
I would like to thank everyone who has shared their love with us even before the trailer
was released. Now that the trailer is out, I am just overwhelmed with the audience's response. It's because of their reactions that we strive to make films like Baaghi 2 to entertain them.
Q2. Your fans and audience always expect a level up from your previous performance. How do you manage their expectations and prepare for it?
I have been preparing for this since my childhood (laughs). It has been my dream to
become an action hero. That being said, it is definitely challenging to do better and
better every time but this is my passion and this is what I want to do. I had a dream so I
made it my goal to achieve it. I want to give credit to Master Shifu, our action consultant, who has been instrumental for the action in this film as well as my training. I would also like to thank Ahmed sir (director). People just know him as a choreographer but after this film everyone is going to be shocked. He is a choreographer, director,
actor, and action choreographer – an all-rounder. I feel absolutely blessed to be working with him. And of course! My father figure in the industry Saajid sir (Producer) who has taken me under his wings making me feel unstoppable.
Q3. Is the central character same as Baaghi 1 or have you changed the character in Baaghi 2?
It is a completely different film and different from the first. You will be watching a fresh new film with great visuals along with a very good story. It is a sequel but nothing to do with part 1.
Q4. What is your favourite dialogue from the film? Could you please act it for us?
The film has no punchline as such but there is one line "yeh jo tera torchure hai na wo mera warm up hai"(Says in the character) meaning what you think is torture, is in fact to me just a warm up.