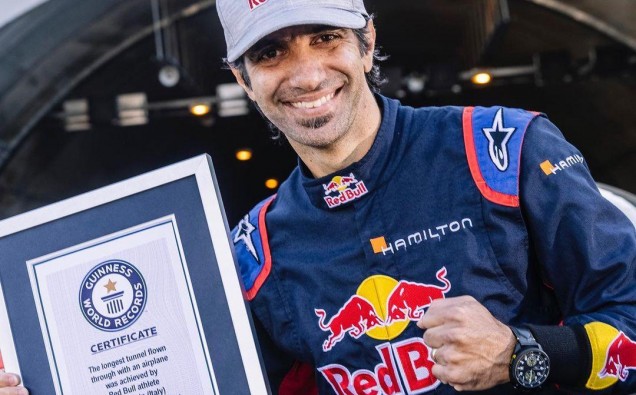 Pilot Dario Costa ( Instagram A/c : costadario ), an Italian pilot, made history by setting a Guinness World Record to fly through the longest tunnel. On September 4, 2021 he flew through T1 and T2 tunnels on Northern Marmara Motorway in Istanbul in his modified Zivko Edge 540 race plane. He built a record as the first pilot who flew through the longest tunnel .
According to the Guinness World Record on Instagram , "Longest tunnel flown through a plane : Daredevil Italian pilot Dario Costa has achieved a remarkable new flight record through a 1730m ( 5675ft 10.23in) tunnel in Istanbul, Turkey with redbull."  
Dario's passion for flying was born when he had his first flight at the age of only one year old. Chasing the clouds made him build his dream to become a pilot in future. He learned aerobatic flying and became the youngest professional aerobatic instructor in Italy from 2008 till 2013. Then he joined Red Bull Air Race Team as flight operation manager and development pilot on extra 330 LX & Zivko Edge 540 in 2013. He was the first Italian who became an official Red Bull Air Race pilot and from there his career was filled with lots of adventures. He had done so many stunts, taken part in races but the most exciting was the tunnel stunt which was full of thrill and excitement.
An Interview with Pilot Dario Costa
Q.) What made you decide to join the Red Bull Air Race Team ? 
Pilot Dario : I have been passionate about motorsports and flying. The Red Bull Air race was just the perfect match of the two, the sport discipline I was waiting for my whole life.
Q.) Didn't you feel scared passing the tunnel in the dim light ? 
Pilot Dario : Of course I was, and it is thanks to that fear that I did all I could to prepare myself for it. 
Q.) While doing the tunnel stunt did you expect that you would make the Guinness world record and create history ? 
Pilot Dario : While doing the stunt I was not thinking about anything except flying the airplane as planned.
Q.) If you were not a race pilot then which profession would you have chosen as your career ? 
Pilot Dario : For sure I would have loved to be an athlete in another motorsport racing discipline.
Q.) Is there any difference between doing a stunt for a movie and doing a real life stunt ? 
Pilot Dario : A stunt is a stunt, same risks involved and same preparation required, no matter if it ends up in a cinema or not.
Q.) You have done so many stunts in your life , which one is your favorite  ? 
Pilot Dario : Every stunt has given me something that made me a better stunt pilot and person, but the Tunnel Pass is the stunt I have been dreaming of for 29 years and was the most difficult to prepare, the most dangerous and many other things that have given me the biggest emotions of all the stunts I´ve done so far.
Q.) What challenges have you faced in your life to reach this height of success ? 
Pilot Dario : Quite a few, but all worth it. 
Q.) How did you feel when you were qualified as the first Italian to become a Red Bull sportsman ? 
Pilot Dario : It was a huge honor to be the first to represent Italy in the biggest aviation sport discipline. Italy has such an important aviation history behind , if we think that Leonardo Da Vinci was the very first who managed to put down on a paper a manned flying machine design based on aerodynamic studies and if you think that an Italian airplane flown by an Italian pilot still owns the speed record for a propeller-driven seaplane since 1933 and many more historical achievement in aviation were set by Italy, so for all this I was simply honored to be the first Italian to compete in this sport. 
Q.) Which is your favorite place to do stunts ?
Pilot Dario : I do not have a favorite place, every project needs a specific location and I love each of them as much as I love the stunt itself.
Q.) When your son sees you doing stunts, what are his reactions ? 
Pilot Dario : He looks excited.
Q.) How do you feel being so successful ?
Pilot Dario : I don't feel successful, success is something different in my opinion. 
Q.) Do you think these stunts are dangerous to perform and carry a high level risk ? 
Pilot Dario : Yes.
Q.) Any advice for the young aspirants who want to become a race pilot or stunt pilot ? 
Pilot Dario : Have always respect for fear.
By: Rida Khan ( Aviation Author)
( Instagram A/c : aviationauthor.ridakhan )