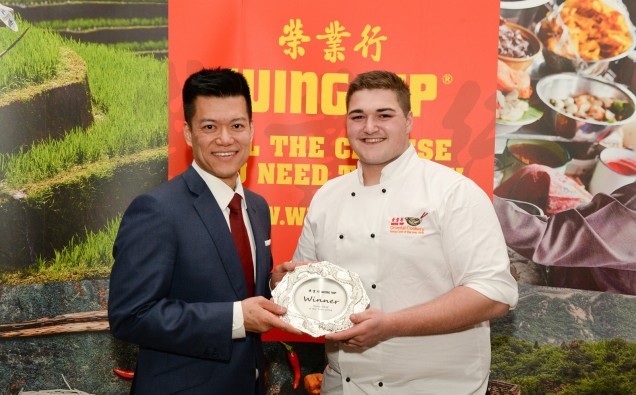 A talented young chef from Essex has been crowned Wing Yip Oriental Cookery Young Chef of the Year 2018.
Conor Bird, 22, from the House of Commons, battled it out in a competitive cook-off at University College Birmingham (UCB) on (Wednesday 28 March), with the winners announced at an official awards dinner.
Conor has not only been awarded the 2018 title but has also won a once in a lifetime trip to Hong Kong where he will be given the unique opportunity to explore the culinary aspects of the city and gain hands-on experience at the city's leading Michelin-starred restaurants.
Putting Conor through his paces was a panel of expert judges – President of the British Culinary Federation Peter Griffiths MBE, Michelin starred Chef Glynn Purnell and MasterChef finalist and Woky Ko founder, Larkin Cen.
On winning in the competition, Conor said: "It doesn't happen often, but I'm speechless. I really did not expect this and cannot believe I have won! The competition presented lots of challenges, but I am elated all the hard work which I put into preparing for the tasks has paid off. The judges were brilliant and offered some excellent tips along the way – an experience I will take away with me and utilise on the trip. I cannot wait!"
To gain a place in the final, competitors were required to submit an Oriental main course of their choice. During the cook-off, the finalists were asked to prepare and present a set starter course, which was selected by Larkin Cen – beef tartare with shallot ponzu and nashi pear, as well as cooking their Oriental main course of choice.
Conor impressed the judges with his version of Larkin's starter, followed by the main course of apple and miso glazed duck breast with honey heritage carrots, red cabbage puree, pak choi, sweet plum jus and miso dust.
Peter Griffiths said: "This year was incredibly tough for the contestants as we incorporated a set-starter course component, which really tested the culinary skill of the competitors".
"Culinary competitions such as this one are so important for the development of our chefs of the future, not only so that they can meet other talented chefs and share experiences but also so that they can obtain useful feedback, hints, tips and advice from the judging panel and mentors.
"Every single finalist did a fantastic job and should be incredibly proud of their achievement, in fact, this year it was the hardest year for the judges as the standard was so high, which is why we all agreed to award fourth place, for the first time".
Director Brian Yip, who oversaw the competition, added: "The Young Chef competition is something which is very close to our hearts – we're extremely passionate about championing aspiring young chefs from all over the country, and the competition offers an amazing platform for anyone who's passionate about cooking, whether that's Oriental or in other cuisines."
Oriental Cookery Young Chef of the Year 2018 – Conor Bird, House of Commons
2nd Place – Drew Morris, University College Birmingham
3rd Place – Elyse Baxter, House of Commons
4th Place – Billy Jones, Saunton Sands Hotel, Devon
Wing Yip Oriental Cookery Young Chef of the Year finalists included:
Archie Mordecai from Westminster College
Billy Jones from Saunton Sands Hotel
Chloe Lloyd-Hughes from North Warwickshire and Hinckley College
Conor Bird from House of Commons
Drew Morris from University College Birmingham
Elyse Baxter from House of Commons
Leon Tam from Cowshed Liverpool
Rhys Owen from Manchester College