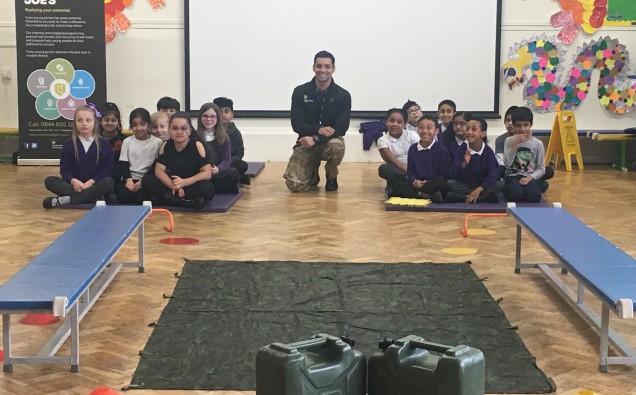 A Birmingham primary school has seen 'remarkable' changes to pupil attitude and mindset after enlisting the help of a British army veteran.
Slade Primary School, which is a member of the Arthur Terry Learning Partnership, is working with Commando Joe's to provide outstanding learning opportunities for its pupils. Every week, pupils take part in various mental and physical challenges, as part of a national initiative with proven results of developing pupil confidence and character.
Commando Joe's comprises a team of over forty veterans across the countries that have retrained to work in schools and are working in partnership with education charity, Services for Education to deliver a bespoke programme based on individual school needs to over 32 schools across the West Midlands and over 300 schools nationally.
Ricky Atkins from Commando Joe's, works with pupils as young as four, focusing on developing character traits such as resilience, communication and teamwork as well as promoting British values, classroom support and assertive mentoring.
Helen Hastilow, headteacher at Slade Primary School, said: "We've worked with Services for Education and Commando Joe's for over a year now, as part of our wider focus on growth mindset and pupils believing in themselves.
"The programme has really supported our mission and the results are truly remarkable. We've seen pupils' confidence levels rise and it's really encouraging to see others really coming out of their shells. Pupils are more focused and independent during lessons – positively impacting their performance."
Andrew Cooper, head of the School Support at Services for Education, said: "We have seen the success Commando Joe's has had with other schools nationally, which is why we are supporting the delivery in Birmingham.
"We know schools, like Slade Primary, are continually looking for ways to engage proactively with pupils that may fall outside of a teacher's skill set. The programme provides a unique approach to supporting students, whilst promoting British values and vital skills pupils can carry throughout their life."
For more information on Services for Education across Birmingham and the West Midlands visit www.servicesforeducation.co.uk
For more information on Commando Joe's, including information on their new school led model visit www.commandojoes.co.uk