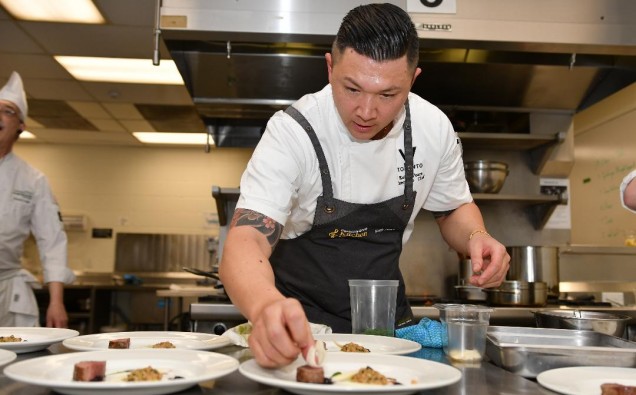 Chef Keith Pears (Instagram A/c: keith_pears) from Toronto, Canada is an executive chef for W Toronto. He belongs to the chef family as his parents & grandparents were chefs, it will be not wrong if we say that cooking and becoming a chef is in his blood. His grandparents owned a Chinese western café, he grew up helping his grandma by peeling potatoes & snacking on rice balls. He was always around the food, when his parents used to arrange dinner parties, gatherings he was there with them standing by their side to help. His parents supported a lot to make his dream come true of becoming a chef. He went to culinary school, grew up learning through cooking competitions. He won many awards like Best of the West 2011 & 2012, Canadian Hot competition 2012, BCCA Top Iron Chef 2014, First place best entrée 2015 Healthy Chef, Chopped Canada TV show on Food network Canada 2016, ACE Executive Chef – 2018 "Continent" Americas Chef of the Year (Marriott award), Great Kitchen Party 1st place winner for Toronto 2019.
Q.) Your parents were chefs, that's why you chose this profession, or was it your dream to become a chef?
Chef Keith: I started in the industry when I was 14. My first job was working for my parents' dishwashing to make some extra money. I was never academically smart but I always enjoyed art class in high school. After high school my mom saw something in me and pushed me to go to culinary school. After placing second in my first cooking competition and now been in the industry for 8 years. I grew confidence in myself and I started to see the art in food. Since then, I was hooked.
Q.) Cooking is in your blood as you belong from the chef's family. Did this thing make your path easy to become a chef?
Chef Keith: I think yes and no. I was pretty much born into the industry. As a baby my mom would bring me to work and leave me in the large stock pots when she couldn't find a babysitter. My earliest memories are of me running around and playing with my grandparents at their Chinese Western Café in Vancouver. My parents were always moving from restaurant to restaurant moving up the ranks, so travelling for their work was something we did a lot as a young child. Being exposed to a variety of different food and the restaurant scene is something that I think benefited me. I feel blessed to have had this as my roots.
Creating my own path was the hard part. In the kitchen my parents were always harder on me than any of the other cooks. They had high expectations as they should have. As I grew as a young adult it became more difficult. As a cook I was reaching the point in my career where maybe I thought that calling myself a chef was achievable, I was still always known as Lynda Larouche's (my mom) son. I didn't have my own name. Then I realized that if I really wanted to accomplish the things, I had to leave and stop working for them, so I did that. I know my mom always wanted me to be better. That motivated me and I put everything into cooking and bettering myself. It allowed me to achieve becoming an Executive Chef of a hotel at the age of 32. Since then, the journey has been filled with ebbs and flows but that's all about the process and I wouldn't change it.
Q.) Chinese food is described with traditional aspects i.e., color, smell, taste as well as meaning, appearance, nutrition of the food. What do you have to say about it?
Chef Keith: My grandparents came from Taishan, Guangdong. This city is located southwest of Guangdong province in China. I am a third generation Canadian, so my family was pretty Westernized, but the tradition of Chinese cooking is still very obvious in our household. My grandmother put so much thought into every dish she was cooking. Each ingredient had a reason for why it was being consumed for example to help you grow taller, help you become stronger, etc. Medicinal herbs were incorporated in foods such as ginseng, star anise etc because food was always related to health. There is always an abundance of colors and a variety of food groups at our family dinner table.
Q.) Why is the whole country China divided into 4 parts: sweet south, salty north, sour east, spicy west?
Chef Keith: The differences in the preference for seasonings and cooking techniques is really influenced by differences in historical background and ethnic groups. The local climate also impacts the ingredients that are available to them and how they handle these ingredients. For example, in Central China, they tend to eat spicy foods to gain heat for the cold weather conditions and to bring a healthy digestive system. This is like the different traditional cooking techniques you see around the world.
Q.) Ancient Chinese text describes what to prepare for meals but also tells how to eat meals like eat naturally, sit down to eat at a quiet place. Do Chinese people still follow this text and why was this text made?
Chef Keith: Chinese people believe eating can bring harmony and closeness to the family. I myself come from a large extended family and dinners are a very important part of my family. We would meet weekly at my grandmother's house for a communal dinner where some traditions of mealtime etiquette are followed. The oldest sets the table and the youngest delivers the bowls of rice.
Q.) The four traditions in Chinese cuisines are Chuan, Lu, Yue, Huaiyang representing cuisines of West, North, South, East China. Please tell me something about it.
Chef Keith: I am not as familiar with the four traditions in Chinese cuisine. I have worked with Chefs in the past who have told me it takes about 30 years to become a master chef of Chinese Cuisine.
What I have been told is that in parts of South and East China (Yue), the foods are mostly mild, slightly sweet, and really focus on the original flavors of the ingredients – this is what is known as Cantonese Cuisine which my family cooked often. In the North (Lu), people like to pickle and preserve a lot of their foods to avoid waste due to their cold weather and economic history. Also, the water in this region is very alkaline and the vinegar in the pickling helps to neutralize it.  Lastly, in Central China, spicy foods are often enjoyed due to its cold climate. 
 Q.) Why are desserts served as snacks and eaten between meals in China?
Chef Keith: At the end of a meal, Chinese people will often eat fresh fruits rather than sweets such as cakes. Desserts are what is referred to as Dim Sum. Dim Sum can be savory or sweet. They are small bite sized foods that are commonly enjoyed even late at night. 
Q.) Any advice for the upcoming chefs.
Chef Keith: If this is your path you choose then give it your all. Be dedicated, have the desire. Read books, do research. It's a lot of work but it's also very fun and rewarding. Be patient. Don't rush and don't chase the money. The reality is that it takes a long time to be a good cook. Come in early and stay late. Ask a lot of questions. Don't stop bugging the older cooks/chefs for knowledge. Soak it all up. Take notes, do their prep work to learn new things. Cook on your days off. Go eat out. Travel for food and eat at the best restaurants and eat at the mom-and-pop ones. Learn the basics and classic cooking before you try to do any molecular cooking or any type of fusion. Have fun during the process. Taste Everything! Enjoy the ride!
By: Rida Khan (Aviation Author)
Instagram A/c: aviationauthor.ridakhan