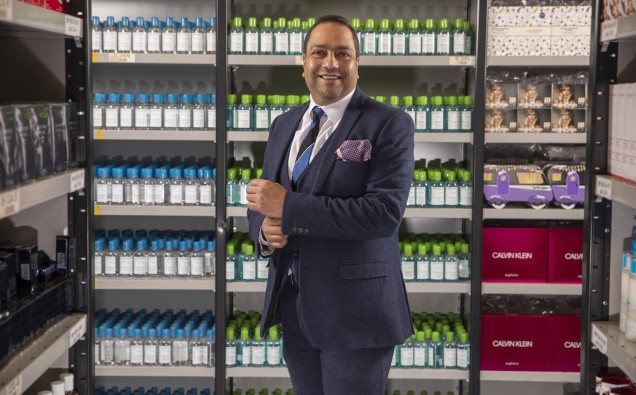 Asian-owned retailer Escentual has grown sales by 30% to £30 million as more premium beauty users go online for their favourite products.
Business is booming for the Cardiff-based ecommerce brand started 23 years ago by entrepreneur Rakesh Aggarwal in his parents' garage and now dubbed the 'Amazon of online beauty'.
Online premium beauty sales amount to up to 40% of the market in the UK, compared to only around 25% in other countries;
Aggarwal says a key part of Escentual's success is a Welsh base with an excellent pool of talented staff from Cardiff's two world class universities.
He spoke about business success with Escentual on the Retales Podcast from Brightpearl by Sage which features unique and captivating stories of ecommerce retailers
Aggarwal said that Escentual's revenues had grown from £23 million in 2020 to £30 million currently and that customer loyalty was the key to its success.
He said: "We specialise in a very specific part of the beauty market which we describe as selective beauty – the very premium end. It's a space with quite high barriers to entry because the brands are very protective of their imagery and are very careful about their choice of the 'last mile' retailer."
Escentual's core customers are aged 22 to 36 and are largely young professionals who enjoy the convenience of online shopping with a respected specialist brand.
The online beauty market has evolved so much over the last two decades and Aggarwal says they are 'pro consumers' – very well informed and responsive to social media highlighting new trends.
It is why the premium online beauty market in the UK is so much bigger than in other countries where customers are much more loyal to individual brands.
Escentual was such an early ecommerce start-up in the beauty industry that Rakesh wrote the code himself for its first website while studying for masters in business administration at Cardiff University.
He started by offering premium beauty brands to customers who could not access them locally because a department store did not serve them.
He now has 93 staff, up 52% on five years ago, at the headquarters in Vanguard Way, Cardiff, and he now sees himself as a 'glue' filling in the gaps between the teams, 'holding it all together'.
He is very proud of Escentual's #SunPoverty campaign which has so far provided over 50 thousand free sunscreens to hard-up families and is also campaigning for the scrapping of VAT on sunscreen products.
With even supermarket own brand sunscreen costing as much as £10 a bottle, Rakesh is keen to educate children as young as possible about the dangers of skin cancer and the importance of using protection from an early age.
He said: "Most preventable skin cancers have their origins before the age of 18 so it is vital to start that whole process of protection early. It has been a brilliant campaign which we have run over several years."
Aggarwal is very proud of his Welsh roots. His father Raj Aggarwal OBE owned a chain of pharmacies in Wales and is now India's honorary consul in Wales – helping to create links between Welsh and Indian business.
Rakesh inherited his father's entrepreneurial gene and forged ahead with his own online business in his home city of Cardiff.
Talking to the Retales podcast, Aggarwal said: "We have such a huge talent pool from the local universities. Most of our temporary workers are students and they have fed into other parts of the business after they have graduated. We have given people that trust and ownership early in their careers."
Aggarwal is currently updating his technology and he stresses that efficient stock control has been crucial to his success.
He said: "We have a big focus on operational efficiency in warehousing, order management and shipping integrations. The ability to receive an order, process it and then pick, pack and dispatch it all within between 20 and 40 minutes is crucial for us."
Around 40% of Escentual's orders are from existing customers who are rewarded with discounts through the loyalty scheme where they can earn points to redeem against future purchases.
He explained: "This has been an increasing focus over the last few years and it's been really popular with our audience."
Aggarwal said that investing in public relations has been a good way to acquire new customers as well as using in-house experts to build trust in the brand.
Looking to the future, Aggarwal called for a level playing field so that all retailers could compete fairly.
He said: "I would ask that brands such as Amazon who are able, through their structures, to move their monies and profits to different lower-cost jurisdictions and therefore gain an unfair advantage over competitors are subject to the same playing field as everyone else."