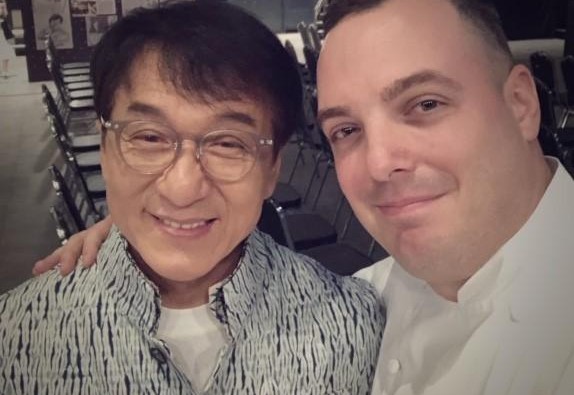 Chef Julien (Instagram A/c: julien_perrinet) was born in a small town called Concarneau, France (Brittany). He studied pastry at Ecole Saint Joseph Concarneau. At the age of 18 he left his hometown to work in Paris. Since then, he has travelled the world in different countries such as Canada, Qatar, Maldives, Polynesia, China, Singapore, Taiwan and now recently he is in Japan. Working as an Executive Pastry Chef for Hyatt hotel for 8 years and now in charge of all the sweets and breads in the Iconic Park Hyatt Tokyo since Dec 2020. He won many national competitions in Taiwan.
Q.) How has your international experience changed your way of cooking?
Chef Julien: I learned to make pastries in France, since the last 10-15 years the pastry world has changed a lot and so has my vision and style also. I have to adapt to different countries' styles and skills to work in. I can say that my cakes are French based but I always use local ingredients and reduce the types of sugar to the minimum and focus on the real taste of fruits and other ingredients like chocolate or spices.
Q.) You have made desserts for Jackie Chan. Please share your experience and what was special about those desserts?
Chef Julien: In 2019 Jackie Chan visited Grand Hyatt Taipei to promote his new album. To wow him, we created a showpiece inspired by his eight songs on the disc. He was so impressed that he took them with him around the city and we had to follow him for two days. He is a very nice and open-minded person. It was the best and very good memory for me and my teammates which we will never forget.   
Q.) There are rules of French dining which are part of French food culture like eat with cutlery, bread with hands, eat all your food etc. Why are these rules set?
Chef Julien: I believe that every country and culture have their own rules and it is up to you to follow them or not. Yes, this is the way we have been taught but personally I eat more often with chopsticks than cutlery. I think it is always interesting and rewarding to learn about each other's culture, we can take this as a game.
Q.) In your desserts there is a mix of light and dark colors. Why?
Chef Julien: When I create cakes, I always choose ingredients that I want to highlight in my cakes. If I choose peach, the cake will look light pink and fresh. If I select dark chocolate the cake will obviously turn dark in color. I follow the season closely and my cakes become "colorful" in summers and more brownish in autumn-winters. You can compare my cake creations with the nature of the four seasons.
Q.) How is modern French cooking different from traditional French cooking?
Chef Julien: Modern French cooking is definitely reducing fat, sugar and everything that is not healthy or natural. On the other hand, the traditional French cuisine from our grandmothers used to be super buttery, big generous portions and very rich. The new trends are on the way, but keeping the generosity is the challenge.
Q.) French cooking techniques require patience, skill, attention to detail and these take years to master. What do you have to say about it?
Chef Julien: Of course, many people think being a chef, especially a pastry chef, is easy. If you think this then you are totally wrong. I started cooking at the age of 14 and this year I will turn 40, there is still so many things I have to learn about pastries because to become a master you never have to stop learning and never stop evolving.  
Q.) Why was French cuisine inscribed by UNESCO on its Representative list of the intangible Cultural Heritage of Humanity as "The gastronomic meal of the French?"
Chef Julien: French cuisine is famous because it brings out a lot of techniques and skills which have been incorporated in cuisine all around the world. It is also very much appreciated by most of the people globally.
I believe again, that the most important part of it is generosity…
Q.) Why have you chosen to be a pastry chef as your career?
Chef Julien: I told my parents when I was 13 that I wanted to be a chef.
I believe I always wanted to make people happy, and pastry chefs are always behind all celebrations and happy moments. This is why I am so passionate about it; we produce happy experiences and this is what it is all about.
Q.) Any advice for the upcoming chefs?
Chef Julien: Never stop learning, stay humble and be always curious. Don't go too fast, go step by step.
By: Rida Khan (Aviation Author)
Instagram A/c: aviationauthor.ridakhan