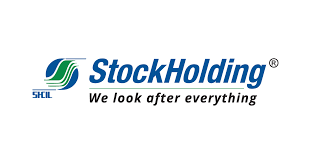 Stock Holding Corporation of India (StockHolding) has received an approval from GIFT SEZ Authority to start its custody operations in the India's first International Financial Services Centre (IFSC) at GIFT City.
Stock Holding is India's largest & premier Custodian & has assets under Custody to the tune of $540 Billion USD with over a 22% market share. For more than 3 decades since inception StockHolding has been the trusted Custodian for Institutional & Corporate clients in the domestic onshore market in India.  Since 2014, Stock Holding also started providing services to Foreign Portfolio Investors (FPI) investing in India's domestic markets.
Supported by its captive technologically driven solutions, deep local expertise and dominant position, Stock Holding has evolved with changing market and regulatory conditions in handling large volumes and diverse transactions providing robust and excellent services to its clients .
Welcoming Stock Holding Corporation to GIFT IFSC, Shri Tapan Ray, MD & Group CEO, GIFT City said, "Stock Holding's custody operations would play pivotal role to serve foreign portfolio investors in GIFT IFSC. We foresee huge interest coming from foreign investors participating in GIFT IFSC. We are closely working with regulatory authorities to allow investment products such as ETFs, REITs, GDRs etc at IFSC Exchanges where the role of a custodian would be critical."
Mr. Ramesh NGS, MD & CEO of Stock Holding said, "Going forward, through its IFSC GIFT branch, Stock Holding plans to extend its full range of Custodial services to a wider audience of international investors (FPIs, EFIs FDI), other classes of investors and capital market intermediaries as permitted by the unified regulator IFSC Authority in IFSC GIFT City.  This would open a new line of business for Stock Holding strengthening its topline and bottomline and we are committed to building this business over the long term. The IFSC GIFT is gaining increasing prominence with the IFSC Authority expanding the range of permissible products and announcing investor friendly and tax efficient policies."
Stock Holding has already setup a wholly owned subsidiary, Stock Holding Securities IFSC Limited (SSIL) operating in the IFSC providing trading and settlement services to Brokers/ Trading members as are permitted by the SEBI IFSC guidelines.
Further, Stock Holding also proposes to set up a document management company in IFSC GIFT to cater to the requirements of all such entities setup in IFSC GIFT. Stock Holding Document Management Services, a 100% subsidiary of Stock Holding has been providing services to leading institutions, Government departments and agencies, and also to private sector corporations for the last several years in India's domestic market.
GIFT IFSC preliminary caters to three business verticals namely Banking, Capital Market and Insurance. All verticals are operational including 14 leading Banks clocking business volumes of US $ 28 billion transactions, capital market with two international exchanges having average trading volume of US$ 4 billion and 16 insurance entities doing sum insured business of US$ 30 billion.
About Stock Holding Corporation of India
A fast growing economy needs an equally robust financial ecosystem to back it. At StockHolding we are committed to making it happen. We were incorporated in 1986 as a Public Limited Company and are a subsidiary of IFCI Limited. Our equity capital is held by leading financial companies and banks like LIC, GIC, IFCI Ltd., SU-UTI, NIA, NIC, UIC, and TOICL.
Since our inception, we have evolved steadily to be a financial powerhouse offering a suite of offerings which help to ease the financial planning needs of individuals. Covering short-term savings, investments in the stock market, personal & family needs, long-term security, easy loans, retirement plans and even protection for life & valuables.
About GIFT City:
GIFT City is India's first operational smart city and International Financial Services Centre (IFSC), GIFT City is an emerging global financial and IT services hub, a first of its kind in India, designed to be at or above par with globally benchmarked business districts. It is supported by state-of-the-art infrastructure encompassing all basic urban infrastructure elements along with an excellent external connectivity.