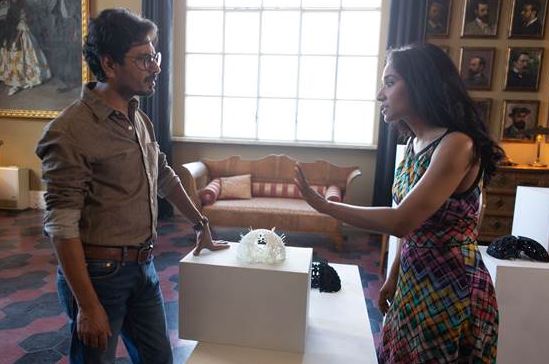 A Double Bill of strong female voices returns for the "in-cinema" slice of the hybrid Birmingham Indian Film Festival
The Birmingham Indian Film Festival presented by LIFF, UK & Europe's largest South Asian film event, is back at new venue, Millennium Point on 20th September to complement the Bagri Foundation London Indian Film Festival which returns for a mini-outing from 17 – 20 September at BFI South Bank and Institute Francais' Ciné Lumière. The Festival is supported by Birmingham City University, Asian Business Chamber of Commerce, Sampad South Asian Arts & Heritage and a BFI Audience Fund Award, awarding National Lottery funding.
This strong female line-up follows the hybridised festival's successful outing on their own platform, LoveLIFFatHome.com which beholds In Conversation events with top film talent from Oscar nominees Mira Nair and Deepa Mehta, India's A Listers Shabana Azmi, Anurag Kashyap, Ayushmann Khurana, and crossover talents, Freida Pinto & Adil Hussain (Life of Pi, Star Trek).
The festival runs in accordance with UK government guidelines, with health and safety measures that cinemas have mindfully set up.
The screening at Millennium Point's giant screen is a double bill of the highly anticipated Busan hit Roam Rome Mein, the directorial debut by Brick Lane actress, Tannishtha Chaterjee, who also stars in it, alongside an Italian cast, and Indian stalwart, Nawazuddin Siddiqui, and Bollywood star Vidya Balan produced short film Natkhat (The Brat) that she also stars in.
QUOTES
Cary Rajinder Sawhney MBE, Executive & Programming Director of LIFF
"It's been an adventure this year to transform Europe's largest South Asian film festival into both a digital version that continues to attract good audiences and an actual physical film festival and we are delighted to be dipping our toes into cinemas again with the support of our regular cinema partners BFI Southbank and Ciné Lumière and new partner Millennium Point in Birmingham, presenting a power packed all female programme".
Rajinder Dudrah,  Professor of Cultural Studies & Creative Industries, Birmingham City University
"Birmingham City University is very pleased to continue its partnership with BIFF as it develops each year.  2020 has been a year of challenges and stories that empower us, help us connect with one another, show our strength of spirit and uplift us at the same time, seem pressing now more than ever.  In this respect BIFF's offering this year is extra special featuring women at the centre."
Rebecca Delmore, Commerical Director, Millennium Point
"We are delighted to welcome Birmingham Indian Film Festival (BIFF) to our giant screen Auditorium at Millennium Point. Our Auditorium offers a unique space to bring both films 'Natkhat' and 'Roam Rome Mein' to the big screen in a celebration of Indian independent cinema. We are excited to be supporting BIFF and their ongoing work bringing diversity and representation to Birmingham's mainstream film industry ecosystem." – Rebecca Delmore, Commercial Director
CINEMA LISTINGS
Double Bill – Roam Rome Mein (Every Inch of my Being) & short film Natkhat (The Brat)
Brick Lane actress Tannistha Chatterjee's directorial debut is a psychological drama as Raj (Nawazuddin Siddiqui), travels to Italy, in search of his missing sister and the magical characters he meets on a journey of awakening.
Vidya Balan stars as a doting mother trying to teach her young son about the importance of gender equality in the short film Natkhat (Brat).
Sun 20 Sep, 17.00 at Millennium Point (Birmingham)
Tickets available at https://www.eventbrite.co.uk/e/double-bill-natkhat-roam-rome-mein-at-millennium-point-tickets-118641254185