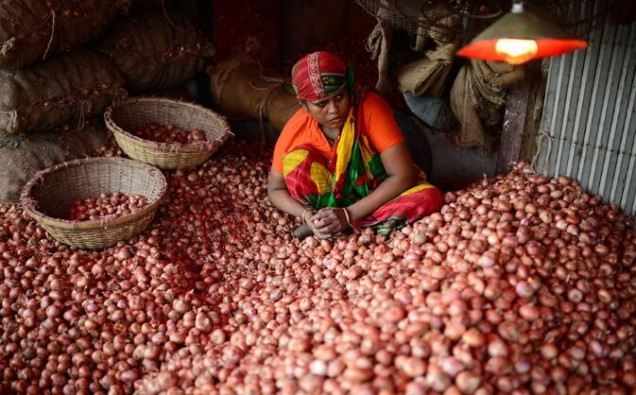 The selling price of onions in Bangladesh has soared to 50 taka (£0.47) as a result of regional floods making their importation from India scarce.  
India has already withdrawn 10% export incentives on the Onion since June of this year, as costs of the bulb rose to 47% due to sinking supplies. However, now traders are concerned that prices could rise again during the upcoming weeks due to the arrival of the Muslim festival Eid-ul-Adha in August. 
The vegetables are usually used along with other ingredients from the onion family such as garlic, and a mix of oil, tomato puree, and herbs to form the base of most South Asian dishes. Examples of this include Pakistani Biryani, Daal and Aloo Gobi in India and other fish-based curries in Bangladesh.  
The tragedy of flooding in the continent of Asia has seen the deaths of approximately 61 people this year, a further 800,000 have been displaced and countless others rendered homeless. Due to the monsoon season, much onion resources have also washed away, their scarcity and rise in value has become a headache for the Bangladeshi government. Prime Minister Sheik Hasina may even plan to introduce the sale of subsidised onions via the country's home-based Trading Corporation of Bangladesh (TCB). 
Commerce Minister Tipu Munshi said: "The price hike is like a nightmare for me. If prices of onions don't come down soon, we'll start selling in the open markets through the TCB".  
Even in Bangladesh's neighbouring country of India, supplies are dwindling as the harvesting of crops sown in the summer season has been delayed because of heavy rains. As a result, India has had to charge more for overseas sales. Onion prices in Bangladesh now are not predicted to decrease until they do so in India first with bumper production.  
"Indian crop is not loo