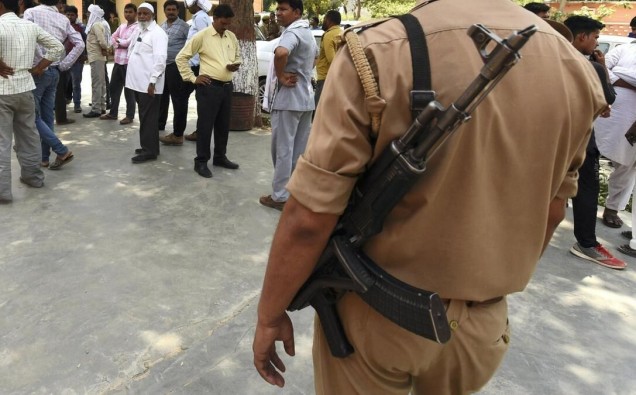 Tempo driver and son were thrashed with batons 
Delhi Police have been slammed for the assault of tempo driver, Sarabjeet Singh, and his son which took place in the national capital's Mukherjee Nagar area. Video clips of the altercation have gone viral on social media and also caught the attention of opposition parties in Punjab. The Shiromani Akali Dal (SAD) stated to the Union Home Minister, Amit Shah, that the accused policemen should be dismissed from the force.    
In the clips, which have spread internationally, the tempo driver is seen to be taking out a sword for his safety after police repeatedly beat him with batons, following a collision of their vehicles. Manjeet Singh, the father of the driver, stated that Sarabjeet's intentions was not to hurt anyone but to save himself. He also said, "We just want strict action against the police officers involved in the incident. They have brutally beaten up Sarabjeet Singh and his minor son… I was more worried about my grandson as he is a minor and was attacked by them in broad daylight." 
The family of Sarabjeet Singh stated they had given the police 24 hours to take action and penalise officers involved in the incident; otherwise, they had planned to set up protests outside the police station. 
Despite this, various people from the public, especially from the Sikh community, had gathered outside the Mukherjee Nagar police station on the day after the incident and demanded the suspension of all officers involved in the attack. 
SAD president, Sukhbir Singh Badal, urged Shah to grant exemplary punishment to the policemen responsible for the "brutal attack" by dismissing them from the service. He felt that this was important to carry out as it sends a message to society that "atrocities by men in uniform" would not be condemned under any circumstances.   
"The Delhi police personnel behaved like animals yesterday by brutalising an old Sikh man and his son in front of the Mukherjee Nagar police station. The old man was beaten up and dragged on the streets despite pleas of his son to defuse the situation. Later the son was also attacked and beaten up mercilessly," Badal stated. 
Following the clash with the tempo driver, a senior officer of the Delhi Police announced that three policemen have been suspended for 'unprofessional conduct' and further legal action will be carried out based on the enquiry.  
Navkiran Bains