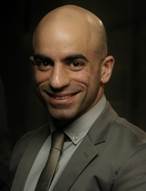 British-Lebanese psychiatrist: Beirut blast will cause far-reaching mental health issues
Dr Ahmed Hankir had personal mental health crisis after his hometown was bombed in 2006, leaving hundreds dead
He was later awarded the UK's most prestigious psychiatry award
"Mental health stigma is rampant, especially in the Muslim community," he says
But his own journey shows "recovery is a reality for the many not the few" and those suffering can "not only survive, but thrive"
The explosion in Beirut that killed at least 170 people will leave a lasting legacy of mental health issues in the city, a British-Lebanese psychiatrist says.
Speaking on a special broadcast on the BBC's local radio stations, Dr Ahmed Hankir described how he was left with his own mental health battle after his hometown was bombed in 2006, leaving hundreds dead.
Now the NHS psychiatrist fears many in the Lebanese capital will be left nursing their own hidden scars.
"The psychological consequences of the blast in Beirut will not end once the smoke and the dust settles, there will be long-term mental health consequences," he said this morning.
"Just look at the data derived from studies on previous explosions. People were at higher risk of developing post-traumatic stress disorder, anxiety, depression, suicidal behaviour and addiction to substances and consuming excessive amounts of alcohol as a means of escapism, as the reality is so overwhelming."
Dr Hankir was speaking in the latest in a series of Islamic reflections led by a different Muslim each Friday morning on BBC local radio. Each Sunday sees a Christian church service and the BBC is also broadcasting reflections from other religions.
Dr Hankir can draw on his own mental health experiences, after a difficult period triggered by the war between Lebanon and Israel.
"I was a medical student at Manchester and I woke up one morning to headlines that my hometown in Lebanon was bombed and that hundreds of people were killed overnight.  My world turned upside down, my nightmare turned into a reality.
"The symptoms of mental illness are devastating, but the stigma is far worse. I was ostracised, marginalised and dehumanised by society when they found out that I had developed an episode of mental illness. I was terrified that people would label me a madman."
Dr Hankir told the BBC that he developed suicidal thoughts, eventually seeking help from his local Imam and receiving "life-saving treatment" from an NHS psychiatrist.
He was able to resume medical school and went on to be awarded the Royal College of Psychiatrist's Foundation Doctor of the Year – the highest honour available for psychiatrists in the UK.
"Mental health stigma is rampant in society and especially in the Muslim community," he told the BBC broadcast.
"People with mental illness can not only recover, can not only survive, but can thrive.
"There is no shame in experiencing mental illness. Seeking help is a sign of strength not a sign of weakness: effective treatment available, recovery is a reality for the many not the few. "