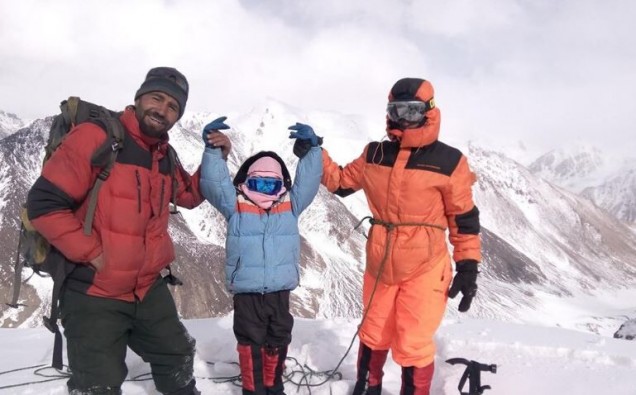 The record for the youngest person to climb a 7,000m peak has recently been obtained by 10-year-old Selena Khawaja of Pakistan, reaching the summit of the Spantik Mountain. Just two and a half years after she first started walking with her father, and in such a short time, Selena achieved such a great feat. 
In 2017, Selena and her father, Yousaf, a 59-year-old nutritionist and gym instructor, began their leisurely trekking up the mountains to get Selena involved in a sport, and since then Selena has excelled. From the small peaks they started with, they progressed to five and six thousand metre peaks and finally triumphed with the 7, 027m mountain. And, in just six months, Selena's time to climb such heights halved, proving she had a great talent for mountaineering. 
The title she claimed was, therefore, the perfect proof of such talent. Her achievement was officially recognised by the Alpine Club of Pakistan who will soon meet with Selena to complete the certification process, and even the Guinness Book of World Records named it as an 'impressive achievement'. The Pakistani government also praised Selena, stating that she had made Pakistan very proud. Such public validation and media attention following the climb has only consolidated Selena's triumph. 
However, this is not the final stop for Selena, as she embarks on her next conquest to climb Everest should she receive enough funding. If she successfully reaches the peak, she will claim the title from the current champion, now held by 13-year-old Jordan Romero. He reached the summit in the summer of 2010, accompanied by his father Paul Romero, using oxygen to complete the final stint of the climb. 
However, the safety of climbing Everest was questioned following Romero's success, as it was believed the exposure to such high altitudes and treacherous conditions might be detrimental at such a young age. It was even branded by some medics as child abuse to allow extremely young children up to such heights; however, they continue to climb. Thus, Selena may soon take the title and become the youngest person to climb Everest. 
Selena's success, and her journey to such a title, will not be an easy one. She must train with her father in his gym while also climbing in the mountains regularly. This kind of training requires astounding determination and devotion, of which Selena has proven already and will continue to do so as she achieves her further goals. 
By Grace Lea