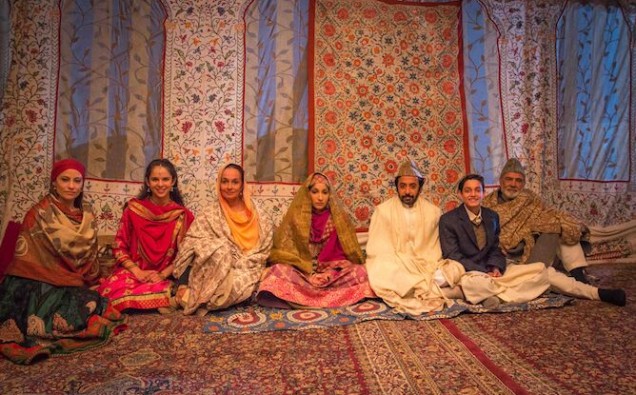 Feminist-focused Festival Celebrates 21 Years  
Festival Programme To Run Across Four Cities, London, Manchester, Leicester, Edinburgh, From 27th March to 4th May 2019 
At a time of significant change the world's longest running South Asian film festival outside India marks its 21st anniversary with a curation inspired by the theme of Revolution.   
UK Asian Film Festival, historically known as Tongues on Fire and then London Asian Film Festival, is also synonymous with championing South Asian feminist films and supporting pioneering artists and auteurs. It will run in four cities across the UK, London, Manchester, Leicester and Edinburgh, from 27th March – 4th May 2019, supported by the BFI with National Lottery funding.  
Continuing the Revolution theme, Bengali film Chegu (2018, Dir. Nabamita) tells the story of a young boy from the lower middle class that will fight his own battles by taking inspiration from Marxist revolutionary, Che Guevara.  The film addresses multiple social issues through the eyes of the teenager, the ideals of Guevara forming a key part of the narrative. Noblemen (2019, Dir. Vandana Kataria) sees the loss of a 15-year-old boy's innocence as he prepares to star in a production of William Shakespeare's Merchant of Venice when he rebels against a gang of bullies in a posh boarding school.  
The Opening Film is India's youngest Oscar-nominated and two-time National Award-winning filmmaker Ashvin Kumar's No Fathers In Kashmir (2017). The film is a coming-of-age portrayal based on hundreds of true stories about the Kashmir conflict that is shrouded by propaganda and misinformation. It is a tender-storm of first love and heartbreak that engages teenage and young audiences to empathise with their counterparts in Kashmir. Noor, a British Kashmiri teenager re-traces her roots in search of her father.  Majid, a local boy smitten by her, takes her to a forbidden area near the Indo-Pakistan border where they stumble upon mass graves that the Indian army wants to keep secret. They are arrested.  Being British, Noor is released but Majid is not. Having put him in peril, how far will Noor go to have Majid released? A reflection of the socio-political policing and censorship issues plaguing India, Kumar has been engaged in an ongoing struggle with the CBFC (Central Board of Film Classification) in India who, after months of delay, have Adult-rated the film, while the director insists it warrants a UA (parental guidance for children under 12) certificate. The screening will be followed by a Q&A with director Ashvin Kumar and actress Soni Razdan.   
To mark the 40th anniversary of Southall Black Sisters, one of the UK's leading organisations for black and minority women, UK Asian Film Festival will be screening four films, one for each decade of SBS history, curated by the organisation to reflect the central, political themes that have informed the work and campaigns of Southall Black Sisters and reflecting the migrant experience in this country. These will comprise a screening of biographical drama Provoked (2006, Dir. Jag Mundhra) with a Q&A with Kiranjit Ahluwalia; and Burning An Illusion (1981, Dir. Menelik Shabazz) on Saturday 30th March, Rich Mix. This will be followed by screenings of My Beautiful Launderette (1981, Dir. Stephen Frears); and Brick Lane (2007, Dir. Sarah Gavron) on Saturday 6thApril, Rich Mix.  Southall Black Sisters have been in existence since 1979. In 1982/3, they set up a not for profit advocacy and campaigning centre for black and minority women facing violence and the erosion of their fundamental human rights.  
Festival Director, Dr Pushpinder Chowdhry MBE says, "This year's festival will present pertinent stories of the ordinary person told through films that address global challenges of our time. Revolutions help define who we are; they can either bring glorious freedom to our inner thinking and outer aspects of our lives or restrain us by what we think is acceptable. Only then can we break the boundaries to realise our full potential and to navigate our way in the world." 
Young Curators aged between the ages of 18 and 25 have been given the opportunity to learn curatorial skills for diverse films addressing vital societal challenges and celebrations. Young Curators have viewed a selection of new features including No Fathers In Kashmir,Chegu and Noblemen. The winner of the Young Curator Lab film will be screened as a Youth Gala.   
Additionally, the festival has also launched a Young Critics Vote for the Short Film Competition, inviting young, film enthusiasts and creatives to become part of the Shorts Corner judging panel. The Short Film Competition Screening will take place on 30th March at Regent Street Cinema.   
Festival Dates:  
London: 27th March – 7th April 
Edinburgh: 29th March – 31st March  
Leicester: 4th April – 7th April  
Manchester: 30th April – 4th May