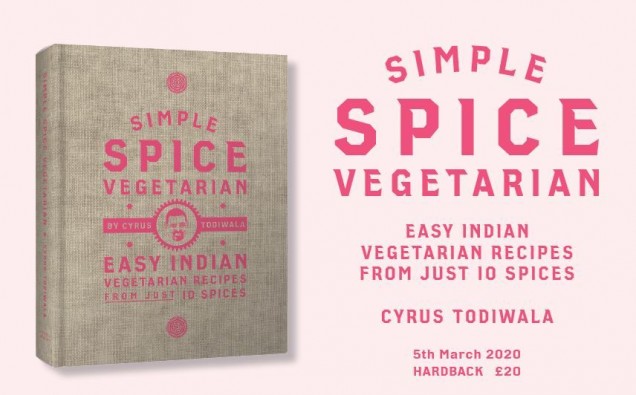 Indian food is both delectable and nutritious – a fusion of carefully blended spices and flavours which are enough to beckon anyone to the dinner table. Due to the vegetable and vegan bases of most delicious curries and mixed rice dishes, this type of cuisine is also great for those looking to stay on top of their five a day. Moreover, the dishes are perfect for anyone who has newly converted to a plant-based diet, or if you're just looking to enjoy more meat-free meals! 
For many newbies or less confident cooks, the idea of cooking South Asian cuisine can be daunting. Most people think they won't have a kitchen cupboard stocked full of dozens of the required spices or even the right equipment plus expertise. However, with celebrity Chef Todiwala's easy recipes, with minimum ingredients and prep time required, even the most spice shy can get on board with his new and innovative methods.  
In the Simple Vegetarian Cook Book, you can cook a full three-part dinner with ease. Choose from a selection of easy to follow recipes from starters, rice dishes, mains, warming broths, chutneys or desserts. Wow your guests with never before tasted flavours, all from home-cooked recipes invented in the heart of India. Some of the dishes featured in this amazing new cook book include spiced aubergine tomato frittata, baked tandoori-style couscous, parsee fudge cake, lemon and orange fennel scones and much, much more!    
Cyrus Todiwala has been awarded an OBE and was born in Bombay, India. He went on to become Executive Chef at the infamous Taj Group of Hotels. He then immigrated to the UK, eager to share his culinary experiences overseas. He owns three successful restaurants in the capital of London, and has written a range of high-selling cookery books. Cyrus has also featured on BBC Saturday kitchen, The Incredible Spice Men and many other media channels.  
The Simple Spice Vegetarian cook book will be available online and in stores from 5th March 2020, and will retail as a hard-back edition for £20. 
By Manisha Bhanot