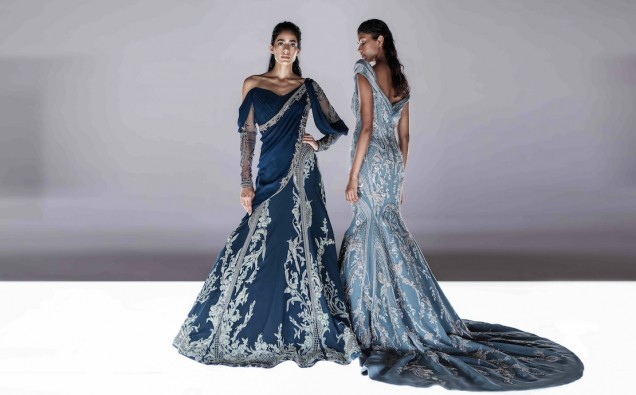 UK's leading, South Asian High Fashion Bridal and Beauty Showcase to
Present the Rich Diversity of Indian Bridal and Couture Fashion
Modern meets heritage at the UK's leading, South Asian high fashion, bridal and
beauty extravaganza, Aashni + Co Wedding Show, as avant garde designer,
Gaurav Gupta, and classic design duo, Shyamal & Bhumika, come together
among the curated designer lineup showcasing their latest bridal and couture
collections on Sunday 13th January 2019 at The Dorchester, Mayfair.
Upon graduation from Central Saint Martin's College of Art and Design, a young
Gaurav Gupta was instantly recognised as the 'Future of Couture' by Altaroma
Altamoda. This served as a clear sign toward the direction he would be taking to
emerge, ten years later, as one of the strongest voices in couture and fashion from
India. At an early age, his experiences of working with Hussein Chalayan, of being
the youngest jury member at Mittelmoda and receiving various awards for his
noticeable debut in Japan, Russia and India, helped shape his ideas.
Over a decade, Gaurav Gupta, the man and the brand, have carved a world that is
future primitive, reflected through sculpture-like garments. Changing the face of the
sari forever, merging indigenous Indian construction and embellishing techniques
with his idea of the future, Gupta has delivered and sustained a world that is Indian at
its core and boundless in its form. He is consistently endorsed on the red carpet by
Indian and international celebrities such as Skylar Grey, Aishwarya Rai Bachchan,
Nicole Scherzinger, Julie Berman, Deepika Padukone and Sonam Kapoor.
Designer couple, Shyamal & Bhumika, launched at Lakme Fashion Week in 2006. Bhumika's passion for textiles and fashion led her to study Fashion Design at the National Institute of Fashion Technology. After setting up the label, Shyamal left for London to
research fashion and thereafter researched Italian Design in Milan. Shyamal & Bhumika adopt artisan techniques while designing their Indianwear and international
collections, showcasing their love for Indian embroideries, hand
woven fabrics and age-old craft techniques in their collections. The
designers are also involved in the research and revival of various dying arts and crafts. Truly luxurious, infinitely wearable and
minimal are the trademark qualities of the label.
Continuing to surpass itself and the expectations of discerning fashionista's and brides-to-be annually, Aashni + Co Wedding Show 2019 will once again transform one of the world's most iconic, luxury venue destinations into a wonderland of bridal and beauty luxe. Some of India and Pakistan's most celebrated designers will once again descend on the Capital to present their latest bridal and
couture collections on one high-end platform, from established, A-list fashion houses
to the most sought after new-gen talents. Showcasing alongside them will be the
leading names in fine jewellery, accessories and wedding/ occasion services, with
visitors having the opportunity of meeting their favourite and wish list designers and
suppliers in person, accessibility being key to the show.
Previous participating designers have included a who's who curation of the leading
fashion and bridal brands from India and Pakistan, uniting heritage fashion houses
with the crème of new gen such as Sabyasachi, Manish Malhotra, Anamika Khanna,
Tarun Tahiliani, Gaurav Gupta, Rimple & Harpreet Narula, Gaurang, Shyamal &
Bhumika, Varun Bahl, Anushree Reddy, SVA, Ridhima Bhasin, Ridhi Mehra, House
of Masaba, Faraz Manan, Elan, Shehla Chatoor and many more.
2018 being the year of the Bollywood celebrity wedding, with A-list actresses Sonam
Kapoor, Deepika Padukone and Priyanka Chopra tying the knot in true Bollywood
grandeur and style, inspired brides-to-be will have the opportunity of shopping the
collections and bridal trousseau's of some of the leading fashion designers for the
Bollywood fraternity at Aashni + Co Wedding Show.
Style council will also be provided during the day through a series of masterclasses
with some of the most internationally respected names in styling, makeup artistry,
wedding planning and the fashion and beauty blogosphere. The full list of
participating exhibitors and influencer panelists will be announced shortly.
The luxe backdrop of The Dorchester will be further transformed through floral styling
and production design by Zita Elze, an award-winning artist, designer, teacher,
creator of the Living Embroidery Bridal collection and design consultant.
Aashni + Co Wedding Show
The Dorchester, 53 Park Lane, Mayfair, London W1K 1QA
Sunday 13th January 2019, 11.00am – 6.30pm