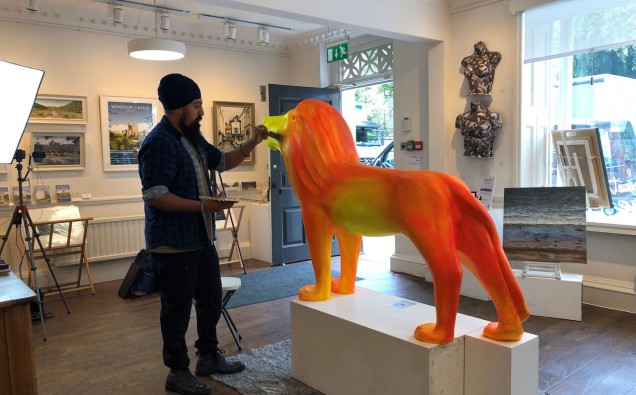 This summer a giant pride of lions will be transformed by some of the world's leading contemporary artists and designers to create a magnificent public art sculpture trail across Windsor to celebrate the 200th anniversary of the birth of Queen Victoria 
The life-size fibreglass lions will be transformed by leading artists and designers from around the world in a wide range of styles, from fine art to mosaics, street art and illustrations to abstract designs.
The high-profile designers include iconic fashion designer Dame Zandra Rhodes, Kaffe Fassett MBE, Lyora Pissarro, Andrew Logan, Anna Kompaniets, Craig Wheatley and Martin Brown, as well as less well known and amateur artists who have had the opportunity to submit their lion designs. 
Lisa Todd, the event's Creative Director says, "We are over the moon that the Lions of Windsor 2019 sculpture trail has attracted some of the most famous names in art and design from around the world and encouraged new and amateur artists to send us their submissions. Windsor is already a tourist hot spot and we are confident that the beautifully decorated lion sculptures will make Windsor and the surrounding area the destination event of the summer for residents, visitors and tourists." 
The eye-catching lion sculptures are available for sponsorship by businesses and organisations and lion cubs are available for schools to decorate.  For further details visit www.lionsofwindsor.org. 
About Mr A Singh 
Joining the fabulous list of artists is Mr Amrit Singh, who was recently in Windsor, painting his lion in the Ice Gallery there.  
Mr Amrit Singh is a multi-talented and much accredited artist, director, content creater and public speaker. He possesses over a decade of graphic design experience and has collaborated with around the biggest industry brands around the globe.  His design work is truly top notch, and he embeds the best social media solutions to his clients in order to lead successful campaigns. His recent work has included working alongside big names such as Amazon, BBC, Google Digital Garage, n power, various educational facilities and much more.
One of the modern day's most inspirational artists, Amrit creates detailed ink art under his brand InkANIMA brand and has showcased his art many times across London, Birmingham and overseas in San Francisco. He has Published two books and given speeches and Ted Talks on platforms across around the U.K, the rest of Europe and in the United States.
Amrit founded NowHumanity, a social initiative that uses social media to highlight humanitarian issues around the world. In 2016, he was one of the first to live stream the European refugee crisis and broadcast unedited, first person footage from the ground in 5 cities to over a million people around the world.
Mr a Singh's self-titled brand has grown in influence since its humble beginnings and has a dedicated audience that follow the creator on his various social networks. As a result, he has sold his work across the world and collaborates with top brands creating content in his unique style.
His live streams have totalled over 6 million viewers worldwide, with 17 million likes and he has been featured numerous times by Periscope, Twitter, Mashable, ITV, BBC, Huffington Post, Adweek, International Business Times, and Sky News.