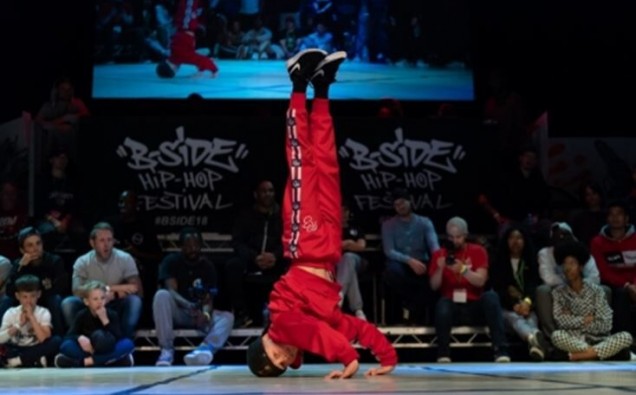 (B-Boy competing at B-Side Hip-Hop Festival 2018) 
B-SIDE Hip-Hop Festival is back from Friday 3 – Sunday 12 May, with a phenomenal line up of dance battles, high-energy workshops, live music and DJ sets from legendary names in Hip-Hop.  
The explosive festival will feature the best national and international artists plus the city's finest talent. Already confirmed are Karl 'Dyzee' Alba (Canada), Roxy (UK), ChryBaby (New York) and Youth Olympic Bronze medal winner B-Boy Shigekix (Japan), with many more to be announced.  
Birmingham Hippodrome is working with festival partners to bring the key elements of Hip-Hop to Birmingham. Break Mission are back with their epic international dance battles and Sweat The Technique workshops, Marso Riviere's popular KRE8! Labs and battles return, as well as DJ Psykhomantus's Vision Bombing Game Show. Juice Aleem brings his FluxCon comic convention along with many speakers and performers and once again the Southside streets will be filled with eye-catching live graffiti courtesy of High-Vis Festival.  
Expect to see many new performances specially created for the festival with Dance Hub Birmingham commissioning several new exciting pieces including Break Mission's Dance of Death. Zoo Nation Youth Company Birmingham, one of Birmingham Hippodrome's Young Companies, will also showcase an exciting piece of contemporary Hip-Hop theatre.  
 Graham Callister, Associate Director of Community Engagement and Festivals at Birmingham Hippodrome, commented: "B-Side is fast becoming the UK's number one Hip-Hop festival for international and national artists alongside the amazing talents we have in the city.   
"We've expanded both the length of the festival, from five to 10 days, and locations of our events as we stretch ourselves from Southside to Bullring & Grand Central, and for the first time into Digbeth.  Each of our festival partners brings a different energy and take on what contemporary Hip-Hop culture is, enabling us to offer a truly diverse festival and attract a wider audience year on year.  We're really hyped about this year's programme and are already planning the party for our fifth anniversary next year in 2020 so don't miss it!" 
B-SIDE Hip-Hop Festival is a Birmingham Hippodrome Project supported by Arts Council England, Southside BID, Bullring and Grand Central and The Arcadian.  
Stay up-to-date with activities and join the conversation on social media using #BSIDE.  
For more information, visit: www.birminghamhippodrome.com/bside