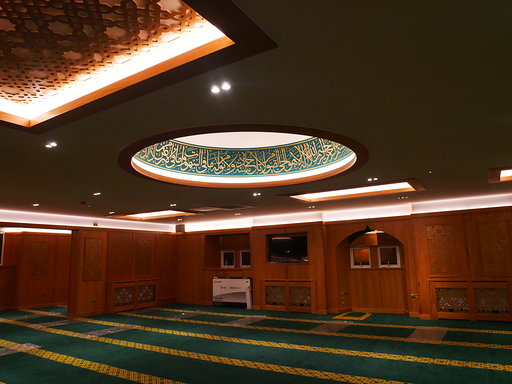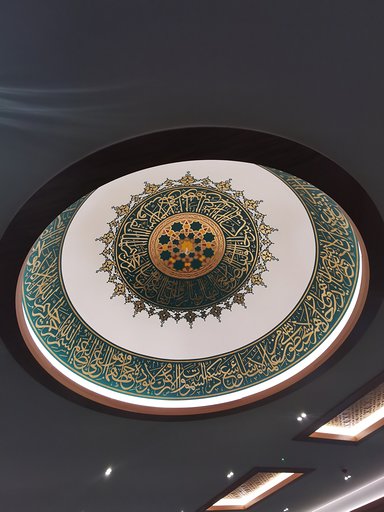 In 2011, I started to practice Arabic calligraphy from my home. Using online sources and books I would copy compositions and make my own designs of verses from the Qur'an. I wanted to market my work and show people what I was doing, and so I made a Facebook page to showcase my work. Shortly after, I began selling the items and taking commission requests for customised work – usually paintings on canvas.
At this point I had no formal training in calligraphy but I reckon that people appreciated my work for the artistic appeal and my bold use of colours.
From that point, alongside studying at university, I would work on my calligraphy at home. My attraction to Calligraphy art was inspired partly by Haji Noor Deen, who is a recognised master of Calligraphy originating from China. He would often visit Edinburgh for the Fringe Festival and I've met him on several occasions throughout the years. From 2013 onwards I was approached by individuals and institutions to do live events, stalls, and teach workshops.
My work had a very abstract feel to it early on, as I hadn't studied calligraphy under an instructor. In 2015 I met with Jawdat Al-Khadim (Glasgow), who would soon turn into a mentor for my calligraphy. Suddenly I started to get a taster of just how vast the knowledge of calligraphy was. I was always aware of it but either due to studying or work commitment, I was never fully dedicated.
In 2019 I was approached by Khazra Mosque (Glasgow) with the request for me to design an internal dome 3 meters in diameter. The Mosque was undergoing an extensive renovation at the time, which only recently reached completion. I wanted to invest more time into my calligraphy that would make it possible for me to complete this project, and so I contacted London based calligrapher Soraya Saeed for help. She put me in touch with her own teacher in Istanbul, and I was able to visit him the same year and learn from him.
The project in Glasgow began not long after the UK lockdown began. I would spend a lot of time in the Mosque during the days and night, in order to finish the dome. I also began designing it this year and used other domes around the world as reference and inspiration. The numerous calligraphy, ornamental, and geometric designs seen inside the dome are all totally bespoke.
With the help of my mentor, Jawdat, I completed the calligraphy compositions for the inner and outer circles of the dome. The geometry design in the very middle is and I based off of the mosque carpet designs.
The result is a unique work that adds value to the already beautiful main hall of the Mosque. I'm fortunate enough to have had the dome as a project to work on solely and demonstrate fully what I can do as a designer and a calligrapher.