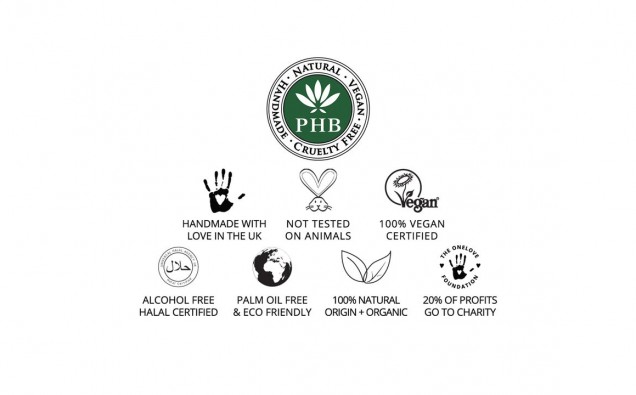 Offering a unique blend of nature and science, the ranges offer optimum results without hurting animals or the planet. Available from www.phbethicalbeauty.co.uk – as well as leading online retailers – the new skincare ranges feature the purest and most potent plant-based ingredients around, many of them organic.
All the new products are certified vegan and cruelty-free. Lovingly handmade in the UK, they're also free from palm oil. They're certified halal, which ensures they don't contain harsh alcohols or GMO ingredients. What's more, they come in eco-friendly glass packaging. PHB Ethical Beauty donates 20% of all profits from sales to charities, via its philanthropic arm, The One Love Foundation.
"We believe in the power of plants," says Rose Brown, one of the three founders of PHB Ethical Beauty. "Since we started in 2012, all of our products have been 100% vegan. We are super conscious of ingredients and how they are sourced. In the last couple of years, we've experienced a huge surge in demand – as people wake up to the animal-based ingredients and chemical nasties lurking in their moisturisers and serums.
"In response, we've revamped our entire skincare portfolio, taking our ultra-ethical and eco-friendly ethos to the next level, to ensure we remain at the very forefront of the ethical beauty movement, not just in the UK but globally. Our new ranges use the latest science to create skincare products that harness the full power of Mother Nature for formidable results."
PHB Ethical Beauty's new skincare ranges are as follows:
Superfood – science meets nature for age-defying results
Designed to brighten, rejuvenate and nourish the complexion, this range feeds the skin with nature's most powerful skin-enhancing superfoods, like pomegranate and green tea. Hyaluronic acid imbues the skin with an inner radiance and vitamin C provides a youthful firmness.
The range consists of six products: Superfood Facial Oil with 20 age-defying bio-active oils (£36); Superfood Moisturiser with pomegranate and hyaluronic acid (£32); Superfood Cleanser with pomegranate and hyaluronic acid (£20); Superfood 2-in-1 Face & Eye Serum with vitamin C and kojic acid (£36); Superfood Face Wash with vitamin C and kojic acid (£20); and Superfood Skin Tonic with vitamin C and kojic acid (£20).
The exquisitely-scented, luxurious facial oil is the hero product. Its unique blend is the secret to luminescent skin. Providing huge doses of skin-enhancing nutrients, the botanical oils in its formula include pomegranate, raspberry, rosehip, sea buckthorn, avocado, broccoli, turmeric, carrot seed, neroli, ylang ylang and vanilla. The addition of sweet neroli, grapefruit and immortelle enlivens both skin and the senses. Vetiver oil, made from a tropical grass, and petitgrain, distilled from the leaves of the bitter orange tree, are there to re-energise the spirit and calm the mind. The oil absorbs quickly and easily into the skin, leaving a glowing complexion.
Gentle Skin Care – nature's purity for sensitive skin
Designed for the most delicate skins, including those with eczema or rosacea, mothers-to-be during pregnancy and those undergoing chemotherapy, this scent-free, hypoallergenic range has an ultra-pure formulation, with no essential oils or artificial fragrances. An existing product and customer favourite, Gentle Moisturiser (£20), with apricot and shea butter to soothe irritation and protect against inflammation, has been repackaged in a glass bottle. It's now joined by three new products: Gentle 2-in-1 Face and Eye Serum with rosehip and avocado (£22); Gentle Rose Water with pure rose petals (£17); and Gentle Cleanser with rosehip and avocado (£17).
Balance Skin Care – the power of nature to restore harmony to oily and blemish-prone skin
Oily skin can be prone to breakouts, blemishes and acne. This ultra-gentle range is packed full of nutrient-rich, anti-inflammatory, anti-bacterial and scar-healing botanicals to restore its equilibrium. Lavender oil is rich in antioxidants and anti-microbial properties that help clear and rebalance the skin. Pore-penetrating salicylic acid targets and calms blemishes. The range consists of: Balance Moisturiser with lavender and sea buckthorn (£20); Balance Face Wash with lavender and salicylic acid (£17); Balance Skin Tonic with lavender and salicylic acid (£17); and Balance Blemish gel with zinc and neem extract (£22).
Brighteners – the healing power of nature for skin irregularities
As we age, skin can become dull, with darker patches and spots. Pollution, sun exposure and hormonal changes, like pregnancy, can exacerbate hyperpigmentation issues. Skin can also be subject to a wide range of other irritants and physical stressors, such as stretch marks and burns. To combat these issues PHB Ethical Beauty has created two cooling bio-gels, which combine the healing properties of aloe vera with powerful botanicals to soothe specific irregularities. Skin Brightener Bio-Gel with aloe, neroli and immortelle (£25) is for dark spots and uneven skin tone. Skin Perfector Bio-Gel with aloe, rose and sea buckthorn (£25) helps with stretchmarks, scarring and redness.
PHB Ethical Beauty has also completely revamped its body and hair care range, introducing a number of 2-in1 and multi-tasking formulas, which reduce packaging and water waste. The new hair products are:  2-in-1 Shampoo & Body Wash with oatmilk and argan oil (£12); and Conditioner & Detangler with oat milk and argan oil (£12). For the body, there's a Hand & Body Moisturiser with mango and shea butter (£16). The scent free Aloe Vera Hero Gel (£16) is a multi-tasking gel moisturiser to soothe skin flare ups, including insect bites, nappy rash, razor burn and eczema. Similarly, the Lavender Hero Gel with arnica and neem (£18) soothes and clears up skin irritations. Both can also act as oil-free moisturisers or make up primers.  Finally, the Coffee Bean Scrub & Mask with organic coffee beans and brightening oils (£16) works wonders on cellulite, ingrown hairs and discolouration.