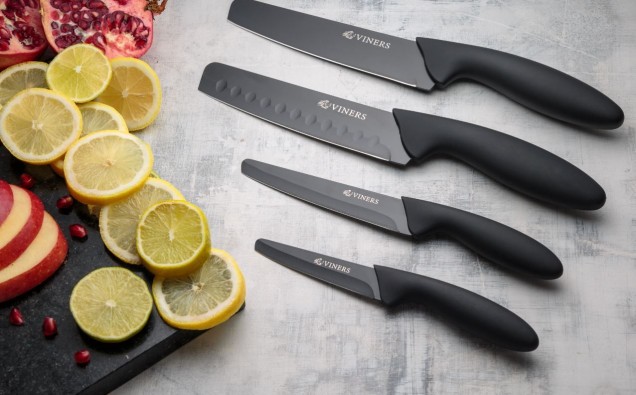 British cutlery brand, Viners, is set to launch its new Assure collection, introducing an innovative, new knife blade design. The cutlery brand, who has a long standing history of producing high quality cutlery and knives for over 110 years, has created a new generation of kitchen knife that has safety front of mind, yet still answers everyday food preparation needs. 
With knife-related crime incidents at a record high and a reported 285 fatalities in the last 12 months alone, the UK Government has taken the decision to reclassify kitchen knives as an offensive weapon with the new Offensive Weapons Act 2019, leading some retailers to remove single knives from sale in retail stores.  
In response to this new legislation, Viners has spent the last year designing and extensively testing a new shape knife that is highly functional for the modern cook but shaped to reduce and prevent injuries, accidents and fatalities. 
Created in conjunction with 1700 UK consumers who shared their thoughts on the functionality and aesthetics of the proposed knife designs, the new Assure collection offers a square shape, eliminating the tip of the knife to make it safer to use without compromising on performance.  
With a square shape, similar to that of a Santoku knife, the new Assure collection is made of high quality stainless steel and features ergonomically designed, soft touch handles for the ultimate in comfort with a black non-stick coating on the blade to reduce cutting friction. Delivering the same performance as a standard knife to tackle all cooking tasks, the new blade design also gives added peace of mind in the home, helping to reduce unnecessary accidents when preparing food and washing up with no sharp points to cause injury. Available to buy from January 2020, the range offers six different knives, with prices varying from £3.99 to £5.99, and a 4 Piece Set (Chef's Knife, Santoku knife, utility Knife, Paring Knife RRP £15.99). 
All knives from the Assure collection have been repeatedly tested to ensure the tip does not pierce skin intentionally or otherwise and will be supplied to retailers in improved packaging with tamper proof measures to reduce knife theft in store. The 'Think 25' logo has also been added to packaging to remind retailers to check proof of identity to anyone they suspect under the age of 18 at the point of purchase. 
Kate O'Neill, Head of Product and Marketing at Liverpool based Rayware, said: "We have been working hard to develop a safer kitchen knife design in light of recent legislation changes and disconcerting knife crime statistics. We have a responsibility to ensure that we are doing everything we can to make the kitchen a safer place and we are confident our new knife design will help us achieve that." 
In a recent research exercise conducted by Viners, consumers shared strong opinions on the issue of knife safety, welcoming a new knife design that comes with safety guaranteed. 65% of the 1700 respondents surveyed said that they would choose the new Assure safety collection over a standard knife, with 76% of consumers happy for this style of knife to be the only one on sale as a single knife in retail stores. 
Professor John Ashton, advisor to the Merseyside Police & Crime Commissioner on violence prevention, has welcomed the new knife design. Professor Ashton said: "Viners has potential to make a significant contribution to knife safety within the home and wider community. Knife crime has seen an alarming increase, not just locally but across the whole of the UK, so it is extremely encouraging to see this British company taking the initiative to address this public health concern."  
On the design of the knives, Professor Ashton added: "I'm impressed by the new shape and design of the Assure Knives from Viners. They offer a stylish and safer alternative to other kitchen knives available, reducing the opportunity for injury or harm, without compromising on functionality."