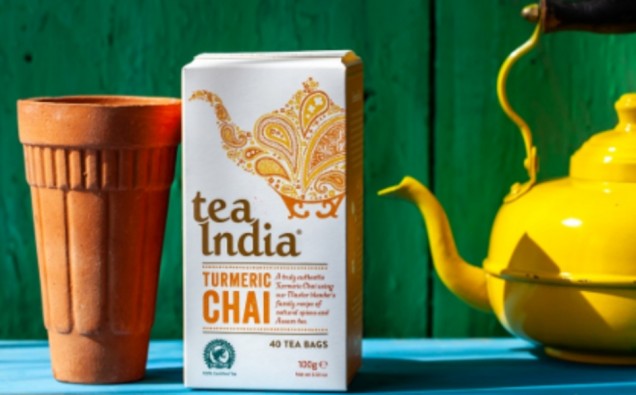 Tea India launches unique Turmeric Chai tea blend into Waitrose
Tea India is launching its latest offering, Turmeric Chai, into 150 Waitrose stores across the UK.  A unique blend from Tea India, inspired by a traditional family recipe from the Tea India Master Blender, features a base of black Assam tea.  This authentically Indian tea includes 40% turmeric, ginger, fenugreek, galangal, cinnamon and India psyllium and is the perfect way to create delicious golden milk, or Haldi ka Doodh, simply and easily at home.
A staple in many Indian households, golden milk with its luxurious colour and aromatic flavour, is a firm feature in Ayurvedic medicine and has been used as a rememdy for anything from a sore throat to a sleepless night.  Traditionally a comforting bedtime drink, golden milk has been used by mums to soothe children to sleep for centuries.
https://shop.teaindia.co.uk/collections/classic-chai-range/products/turmeric-chai-40-box
With quarantine keeping families at home, and the stresses of the lockdown taking their toll, it has never been more important to focus on wellbeing and taking a moment of peace wherever possible.  Tea India's Turmeric Chai provides a simple way to add more turmeric to the diet, as well as offering families the opportunity to sit and drink a cup together, enjoying the aroma of herbs and spices of this traditional drink.
As well as its calming benefits, Turmeric Chai includes Curcumin, the active ingredient in turmeric, which has strong antioxidant properties essential for cell function.  Studies show that diets rich in antioxidants may help lower risk of infections and disease.[1]
Lisa Worthington, Head of Marketing, Tea India comments: "Our new Turmeric Chai is another delicious and authentically India blend to complement the Tea India range. This can be drunk as an infusion or simmered in milk or a plant based alternative for a coffee shop Turmeric latte experience. We have been using Oatly Barista which creates an amazing froth! Tea India Turmeric Chai is perfect for 11's, an afternoon treat or a bedtime relaxant. At approx. 6p per teabag this is a very cheap everyday treat!".   
 Tea India golden milk recipe:
Using one teabag per person infuse in simmering milk – oat, cashew and coconut are recommended, simmer for 3 to 5 minutes and add honey to taste.