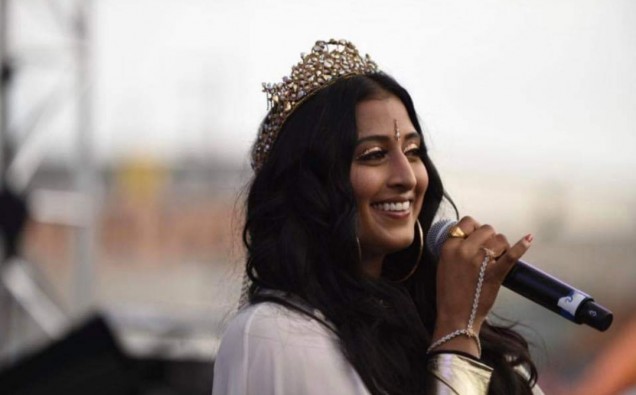 Raja Kumari, the first lady of Indian Hip-Hop and the first female artist signed by Nas to his recently launched Mass Appeal India label, has released her first single for the label (both track and video release)! It's called N.R.I and speaks to the complexity of her cultural duality (American/Indian).
Here is a clean radio version of the track – https://umusic.box.com/s/kdnj3w68k00umtk7wldf90btuafukkvr
Here is a link to the video – https://www.youtube.com/watch?v=XAdFt9GI-lY
Speaking about the single Raja Kumari says, "This single stems from the duality of being from two different cultures, while being told you don't quite belong in either of them. N.R.I. stands for non-resident of India and is used as a derogatory term for "not really Indian" for people born outside of India, in the diaspora. In America, I was asked to leave behind my culture and assimilate, and in India, I was told I didn't belong to my culture because I wasn't born here. I decided to re-claim this term and make it my own. My upcoming EP, The Bridge, is about symbolizing bridging the east and the west, the ancient and the modern, and connecting us from the old world to the new. The EP was mostly recorded in Bombay, but this song in particular was written in Los Angeles. We shot the video for this just as the borders were closing for India, the morning of my flight. We've been able to edit the video while we've been in quarantine."
Raja Kumari adds, "I knew N.R.I. would never be complete without both sides – my American and Indian story, and I hope you'll share your #mynristory with the world as well."
Produced by renowned producer and songwriter, Rob Knox, and co-written by Grammy Award winning recording artist, Sirah; the track was penned in Los Angeles, with the video shot in India right before the country declared a national lockdown, to fight the ongoing global pandemic.
Raja Kumari's talents extend beyond the studio, having recently co-starred in the acclaimed movie Gully Boy. She is a series judge and mentor on MTV Hustle, India's first rap-reality show, which debuted in August 2019, and will return once again to reprise her role as a judge and mentor on the panel when the show airs later this year. She is also the host and curator of her own Apple Music Beats 1 show, The New India, where she spotlights some of India's brightest new talents.
Kumari is a global face of MAC Cosmetics and the first female rapper to be signed to Nas' Mass Appeal.