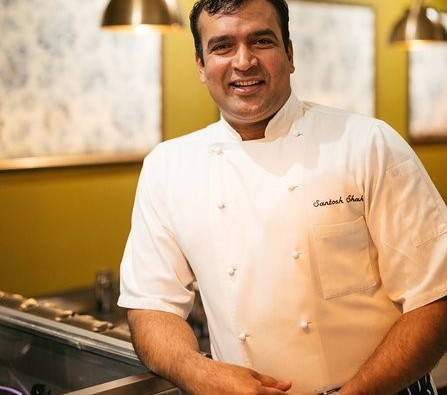 Columnist and Restaurant Reviewer Riccha Grrover in an exclusive interview with Santosh Shah, the highly acclaimed Executive Chef at new craft Indian kitchen in London restaurantscape, called Saffron Circle. Located in Swiss Cottage, Saffron Circle serves the most popular dishes from across the subcontinent to discerning London diners. 

This new neighbourhood restaurant is the first UK outpost from successful US restaurant group Saffron Valley and esteemed restaurateur Lavanya Mahate, who has founded five successful outposts in Salt Lake City, Utah and now London is in for their treats! 

Specialising in the most popular dishes from the North, South, East and West of India, Saffron Circle takes guests on a unique culinary journey, highlighting the sub-continent's immense food heritage and diversity.

After his initial 13 years of cooking in hotels in India and Montenegro, chef Santosh moved to the UK, starting his career at Dishoom, before moving onto Benares, working under chef Atul Kochar. Shah was always curious about all different cuisines from around the world, so he decided to learn about French cuisine, and joined Brasserie Blanc, owned by Raymond Blanc, making him even more diverse.

Santosh then spent two years at renowned City restaurant Cinnamon Kitchen, working with chef and restauranteur Vivek Singh, where he was given creative license to really experiment, being the first chef to introduce octopus to an Indian kitchen! After two years at Cinnamon Kitchen, Santosh moved on to become Executive Chef at Baluchi, a contemporary fine-dining Indian concept at the five-star LaLit Hotel in London, housed in the Grade II listed former St. Olave's Grammar School's Assembly Hall. And with all that under his belt he is here at new in town but talk-of-the-town Saffron Circle, his latest executive chef position. 

Chef Shah's unique style of craft indian cooking here is a mixture of traditional dishes elevated with robust yet fresh, contemporary flavours.

RG-Tell us about the concept of Saffron circle restaurant. How would you describe it in 5 adjectives? 

 

SS-Saffron Circle is a craft Indian kitchen serving a variety of pan-Indian food in a warm and cosy ambience. It's Elegant, eclectic, mesmerising, hospitable and delectable. 

 

RG-What are the top five dishes you would recommend a first time diner to try? How would you describe the food at Saffron circle in 3 words? 

 

SS-Punjabi samosa chaat, chickek 65, lamb chops, nawabi lamb, prawn biriyani , chettinad chicken curry.

 

The three words that define the cuisine are- Authentic, innovative, flavourful. 

 

RG- Do you have a seasonal menu too or is it always a fixed ala carte menu? Where does your menu take its inspiration from? Do you cater for varying dietary requirements? 

 

SS-We do have seasonal menu that incorporates ingredients and produce that match with the season. I take inspiration from old Indian cooking techniques, cookbooks and eating out in different restaurants. Yes, we do cater for dietary requirements as much as possible. We have a vegan menu as well and also planning to make our kitchen nut-free.

 

RG- Tell us about the decor, interiors, drinks selection, music and the overall vibe at the restaurant – how does it compliment the meal experience at Saffron circle ? 

 

SS-The colour palette is turquoise, blue and aged bronze with hints of brass which creates a warm and cosy vibe.

 

Interiors include murals and wall art of Maya and Rishi, the two main characters of our story. It also includes vintage family pictures, who we draw inspiration from.

 

Our drinks menu was designed by Georgia Billing. She has created a unique cocktail list based on the story of Maya and Rishi. Each cocktail tells part of the story.

 

Music is very modern and upbeat.

 

All of the above create a warm, inviting and relaxing atmosphere to enjoy our craft Indian dishes.

 

RG-What advice and words of inspiration would you give to budding chefs?

 

SS-Advice and inspiration for budding chef out there – keep motivating yourself with new recipes and new ideas. Read cookbooks and try to learn other people's ways of cooking as you can adapt their ideas and to make it even better with your own touch. Watch cooking TV programmes too for ideas and inspiration! 

The restaurant undoubtedly uses high quality, fresh ingredients to create an eclectic menu of dishes from small plates to kebabs, comforting curries and biryanis, spanning the length of India to bring something new to North West London. The meal experience is like a foodie journey through India! 

Locally sourced and made from scratch, the vast menu offers an array of vegan and vegetarian options as well as halal meat. Kick off with small plates inspired by the street food of India. Crowd favourites include Chicken 65 – a southern Indian delicacy of deep-fried chicken and spices originating from Chennai; and Punjabi Samosa Chaat – savoury potato and green pea pastry with sweet yoghurt, tamarind and mint chutney.

For mains, tuck into a selection of grills from the traditional tandoor including Saffron Paneer – chargrilled and marinated with saffron ginger and spices; tender, fall off the bone lamb chops; and tandoori salmon marinated in select spices with yoghurt and mustard oil. 

Curries are inspired by authentic home style recipes from across India including Kerala Prawn Curry with tiger prawns simmered in coconut cream; Calcutta Fish Curry with monkfish cooked in traditional Bengali mustard curry sauce and Chettinad Chicken Curry cooked in authentic Southern style curry sauce.

Saffron Circle champions a diverse vegan and vegetarian menu as well with dishes that pack a punch including mixed vegetable curry cooked in aromatic spices and herbs and cauliflower tomato masala cooked together with whole spices and fresh herbs.

The craft cocktail menu to compliment the meal experience at at Saffron Circle has been created by bartender extraordinaire Georgia Billing, who currently works as the bar manager at the City of London Distillery and Bar. Incorporating her own handmade ingredients from cordials to vermouths, the original menu is inspired by the magical love story of Maya and Rishi. Signature serves include Love at First Sight, the perfect welcome to the party made with vodka and prosecco, guava juice, homemade curry syrup, lime and raspberry; Juhu Beach, a romantic walk on the beach in a cocktail, mixed with dark rum, mango puree, lime juice, gingerbread syrup and a touch of sea salt; and the Red Scarf, a refreshing cocktail with gin, Strega, Kümmel, peach and Jasmin soda, lime and mint. 

There is also a wine list that celebrates small, sustainable wine producers.

The beautifully decorated Saffron Circle, 50-cover restaurant has a unique colour scheme of aged bronze, turquoise and rich blues alongside tiles inspired by old India. Banquette seating and dark mahogany tables feature throughout whilst hand painted murals telling the love story of Maya and Rishi adorn the walls. The intimate bar is the perfect spot to sip on a cocktail whilst enjoying bar snacks before dinner.

Chef Shah and his team of chefs indeed have redefined this niche Indian cuisine with a British twist, creating food that dazzles the taste-buds from that very first mouthful! After trying out the recommended favourite dishes of the chef  and savouring the delectable cuisine which can only get a 10/10 for flavour of the dishes across the menu, spicing -that's just right, generous  portion size, promptness and attentiveness of service, decor and attention to detail, music and ambience to list a few winners…I can firmly say is it's an all 5 star rating… Highly Recommended!