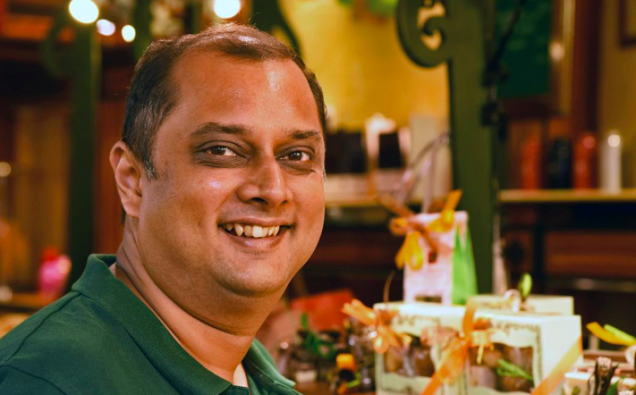 Street Food literally means food which is sold on the streets by the hawkers or vendors. It is food which can be easily carried away by the people and eaten by walking or standing. Today people adore consuming street food that it has made way to be a part of their life. Street food reflects the traditional flavours of a particular state / country. Though they don't use high technology, products or very good quality food ingredients to make a particular dish nor they use very expensive crockery to serve it, street food is more in demand and is very popular. It's just because of its simplicity and great overall taste.
had travelled because of only food and has tasted street food of different regions of India. And my search ended only when I got to know about Mr. Kalyan Kamarkar, who is India's famous food explorer, writer and food blogger. Following his stories, blog on internet I thought of interviewing him on this topic. Sharing his interview below, you will get the answer why Street foods are so important for us.
Mr. Kalyan Kamarkar, is from Calcutta but lives in Mumbai. He was a sociology student and grad who practiced market research for 15 years before  he became an independent food writer. He writes for one of the India's earliest and most awarded food blog. He is an author of a food travelogue called The Travelling Belly. He has also worked as a columnist for NDTV Food, Daily O and has written for leading Indian media and eminent publications in the past. Because of his hobby which is food exploring he has achieved many awards in India.
Interview -
Q.) How do you define street food?
Kalyan - It is the soul of India. Food sold on the streets and street corners of India. What India runs on.
Q.) Why street food is important?
Kalyan - It offers affordable food to the man on the street. Food that fuels him and gives him joy. It is so integral to us that it defines the identity of the city it belongs to.
Q.) Is having street food good for health or not?
Kalyan - Street food which is based on local food traditions, produced and are prepared fresh can definitely be an energy booster. Healthy is relative, it cannot be as healthy as home food but could be healthier than that in restaurants which see low turnover or display poor hygiene levels themselves.
Q.) Do street food reflects the culture of their country?
Kalyan - Absolutely. It reflects the history of a country as well as its culture. It brings its people together and empowers them on too. It can be a source of great pride and gives a sense of belonging.
Q.) Many travellers, food lovers from different countries get motivated first towards street food. What is the reason behind it?
Kalyan - It gives them a chance to come in direct contact with the people of a place with no artificial barriers in between. One can strike up conversations too in the informal settings that street food is served in. Plus it is more affordable and has so much more soul.
Q.) You have visited so many street food stalls & tasted their food. How was your experience?
Kalyan - I love seeing a city through its street food and getting to know people there. One of my fondest memories is of going to the original Tunday kebab outlet in Lucknow. It was chaotic. Two strangers welcomed me to their table, helped me place my order, told me about their lives and their association with the place and at the end paid my bill even though were not very financially well off. Their kindness made me feel most welcome.
Q.) Any food advice to the food travellers who visit other countries?
Kalyan - Please try the local food and get to know the people there through conversations over your meals. Be respectful. Be open minded. Travel with a hearty appetite for great food and lovely experiences. Be an ambassador for your own country when you travel. Create bonds of trust and hope wherever you go with food as a starting point.
KalyanKarmakar
Food and travel writer
Blog:          Finely Chopped
Twitter:      @finelychopped
Facebook: Finely Chopped by KalyanKarmakar
Instagram: The Finely Chopped
Book:         The Travelling Belly
By – Rida Khan ( Aviation Author)
(Instagram a/c – @aviationauthor.ridakhan)