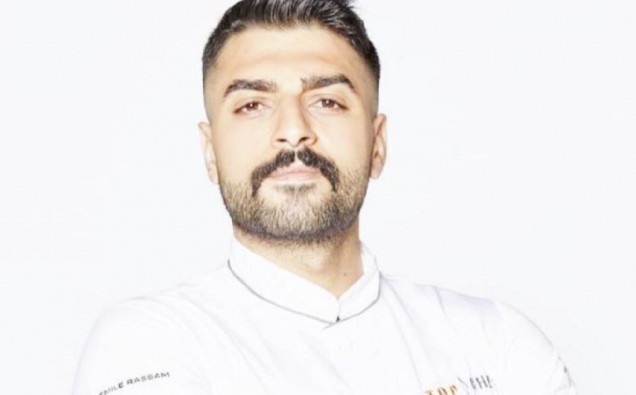 Passion for becoming something in life makes a person's dreams come true, whatever the challenge may be. One such person who has achieved this is Chef Ali Ghazzawi (Instagram A/c- alighzawi ) from Jordan. The journey of this young chef began by him completing his education in Global Hospitality at the Royal Academy of Culinary Arts. After graduating he applied for an internship at 2 Michelin Star Restaurant 'Enoteca' by Paca Perez in Barcelona.
After participating in 'Top Chef Middle East' of 2019, to his surprise, the single preparation of a dish changed Chef Ali's life forever. Made from eggs and liquorice, the 50-minute prep-dished resulted in Ali winning the competition and being declared as the youngest chef to qualify for the finals. Let's know his story through his interview.
Q.) You have become famous for your work in the Arab world. How easy has it been to deal with it?
Chef Ali – It is not easy at all, being well known and famous at the age of 25 is a big responsibility, I have to give more than ever and prove that winning top chef is only the beginning.
Q.) How did you discover your passion for food and decide to become a Chef?
Chef Ali – I discovered my passion for food at 17. In high school, my friends always ate my sandwiches, which made me have a start-up to make and sell sandwiches at school. I began with 10 sandwiches and ended up selling 150 daily, which gave me my passion to cook, and then I began to study culinary arts.
Q.) How would you describe your style of cooking and how many different types of cuisines are you capable of creating?
Chef Ali – My style of cooking is authentic and simple yet sophisticated; I like to use basic ingredients to create high-end dishes. Simplicity is very tricky. I possess knowledge of French, Italian, Spanish, Mediterranean and Levantine cuisines.
Q.) When you were given the title as 'Top Chef Middle East' of 2019. How did you feel at that time?
Chef Ali – The feeling of winning top chef was priceless. Until this day I am speechless, mixed emotions and memories have all accompanied me on my journey.
Q.) How do you feel representing your country, Jordan in different parts of the world?
Chef Ali – Representing your country is a must, I was, am and will always be very happy and feel honoured to represent Jordanian youth the way I did, in a very Ambitious, courageous and determined manner. I am very proud that I have managed to do so.
Q.) Any advice you would like to give to someone wanting to become a chef?
Chef Ali – My advice to future chefs is be passionate, love what you do, read a lot, travel more often, challenge yourself, don't let anyone stop you, dreaming alone is never enough, have a plan and never be afraid of failing.
Q.) Wrap up Questions –
1- Favorite cuisine?
Chef Ali – Thai Cuisine
2- Favorite place to travel?
Chef Ali – I love to travel to Africa
3- If you would not be a chef then?
Chef Ali – I would be either a Pilot or a Farmer
4- Food that you love to cook?
Chef Ali – I love to cook pasta!
5- Favorite Kitchen Gadget?
Chef Ali – My favourite kitchen gadget is a precision tong.
6- Favorite thing to do in your spare time?
Chef Ali – I love playing sports in my spare time
7- Favorite dessert?
Chef Ali – My favourite dessert is Rice Pudding.
Today Chef Ali is a well known Jordanian celebrity who travels around the world representing his Country Jordan in many culinary and other events. His live cooking shows are broadcasted on TV, he is a part of many popular brands, and you can see him in many advertisements. Today for a single glimpse, his fans wait for long hours in a queue, a crowd shouting his name and cheering for him fills the place of his success that he dreamt of when starting his passion at the age of 17. He is now living his dream successfully.
Article By – Rida Khan ( Instagram A/c – aviationauthor.ridakhan)