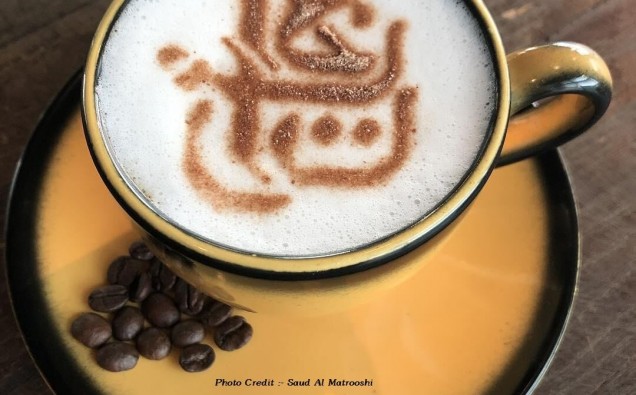 Dubai, a city best known for its tourist attractions. The destination is a melting pot of cultures and traditions. However, Emirati culture is the main essence of Dubai which still has reign.  
The Emirati way of living and cooking is mesmerizing and instills a burst of flavor in each cuisine. The Arabic accent spread all over Dubai is full of love and welcoming. Emirati culture follows the Islamic religion; which is rich in hospitality. These people welcome their guests with traditional Arabic coffee and dates, a custom also found through Emirates airways Airbus A380, or Boeing 777 business class as I discovered on my travels.  
According to Emirati Cuisine as per Wikipedia, Arabic diets consist of 3 types: 
Bedouin's diet – Consisting of meat and camel milk  
Fishermen diet – Consisting mainly of fish and sea foods   
Farmer's diet – Home grown produce, including of dates 
The single pot cooking technique is largely popular in Dubai. This is the method of missing up all ingredients and heating them like a stew. This was originated to reduce the number of dishes to wash as in deserts there was water scarcity.  
One thing which I like about food of Dubai is that they make everything fresh and in variation in order to serve to the people. Health is the first priority for them. Traditional dishes like Harees, Chabab, Machboos, Khameer, Mandi etc. are some of the dishes which are continued till now include desserts like Luqaimat and Baklava. 
To elaborate more on this topic I have interviewed some of the eminent chefs of Dubai. Let's know their views about it.  
Chef Saud is an executive Sous Chef in Emirates flight catering. He looks after the menu development, events, and the lounges of Emirates Airways first and business class. He is the first Emirati Chef in Emirates Flight Catering. 
His Views on the Topic are –  
Food in Dubai is so special because of its diversity. Yes people like traditional but also go to the places which serve fusion foods of multicultural platters.  In Emirati cuisine the ingredients are very crucial, they have to be traditional too like the ghee and mix of spices, called BZAR, it is an essential item in our Emirati food. 
On asking about his favorite food he said: I like all sorts of food with strong flavors and traditional food is on the top. Yes I like to create fusion with a twist, but I don't go very far like gastronomy.. NO. May be I mix two cuisines together keeping their identities. I always advertise Machboos, which is easy to prepare and unique also. We have it in the Gulf region in Saudi Arabia, Kuwait… It's done differently in every country.  
You have all options of international food in this city. I would like people to try out the traditional food of Dubai, such as Harees a kind of porridge with meat and Luqaimat which is a bite-sized traditional Emirati dessert. 
Khaled Alsaadi is a 28 year old young Emirati chef.  
 His Views on the Topic are :-  
 Dubai is considered a premium location for all who are visiting the Middle East. Emirati food to me is a home food. I am interested in the cultural relevance of each dish, specific to each emirate. I feel like as a chef I would like to demonstrate my culture on the modern dining table perfectly. 
To me personally, I love my Grandmother's cooking, the way she would make braised meats in stews or have them with rice. The popularity of dishes here varies between the areas and cities around the Emirates. However, I feel the most a popular dish would be the Machboos (a one-pot cooked meal using rice and a protein), due to its simplicity to make and lack of complex ingredients.  
 I would recommend visitors to try more of the traditional foods in the old parts of our major cities. Today we have people from over 180 countries and we can successfully say that we have something for everyone. With food, there are thousands of ingredients and millions of ways to cook them. I recommend that you try something new every once in a while and you never know what may be your all time or monthly favorite. 
A 23 year old Emirati chef, also known as Chef B on social media. You can say that it was his passion to cook food from childhood and watching his mother. He taught himself by taking help from watching YouTube cooking channels and with the support of his family. He has done many culinary shows on Sama and Abu Dhabi TV. He received his scholarship from the Culinary Arts Academy Switzerland specializing in Swiss chocolate and sugar arts.  
His Views on the Topic are :- 
 Chef Bader says there are big varieties of the different cuisines you will find here, many people are coming with new ideas and innovative dishes which make Dubai food special. Traditional cooking does exist in Dubai. Personally I like the food cooked by my grandma.  
Food culture in Dubai is grown so much in past years that now it's a hub for the people who love food. It's quite interesting to see how young people are creating their own restaurants. I will advise you to come to Dubai, you will find your favorite food in variety here. 
"To eat is a necessity, but to eat intelligently is an art." – La Rochefoucauld. 
On behalf of Asian World Newspaper I would like to thank all the chefs for sharing with me, their valuable views and Interview. Wishing you immense success in all your future endeavors. 
By :- Rida Khan. ( Aviation Author) 
(Instagram A/c – aviationauthor.ridakhan)