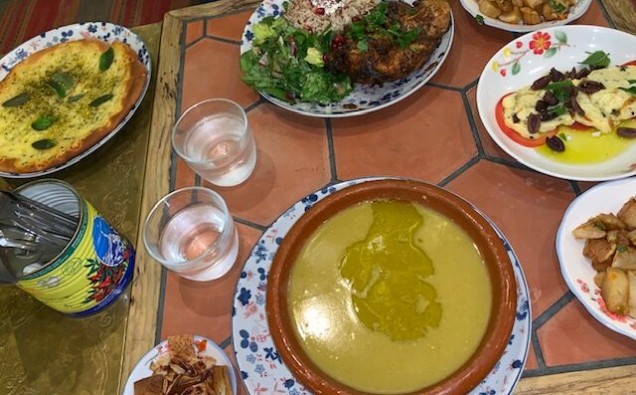 This is Lebanese food like you've never seen, tasted or felt like ever before. Step into the world of Comptoir Libanais in Birmingham New Street, and you will feel as if you've been transported to the heart of the Middle-East. You might as well have found a jewel hidden behind a busy and bustling Lebanon market, a quirky and characteristic eatery designed specifically to melt your taste-buds.  
When first walking into the restaurant, guests are struck by its many beautiful wall hangings and decorations. Look around, and you will see vibrant pop-art images of various well-known figures such as Queen Elizabeth II, Elvis Presley and even the likes of Paddington Bear, adorned with a fez in true Lebanese style. You'll also find enlarged glamour movie posters plastered all along the venue, ornamental lamp shades hanging from the ceiling, and decadent seating booths with stained glass windows and paisley wallpaper to catch the sitter's eye.  
However, that's not all. Turn your attention above you, and you'll see the restaurant shelves are lined with many bronze and silver polished plates, saucers, and cutlery. There are also dozens and dozens of bags and purses on display – all of which are hand-made by women from local Middle-Eastern villages for customers to buy. Why does Comptoir have an in-house store for visitors you ask? That's because it's all part of their 'Souk Shop', a service which allows you to purchase homeware items representative of the cuisine's culture, and also hard to find ingredients such as zataar, orange blossom and rose which are essential for Lebanese food.  
And how was the food? Simply marvellous! To begin with, we were treated to the restaurant's scrumptious soup of the day. At the time of our visit, this happened to be warm yellow lentil soup, which was served with sumac and olive oil pita crisps. To accompany our starters, we ordered spiced Lebanese potatoes with fresh coriander, garlic and chilli batata harra.  
These dishes definitely rejuvenated our appetites for the main course, which had to include tasting the delicacies of rich and flavoursome Lebanese cheese and meats. We were served halloumi and za'atar man'ousha flat bread, halloumi cheese and tomato slices with thyme and fresh mint, as well as chicken maoussakhan which was richly marinated and presented with rice and fettoush salad. The deserts were equally flavoursome, featuring thick slices of cheese and almond cake to leave a sweet after-taste when the main course was over. 
Indeed, like the many colours and designs you'll find all around the restaurant, at Comptoir Libanais you can expect your meal to be an explosion of different tastes and textures on your flavour-palette. So don't hesitate, book yourself a table at this unique and lively diner today. You can head over to their website at www.comptoirlibanais.com or call 0121 667 3160 to reserve your place today!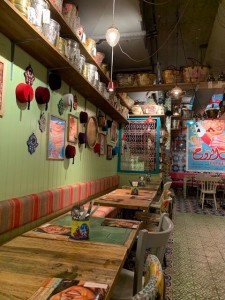 By Manisha Bhanot