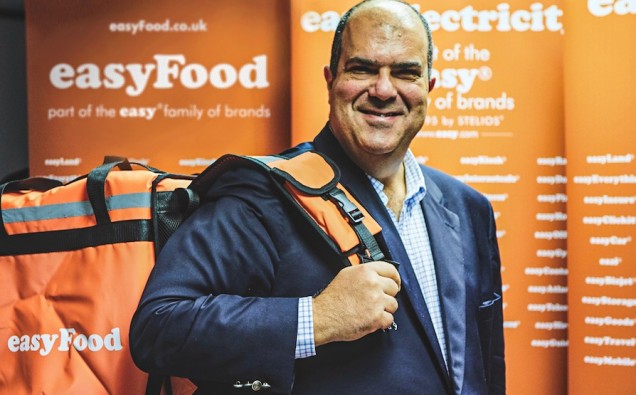 easyJet founder Sir Stelios Haji-Ioannou is going into battle against the food delivery app giants as Chancellor Rishi Sunak's 'Eat Out to Help Out Scheme' is served up to the public.
The entrepreneur has backed easyFood, which has launched an app that will allow customers to order takeaways in competition with Just Eat, Deliveroo and Uber Eats.
But in addition to making it cheaper to eat in or order takeaways at pubs, bars and restaurants, the app has a 'track and trace' function that will pinpoint any venues where there has been an outbreak of Covid-19.
easyFood owner Jeewan Sagu says: "It's a direct challenge to the likes of Deliveroo, Uber Eats and Just Eat.
"Our app will do so much more than other delivery apps. For instance, if you're eating in at a pub or restaurant you can browse the menu and order your food which will be brought to your table and then you can pay on the app.
"Visitors to registered pubs, bars and restaurants will be able to use their smartphone to scan an easyFood QR barcode at the entrance to the premises.
"This will allow customers to submit their details securely, which can then be used to alert them should there be a Covid-19 outbreak at that particular venue."
"It will also help bar, pub and restaurant owners as we will be charging them less than the big delivery companies."
The government has said it will pay half the bill, up to £10 per head, for meals and drinks in any registered food outlet from Monday to Wednesday throughout next month, starting on August 3.
easyFood, part of the easy family of brands, has spent more than £1million developing the app, which can be downloaded on Apple and Android mobile devices.
Sagu adds: "We went back to the drawing board to create this app. I already run a digital marketing agency and I am constantly innovating, which is what we have set out to do with easyFood."
Sir Stelios said: "The government's social distancing guidance makes many restaurant owners nervous about making it through this very difficult period. It's a great opportunity for those businesses that are being affected by the downturn to join easyFood and transition to a delivery-based operation."
The founders of easyFood have said the new app aims to innovate, offering a totally new business model that will excite both restaurants and takeaways as well as customers.
Sagu said: "Other brands charge as much as 35 per cent commission to businesses selling food via their app, which has to be passed on to the customer. Our model reduces this fee to as little as £1.50 per transaction for takeaways, while restaurants can list their outlet on the app for free. This makes for a far more attractive proposition for pubs, bars and restaurants as well as customers who will only pay the price they see on the menu with no hidden charges.
"The app also allows customers visiting registered outlets to order food at their table and have it brought to them, helping to keep them safe and socially distanced."
From the outset around 200 businesses will be registered on the app, and the company is using a franchise model with the aim of signing up outlets worldwide.
Sagu adds: "For under £10,000, a territory can be bought offering the business owner between 600 to 1,000 outlets to work with and sign up. We have already had international enquires and interest from across the UK.
"Once someone buys a franchise, they will receive 50% of the takeaway's service fee from the outlets they sign up. So, if 200 of their outlets take just 20 orders each in just one night, that would earn the franchisee around £3,000."
The app will feature its 200 registered restaurants from launch, but, says Sagu, this will grow significantly: "Our aim is to make this a major player as we take on the likes of Deliveroo, Uber Eats and Just Eat. It will also adhere to the easyGroup ethos, offering customers a quality service at super competitive prices."
For more information visit www.easyFood.co.uk