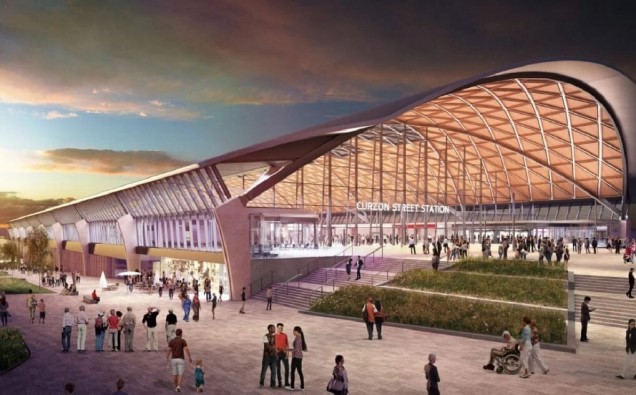 Artists have shown new visuals displaying the 1.4-mile-long route which will operate using 20-metre-long carriages. 
The artist impressions display the people-mover positioned at a HS2 interchange Solihull, over Pendigo Lake near Resort World in Birmingham and also the new upcoming maintenance facility. 
The plan will be discussed in further detail at a series of public consultation sessions. 
It is estimated that the transport will move 2,100 people per hour in each direction via a railway system on a viaduct which will reach 12 metres tall at its peak. 
The service will run every 3 minutes. There will be additional stops at Birmingham international Station and the NEC; the journey time is expected to be a total of just 6 minutes. 
Services between London and Birmingham city centre are set to reach stage one preparation for 2026. The B'ham station will be located at Curzon Street, close to the city centre. 
Transport chiefs are hoping the people mover will boost leisure and conferencing facilities such as the National Exhibition, Neighbouring concert area and Resort World. This type of tourist income will be beneficial for the local council overall. 
The people mover's exact system is yet to be decided. They will most likely be maintained in a delicate facility located along the viaduct of the M42. 
 Chief Executive of H2S Mark Thurston said: "HS2 is about connecting the country, and the people mover is another example of how we will do that. 
"This entire area in the West Midlands, and the wider regions across the UK, will be able to capitalise on the connectivity that Birmingham Interchange station brings and the people mover is an integral part of this." 
The whole area will become a much more easily navigable for those choosing to work, live or play in the city as a result of the new line. 
Tabasam Mehmood