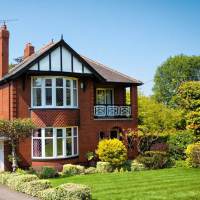 Marc von Grundherr, director of London lettings and estate agent Benham and Reeves, commented:  
"Oh, ye of little faith. Previous reports from a number of doomster commentators as to the demise of the UK property market seem to have been greatly exaggerated as if often the case.  
Prices are up, enquiries are through the roof and sales are being agreed like billy-o, and that's even before the effects of the temporary stamp duty reprieve have had time to kick in.
Hold on tight folks, we're in for a fast ride over the next few months and prices will rise further as a consequence of this unprecedented demand. Albeit somewhat fabricated by a chancellor determined to bolster the flagging economy via the property market"
James Forester, Managing Director of West Midlands based estate agency Barrows and Forrester commented:
"Light the blue touch-paper indeed. Such significant levels of buyer activity are unheard of within the UK market and should ensure a nitrous-oxide fuelled return to form for the UK property market.
This is, of course, a result of a double whammy of pent up demand that had been throttled during lockdown and the latest government incentives via a huge stamp duty saving.
While the market will return to a more familiar form of 'normality' as this demand levels out, it has truly defibrillated any fears of a downturn in home values.
In addition to this, the Government's continued failure to address the UK's housing shortage will ensure that even when buyer demand returns to normal levels, prices will remain buoyant due to the supply and demand imbalance."
Islay Robinson, CEO of Enness Global, the high net worth mortgage broker is buoyed by the numbers:
"We are now seeing a welcome boost in mortgage lending at all levels of the market, especially for first-time buyers, which will help fuel the market from the bottom right through to those transacting at the very highest price brackets.  
The latest Rightmove numbers also show that at last, London is back in positive territory. As the cornerstone of the UK property market, good health across the capital will help drive the market forward on a national scale with the figures also showing that it is the more expensive homes that are rising in value the most, 4% up in asking price terms since March.
So it would seem that this return to prominence is being driven by the well-heeled buyer as well as a heightened level of foreign investment, buoyed by favourable mortgage terms and current exchange rate advantages.
With buyers returning in their droves, we can rest assured that these positive trends will continue for the remainder of the year."