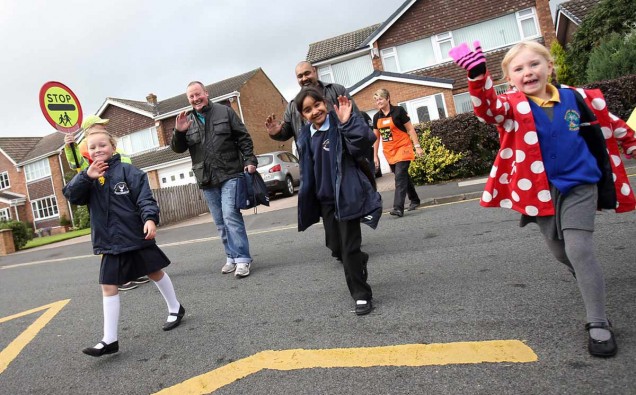 Organisations with ideas on how to encourage parents and pupils to reduce school car journeys are being invited to bid for funds from the Birmingham Young Active Travel Trust.
The charity, established by the city council last year, aims to encourage pupils and parents to adopt more sustainable ways of getting to and from school – helping to improve their own health and that of the wider community by reducing traffic congestion and the risk of accidents as well as decreased air pollution from vehicles.
Up to £1,000 will be available per proposed scheme, from an overall pot of £100,000.
Applications are being welcomed from individual Birmingham schools, or:
Groups of schools (with one taking the lead on the application)
A school council or group of pupils
Any constituted group of parents of school children
The relevant school must have an on-going commitment to promoting safe and sustainable travel through actions within their 'ModeShift STARS' (online toolkit) travel plan.
Cllr Habib Rehman, Chair of the Trusts and Charities Committee at Birmingham City Council, said: "If we are to improve transport by making our roads safer, less polluting and less congested, we need to help schools at a grassroots level by providing funding that helps them develop ideas of benefit to their neighbourhood.
"Through the Young Active Travel Trust, I look forward to us being in a position to enable some innovative ideas to become a reality, making a big different to how our young people and their families are better able to travel around the city.
Cllr John Clancy, Leader of Birmingham City Council, who was behind the initial idea and early development of the trust, said: "The trust will help empower citizens to shape their local area to better meet their needs.
"We want people across Birmingham to develop ideas that improve their day-to-day lives as it is important that citizens see the council as an organisation that tackles local issues by working with them rather than doing things to them.
"The Young Active Travel Trust is a clear example of how the council can demonstrate this."
There is no specific deadline for applications as the Trust is ongoing. It is expected a decision on any bids will be made within eight weeks of the application being received.
To find out more and to apply, visit www.birmingham.gov.uk/YAT