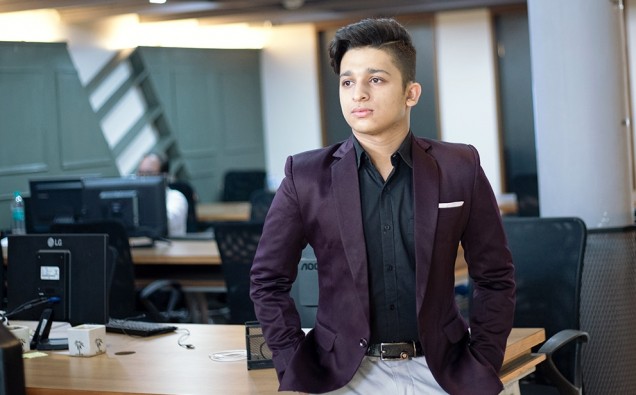 The digital prince from the Home of the Gods whose thoughts are as much on helping others succeed than making money – and mum's with him all the way
From the age of 10, Lakshay Jain dreamed of running his own company. Now, at just 16, that dream has become a reality. He's the successful teen boss of Indian IT enterprise Mevrex which has just chalked up a $100,000 plus turnover in only a few months – and all during a killer pandemic which has affected over seven million in India, including he and his family.
Lakshay is one of the youngest entrepreneurs in the world and has over 20 published projects. At just eight years of age he was awarded the title of The Youngest Web/App Developer In The World after competing against other IT proteges not only countrywide but globally, most of them well beyond his own years and supposedly with more experience. Today, he says, he has over 100 projects on the go.
This business whizz kid is from Panchkula in Haryana state, northern India, also known as The Home of the Gods. It's a lush, verdant and predominantly agricultural region almost in the foothills of the mighty Himalayas. It's also the home of the Indian Army. Remarkably, in a strange twist of fate, the Himalayas can currently be seen from up to 125 miles away for first time in 30 years after air pollution dropped after the virus lockdown. The Dhauladar range is visible from Lakshay's Chandigarh city.
All hard graft
Lakshay says he's proud of his achievement and has done it without receiving a rupee from family or friends in building up the business in digital services. It's been hard graft that's got him where he is, starting out at the very tender age of four.
Mevrex is a digital marketing, web development and tech services agency based in nearby Chandigarh city and already has 10 clients both at home and abroad. The comments back from these extol the inventiveness, intelligence and maturity of this boy wonder. And his inspiration for much of this? His unassuming housewife mum Hema.
"She's the one person I've always respected beyond any limit – my motivation through all my rough times and my greatest supporter. She's sacrificed so much in her life so that I could have a stable one," explained the beaming teenager.
Practical support came at a very early age from an older friend Himanshu Sharma, whom Lakshay refers to as his 'brother and idol.' Praise indeed.
"When I was four I used to spend all my time on his computer as I didn't have any device at that time. He too is from the IT field. On my sixth birthday Himanshu bought me a laptop as he wanted support me in my keen interest in technology. That laptop became a turning point in my life. He has motivated me all my life to take risk, excel my limits and learn new stuff. Today, he is one the person responsible for the success I have. He's not just my friend, he's my brother and my idol – the one responsible for me being here."
Accolades from Lakshay's clients as to his abilities abound. This from Rosa Eder, Product Manager at Maxima Automobiles in Dhaka, Bangladesh is typical of them: "It's really unbelievable someone having that great ability at 16. He understands every detail of our project and completed it on time."
Aiming high
The name Lakshay means aim – and he's certainly aimed high in life achieving the success many older and more experienced heads in India's IT industry would envy. His five team partners at Mevrex are also in their mid to late teens. One was at school with Lakshay, the rest he made contact with on Instagram. "Although we've just started off we have a great understanding between us," he enthused.
Prisha Garg and Aaryan Khurana are website content creators, Savya Gulati, Video Editor and Cinematographer, Abhishek Reddy, Graphic Designer, and Aashish Tewari is Head of Management. It has to be said that the Mevrex website would make a seasoned web developer proud let alone being the team effort of a teenage collective. It's smart, totally user-friendly, superbly constructed and well worth a visit even if you have nothing to do with IT.
Prisha being the only female in the line-up, perhaps it's a sign of the times in Indian that attitudes to the value and contribution of women in business are changing and that's happening primarily through the country's youth.
If Lakshay has a mission statement, it is that which appears on the landing page of meverex.com: 'Keeping in mind the melancholic crises that befell us, I established my own start up with one objective – to lift the fear of their ideas not receiving the required assistance off everyone's mind and to bring them closer to their dream.'
Mentoring start-ups
Asked to explain this further he states: "There are numerous people who lack one thing or another while sharpening, growing and scaling their skills. I wanted to be their mentor and help them in the process and the journey. Currently we help start-ups through consultation and guide them to what's best for them.
"Usually a company focuses on maximising their profit and maximise the spend of the client, but we never deal that way. We tell people what's best for their company, their ideas and objective. I was so unaware about many things until I made mistakes and learned from them. I want to guide people to avoid those mistakes and be prepared for facing the reality of business."
All very altruistic – but isn't the objective of any business to make money?
"There are many ideas which fail to get recognised and grow just because they never get proper guidance. They were never told how to, where to and when to, which is really essential for any idea to become a massive success. If Mark Zuckerberg hadn't believed in his idea then the difference would have been that someone else would have come up with a Facebook. People are scared to try and fail. They need to learn that until we try, we won't get to know the result. I believe failure is just a word before success. I'm soon planning to provide guidance and mentorship either for free or at a very nominal cost."
So, with a 100K turnover under his, or at least Mevrex's belt, what's he worth?
"I'm worth three tasks out of 100! That's how I calculate my worth. True, I have a list of set of goals and whenever I complete each one my worth increases! I never calculate my worth over money and other materialistic things but from my accomplishment of goals."
Fulfilling dreams
Does that mean money is not that important?
"I would have to be honest and say, yes, of course it is. Money is important to me. I come from a middle-class family and we just about get by. I want to fulfil all the dreams my parents have and I would say money actually matters when it comes to practical living, but I always keep to my ethics and have a clear honesty over money."
It was also his mum who helped him come up with the Mevrex name, which doesn't have any particular meaning. It simply "sounded right." Lakshay added: "I believe in the potency of words and ideas and how easily they can change the world with the proper guidance."
Even education was a slog for him. He wanted to further his technology studies abroad but funds did not allow. "My family always supported me in education but the major problem I faced was actually my age – people always thought I was too young to be taken seriously. They failed to see that, despite my age, I already had experience of more than eight years. I focused on funding myself and to pursue my dream. I knew I would have to work hard for it – and still am."
As far as potential employees go, he was clear about what he looked for in a co-worker.
"For me education, getting top marks and especially my age never mattered. I would never hire someone on the theoretical knowledge they possessed or the amount of paperwork they presented. I always see their body language along with a practical knowledge in the skill required. I don't care about the person who can explain to me tons of lines of codes but can't even write a program. But I would surely love the one who is creative, with good quality work, regardless of any paper qualifications. I've never treated any member of my team as an intern or employee – in fact, we are like a family together.
"In today's world being the best doesn't matter much. Being Creative and thinking out of the box does. We could find many people who are perfectionists in what they do, but what matters is using those skills to be unique, to become a sensation and be successful."
No place for caste system
What's not changing easily in India is the caste system. Lakshay felt it no longer had a place in the India of the future: "I would totally agree that with a modernising nation, the caste system will evolve out of existence. The majority people in my region are segregated over their castes, which I totally think is ridiculous."
He obviously has a lot of empathy with those much worse off than himself, particularly during these disease-ridden times, and spends a fair part of his week going around his community handing out food, until catching the virus himself and had to self-isolate.
"Obviously, it can be risky with COVID-19. Just after the Diwali celebrations, me and my whole family went down with it, including my 78-year-old grandmother Meena who lives with us. We're all recovering now but donating eatables to the people on the streets who can't afford to get a proper meal I feel is a duty. Of course the poor are facing greater hardships at this time. As part of my plan for Mevrex when this is all over I hope to be providing mentorship and guidance for free or a nominal amount to help those of my age who are facing hardships to excel in their talents and fulfil their dreams."
Teen team
These philanthropic ideals reflect strongly in the work he and his teen team does now in furthering the name of Mevrex. The company's new social networking site, for example, is aimed at people looking to network and exchange ideas. There's also a fun side to it – with games where points, achievement badges and other incentives can be earned. All part of a self-motivation drive where competitiveness is key.
Lakshay explained: "This project has always been very close to my heart. I've been working on it for a long time. We already have Facebook, Instagram, and Twitter pages which people can relate to, and connect through WhatsApp. With this new project I focused on creating something which the world doesn't have yet. The gaming Industry and social media are constantly growing year on year. Our new platform is all about bringing the art of networking and gaming together with a highly elegant design which can be used for free!
"No ads, and people can enjoy multiple features – from posting status to reacting to other, from completing quests to getting rankings. Everything will be available online, on android devices and IOS. To see the latest update posts users can follow us on Instagram @the.twaddle."
His views on India's youth and the way the country is governed?
"Young Indian's are super talented with creative minds. They have great potential but what they lack is proper guidance and mentorship. You know, many people in this country regard India as a country low on intelligence but they forget even the top companies in the world, including companies like Microsoft and Google, have appointed an Indian at CEO level."
As for diversity and equality, what were his views, say, on gay rights in his country?
"In India, I don't know why people have made this like a taboo. Being gay in India is often seen as some sort of embarrassment in our country. I don't know why people even think like this. For me, if a friend came out to me as gay I'd have a normal reaction and I would support he or she if they liked someone of the same gender. No big deal."
Little free time
With all that is going on in his business life, did he have time for leisure pursuits? "I spend somewhere around 10-14 hours at my workstation. I love to work a lot. When I am free I use the time to figure out some ideas and discover new things. I do like to listen music a lot and hang out with friends and family. He helps out his dad Pawan whenever he can, a local businessman.
"I've never had much opportunity to travel but I've always loved travelling. I have many dream places where I'd like to go but have never been abroad. I've been on a plane just the once but I'm independent enough now to fulfil my ambition to travel and top of my destinations list would be the Maldives, the US and France."
Thoughts of settling down are far removed from most 16-year-olds but how did Lakshay regard marriage in the modern India?
"Even at 16 I would say one should always think about future. Marriage is a bond which is very essential in one's life and should be spent with someone who loves you, cares about you and also motivates you.
My family is middle-class and that's different to what you would call middle-class in Britain. We've never enjoyed many luxuries and have sacrificed a lot in life. But I always wanted to fulfil the dreams my parents ever wished for me and want to make them proud and happy."
Sage-like he added: "Learn to save is something I would advise everyone to do. This is a most essential thing in life and you should start saving from the day you start earning!"
Very wise advice from someone, despite his youth, who has made every rupee count in his life from his earliest years in the adult business world.
Then of course there's the inevitable question. Where did Lakshay see himself in ten years from now?
"Since my childhood, I had a very different ideology about me and my career. I have this thing that I want to be a successful person before 25 – and by successful l I mean something very big. For me I would be successful when running a company worth billions of dollars.
"To become financially independent, to be able to provide all the luxuries my parents ever dreamed about. To prove to all those who said that I would never make it out that they were wrong. Since I was four it's the only thing I ever dreamed about regarding my life. Now, I'm ready to take up every challenge and to put in every effort required to fulfil it."
You can email the young entrepreneur – lakshay@mevrex.com