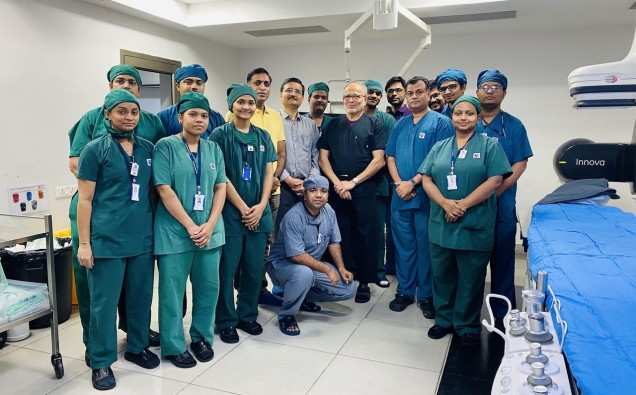 On December 25th, 2019 Prof. Dr. Tejas Patel, Chairman and Chief Interventional Cardiologist at Apex Heart Institute, Ahmedabad, along with his colleague with Dr Sanjay Shah, completed 500 robotic PCI (percutaneous coronary interventions) making it the highest individual experience of rPCI in the world. 
The ground breaking number of procedures have been achieved in only 2 years and 20 days with the very first case having been performed on 5th December 2017. 
During this 2 year journey Prof. Dr. Tejas Patel has become internationally recognised as one of the world's pioneers in the field of robotic PCI and made global headlines when he performed 5 cases of the world's first in-human distant tele robotic PCI at a distance of 20 miles, paving the way for an innovative technology across the globe.  
He now has experience of doing more than 100,000 cath lab procedures with 65,000 of them through the transradial route which makes him one of the most experienced practitioners in the world which is why he has also been instrumental in teaching and training more than 5000 cardiologists in the same technique through the TRICO (Transradial Interventional Course); annual academic courses attended by Interventional Cardiologists from all over the world. 
Commenting on his most recent achievement Dr Tejas Patel said: "I am extremely thankful to my partner Sanjay Shah for standing by me throughout this exciting journey. My sincere thanks to Yash Soni and his Cath Lab crew as well as Rajni Radadiya for their relentless support. I extent my gratitude towards Samir Pancholy (USA) for very special  help extended by him. How can I forget my friends Mark Toland (CEO, Corindus) and Joe Aquillina (Corindus) on this special occasion.