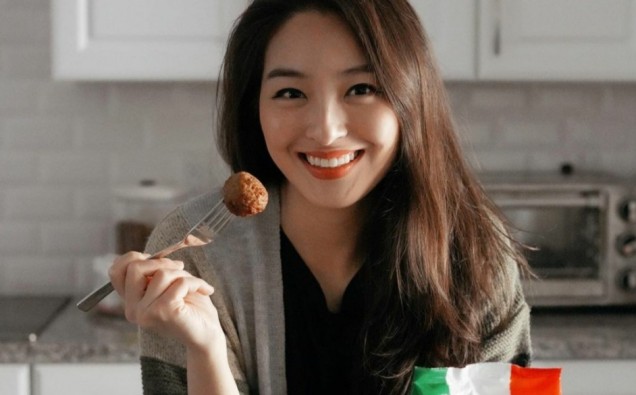 Can you imagine a stylista be a foodista . Yes it is possible and a very good example is Dr. Kimberly Kong ( Instagram A/c : sensiblestylista ) a famous fashionista from Korea who is a Korean American living in DMV ( DC/ MD/ VA). Though she has taken degree in Musicology and is a Doctorate in Piano performance, but due to her strong sense of style she has been renowned for her Style in Washington DC . She blogs about lifestyle and food, she is a freelancer in food photography and social media consultant.  On Sensible Stylista she writes about how to live a stylish and fit life and on Nomtastic Foods she blogs about Washington DC food . To know about her healthy stylish lifestyle, here is an Interview with Dr. Kimberly Kong.
Q.) Describe your lifestyle?
Dr. Kimberly :  I'm all about glam living on a budget!  I show my readers how to look and feel good without spending a fortune by highlighting affordable fashion finds, beauty steals and more on sensiblestylista.com!  I also blog a lot about food and fun during my adventures in the DMV area (DC/MD/VA) or whilst traveling.
Q.) How do you remain so fit as you are foodie by nature ?
Dr. Kimberly : Balance is the key! I exercise consistently, and I eat very clean while I'm at home.  I also share my food with friends and family so it's more of a tasting experience rather than a huge splurge on the regular.
Q.) You are a successful stylish icon then what made you step into the food world?
Dr. Kimberly : You're too kind , but I don't think of myself as a style icon ! I'm just a regular everyday girl who is passionate about personal style. I ventured into the food world which plays a huge role in my life. I love to try new restaurants and cuisines – It's one of my favorite things to do. In fact I created a second blog called Nomtastic Foods to specifically focus vertically on food .
Q.) Do you explore food while traveling or you travel because of food?
Dr. Kimberly : Either or.  Whether I'm away for work or traveling for pleasure, food plays an important role for sure.  Even if my schedule's packed, I always make sure to check out as many local gems as possible!
Q.) You visit so many food places in Washington DC. What is your opinion about their food?
Dr. Kimberly : The DC food scene is nothing short of spectacular, and I absolutely love city's diversity.  Whether you're looking to splurge on a Michelin starred meal or casually visit a fantastic hole-in-the-wall establishment, DC has covered all.  They have anything and everything you could ever want to devour! 
Q.) What are the most important factors a women should remember to look stylish ?
Dr. Kimberly : Confidence is key.  Trends come and go so don't worry about what's "in" at the time. If you like something and it makes you feel beautiful, go for it!  It doesn't matter whether it's hot or not, what matters most is how you feel.  Don't be afraid to experiment!  Personal style is all about having fun, so be adventurous. 
Q.) You host the most famous watched YouTube series "Thrillist's" .Tell us something about it . 
Dr. Kimberly : I had so much fun working on Thrillist's $5 lunch series, and I loved everything about the process; from writing the script to connecting with local business owners to brainstorming with my awesome crew, it was all such a blast.  Finding a $5 meal in DC was very difficult so it was definitely a challenge, but I loved having the opportunity to highlight different mom and pop shops for the show.
Q.) To be stylish is it necessary to have a perfect diet ?
Dr. Kimberly : Not at all!  Beauty comes in all shapes and sizes.
Q.) Which food places will you recommend to the travelers when they visit Washington DC ? 
Dr. Kimberly : That's such a hard question because there are so many incredible restaurants, but off the top of my head, I would say Rose's Luxury for their world-class tasting menu, ChiKo for casual Chinese/Korean dishes like shrimp & toast and lamb cumin stir fry, Anju for their delicious new brunch menu, Stellina Pizzeria, Vace for pizza and subs, Astro Doughnuts for sweets.  I honestly could go on and on with more recommendations but these are a few of my personal favorites!
Thank you Dr. Kimberly for taking out your valuable time from your busy schedule and sharing your views about your healthy lifestyle.   
By: Rida Khan
Aviation Author ( Instagram A/c : aviationauthor.ridakhan )