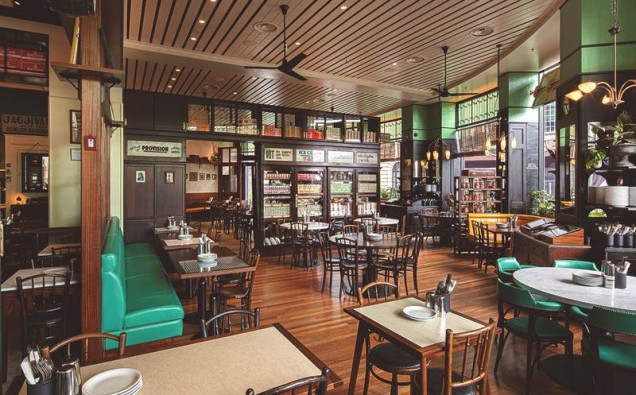 For a sophisticated and elegant dining experience, visit Dishoom restaurant where you can taste the most exotic and exquisite food.
Inspired by the Irani cafés that were once part of the fabric of life in Bombay, Dishoom serves a menu of Bombay comfort food, from grills , including paneer pineapple tikka, spicy lamb chops, and masala prawns, to small plates, such as lamb samosas, okra fries, chilli chicken and much more. You can accompany any of your dishes with basmati rice, roomali roti or plain or flavoured naan breads. Dishoom also serve breakfast, with plenty of mouth-watering choices including Parsi omelettes, or egg naan rolls. Vegan options are available, as well as a dairy intolerance menu and gluten free menu.
Dishoom serve various alcoholic and non alcoholic cocktails, teas or coffee and desserts, which include the famous desi kulfi ice-cream or gooey chocolate pudding.
The décor inside the restaurant is exquisite with beautifully displayed lights and artworks that allow customers to feel as though they eating in a traditional Irani café.  The staff all wear face coverings and hand sanitizer is given out to guests at their table. Cutlery is kept clean under a paper covering and tables are separated from each other to follow social distancing measures.
Dishoom Birmingham kindly invited us to visit their restaurant. Upon arrival, I was kindly greeted by the staff and was given hand sanitizer at my table. I was mesmerised by the amazing décor and the variety of food available on the menu. I chose a few dishes which included, masala prawns, paneer pineapple tikka, seekh kebab and chilli chicken. I personally enjoyed the chilli chicken as it was delicious, succulent and spicy.
The staff were warm, friendly and are always ready to help you with any concerns. The prices are fairly reasonable for the quality and quantity of food you receive. The restaurant is suitable for all the family as there is a kids menu available.
So why not visit Dishoom with the whole family or even for a romantic meal with your partner. . I recommend visiting Dishoom Birmingham; however there are various restaurants across the UK just visit www.dishoom.com for more information.  Don't forget to check them out on Facebook, Twitter and Instagram, just search Dishoom and you will be amazed.