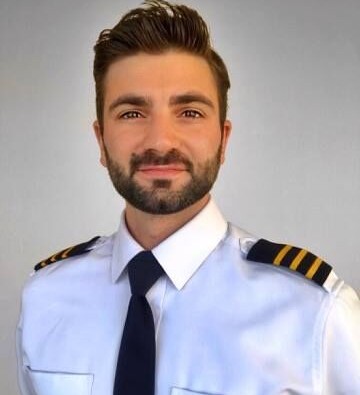 "Aviation is a love story that can only be believed when looked through the eyes of an aviator".      – By Captain Khalfan Al Mazrooei ( Instagram A/c – @capt7773) 
Pilots are people who are mostly admired for their personality. Their style, way of talking, confident attitude towards their job, independent nature, positive behaviour and calm and composed nature, etc. make their personality absolutely unique. These characteristics drive from their work profile of being a pilot. Studying regularly, getting training continuously, working hard to make their work perfect so that they fulfil the responsibility of carrying so many souls safely to their destinations, all these things add to their personality. Thus, their persona along with their lifestyle attracts so many people towards them. 
Taking this topic ahead, I have interviewed some of my pilot's friends, let's know their views. 
Pilot Hazem 
 Hazem Al- Maaitah (Instagram A/c -pilot_maaitah) is from the city Jordan- Amman. From his childhood days he was interested in aviation. After twelve years of schooling he filled his time with flight simulations, training at flying academy and started flying in the Royal Jordanian Gliding Club. His first flight was on 31st Nov 2014, it was 16 years back. He started his flying ground school from 25th Sep 2016. 
Pilot Hazem Views On This Topic- 
Personality is very important for being a pilot. This is because it's a job of responsibility and living a healthy life to maintain our personality in the eyes of people who trust us, for whom we work. 
If I talk about a pilot's uniform then I think every uniform gives a sense of responsibility and significance to the staff. For instance, soldiers love and are immensely proud to wear their uniforms and serve their Nation. As soon as they wear it, they feel ready to work so as doctors and people with different professions.  
Through my personal experiences when people admire my personality, I feel happy because people like what I do and like my personality which plays a big role in being a pilot. My airmanship will be as good as my personality. I feel glad and delighted at being a pilot. 
Pilot Marco 
 Marco Buratti (Instagram A/c – pilotburro) is a 28 year old pilot from Reggio Emilia, Italy based in Milan. His passion is as old as he is, he does not know from where this passion came, since his family is involved in totally different businesses.  He just knows that when he looks at the light blue sky, it makes him feel alive. 
  Pilot Marco's Views On This Topic – 
 For me Personality plays a great role in the pilot's life. Not always are pilots extremely self-confident people; the self-confidence is built in them by the elaborate and extensive training which they get to do an excellent job on duty.  
 In my opinion people admire the uniform is just a tool. When the door of the plane closes the plane becomes like a small state where a hierarchy is needed. The uniform underlines this hierarchy in order to define roles and as a result ensures that the orders are respected and followed.  
Pilot Fayek- 
 Pilot Ahmed Fayek (Instagram A/c – pilotfayek) is from Alexandria Egypt, his passion started when he was a child and there were no means of communication except mails. His parents used to communicate this way and his mother used to send an envelope to his father which carried drawings of airplanes he used to make, and that was after his first flight on an airplane. 
Pilot Fayek Views On This Topic –  
Personality is indeed a huge factor in the whole aviation industry because it improves the confidence in communicating between pilots, cabin crew, engineers, ground staff etc. To have a safe and a successful operation in the industry effective communication plays a vital role.  
Uniform is one of the key attributes of making this job unique, you always feel different, in a good way of course. You also have to be mentally and physically fit. So I try as much as I can to implement healthy food and exercise to my daily routine.  
So after listening to their views, I hope you all have got a clear idea about why a pilot's personality is much admired and the reasons behind it. I would like to thank on behalf of Asian World Newspaper all the Pilots for giving me their interviews for this article by taking out time from their extremely busy schedules. 
"Appearances make impressions but it is the personality that makes an impact." 
All the Best for your future endeavours. 
By : – Rida Khan (Aviation Author) 
(Instagram A/c – aviationauthor.ridakhan)