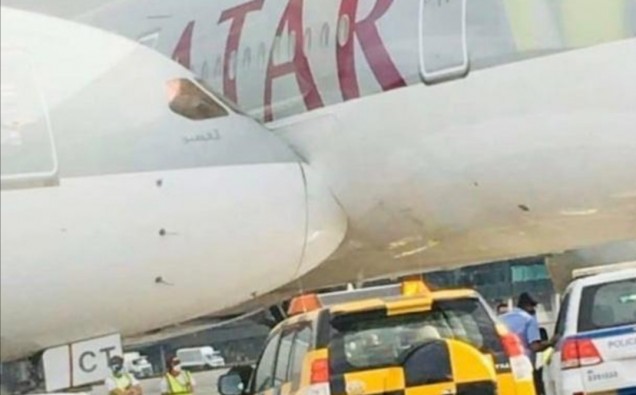 An incident happened at Hamad International Airport where 2 planes were damaged due to storm. Qatar Airways B787-8 Dreamliner turned 90 degrees in a minute and started moving towards A350. In a seconds the nose of B787 -8 hit the fuselage of A350. Though the aircraft's were planned securely and chocked at the airport but the storm winds gusting from 19 knots to 61 knots were so strong that they shifted B787 from its chocks and rolled it into A350.
When this incident occurred there were no passengers or crew on board at that time. So people were safe but there is a minor damage suffered by both the aircraft's as it is noted that the nose of the plane contains lots of system in it. An empty B787-8 Dreamliner weighs around 10 tonnes and carry up to 254 passengers having a list price of about $US 250 million. 
Now you can imagine that how strong the winds were who shifted this heavy aircraft which are only moved by push back trucks on the ground and fly in the air with the help of technology and pilots skills.
By:  Rida Khan ( Aviation Author )
Instagram Account :- aviationauthor.ridakhan